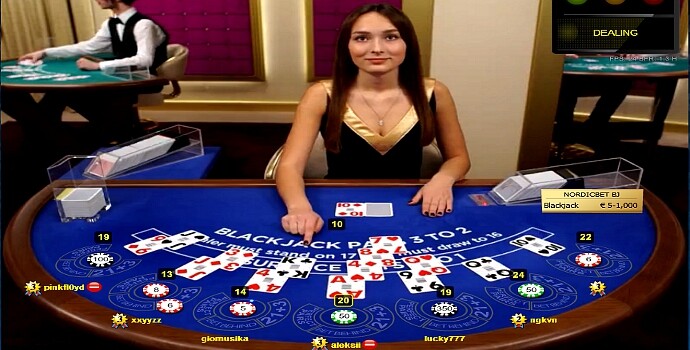 Plenty of blackjack table activity this month at Evolution. Here's a rundown of my findings and thoughts for April.
Exclusive table area
Evolution Gaming opened a new area for the so called EXCLUSIVE blackjack tables in the Riga studio. The colourful area also incorporates several private tables from various casinos. Dealers working at the tables have the 'privilege' of new black dresses with gold detail.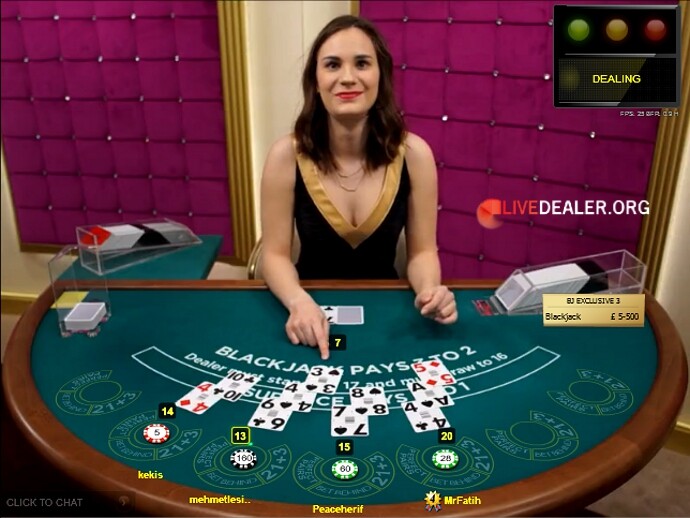 Betsson brands including NordicBet and Betsafe relocated their private tables into the new area.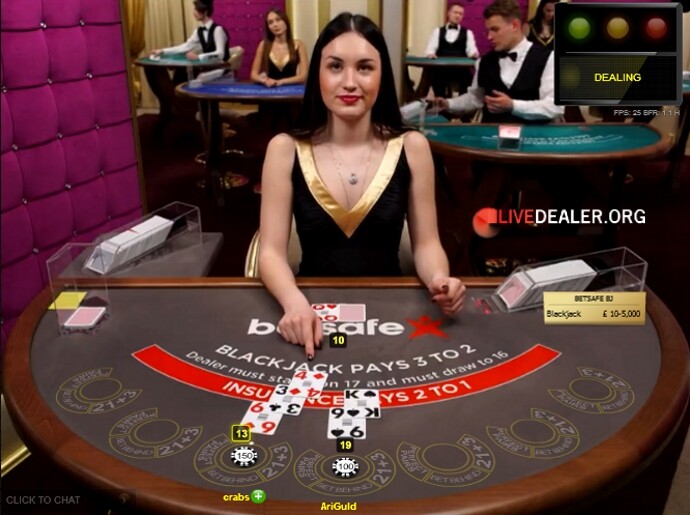 Moving the assortment of Evolution tables into the new area allowed the generic green tables to expand in number including renamed LOUNGE tables.
The Exclusive tables are mostly to be found at casinos that don't have a private area in the studio (eg. Betsson, Bets10, Betsafe, CasinoEuro, NordicBet). The precise number of tables available at each casino varies.
In other news Betsafe and NordicBet now also have live tables from Malta's Oracle casino.
---
Penthouse terrace tables
Bwin live casino private blackjack tables have been renamed PENTHOUSE.
Despite speculation from LD,
Were you thinking 'Penthouse' the magazine?
the name change simply reflects the pre-existing window vista backdrop and that the tables are no longer solely for the use of Bwin players. The same tables are now also playable at Sportingbet although under the different name of TERRACE.
Bwin players may not have their own totally private tables anymore but at least they can take solace in the small comfort they have access to the generic Lounge tables unlike many Evolution casinos.
---
More Silver
Evolution opened 3 more Silver blackjack tables this month. Disappointingly the new Silver tables don't have the same nice backdrop setting as the original Silver tables. But do come with the same dealers, table colour and limits.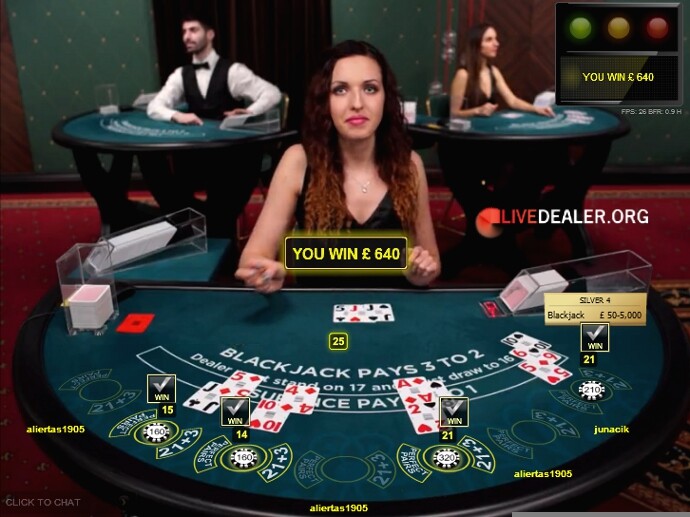 The Silver tables act as a stepping stone between the generic green and higher limit VIP tables incorporating elements of both. Notably there's no Bet Behind option, although the non VIP dealers used at the tables seem unaware of this and sometimes invite players to use the absent feature when no free seats are available.
---
Baccarat tables terminated
After a few months crossover period the old generic baccarat tables at Evolution have closed. With the opening of a new baccarat area in January it was only a matter of time before all casinos switched (eagerly or not) to the new tables.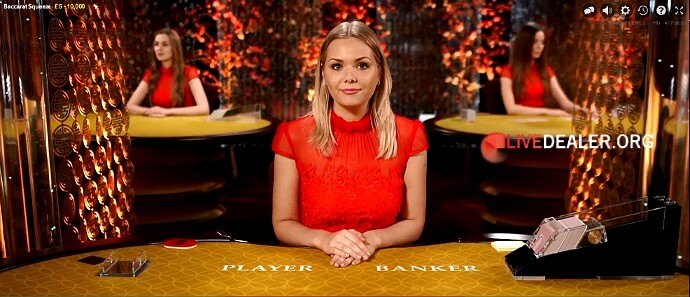 Not every casino has opted to take all 3 of the water themed area tables. Personally I do feel they're aesthetically too samey. Obviously Evolution wanted to make the area look opulent and classy having all the tables matching. But I would prefer the tables to look more individual, each with their own table design or colour.
---
Grand VIP blackjack
The closed red baccarat table at Evolution was quickly resuscitated back into action as another high limit blackjack table. Under its new lease of life the table now goes by the name Grand VIP and comes with a higher minimum bet (typically £/€500) than the existing Fortune and Platinum tables in the red VIP area.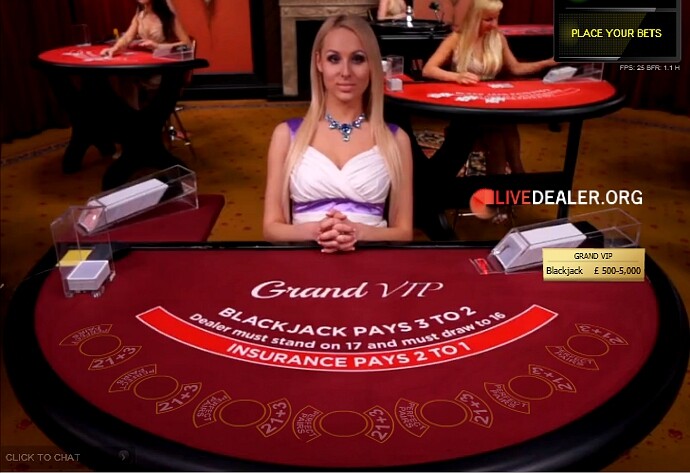 ---
Extra tables at Mr Green
Evolution have opened more blackjack tables for Mr Green casino. The Riga studio now has 2 private Mr Green blackjack tables. The second table is in a nice looking new enclave in the studio.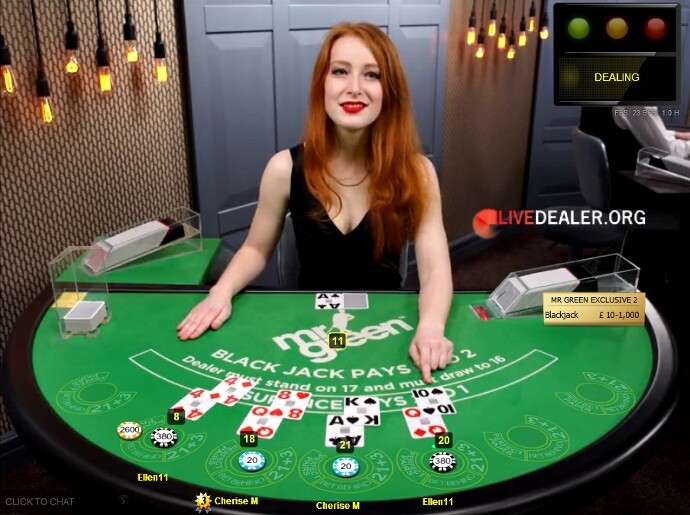 Over in the Malta studio Mr Green have a new German language blackjack table in addition to their existing private roulette table.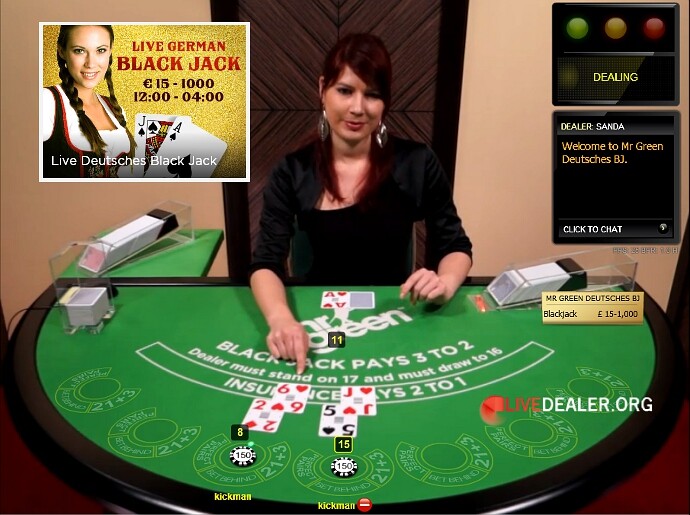 Mr Green have assembled a varied selection of tables from Evolution Gaming, NetEnt and Extreme Live Gaming. The lineup of tables available at Mr Green from Extreme now includes baccarat besides roulette and blackjack.
---
Royal Panda & Betway blackjack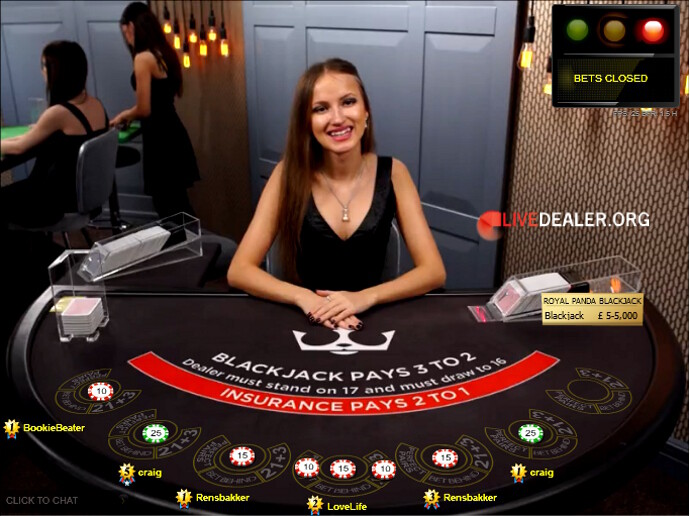 Private tables belonging to Royal Panda and Betway joined the extra Mr Green table in the new enclave at Evolution.
When Betway introduced Evolution tables LD suggested,
The Playboy Bunnies at Betway might find themselves a little lonely for a while!
Especially so now that the Microgaming tables (inc. Playboy) have been removed at Betway.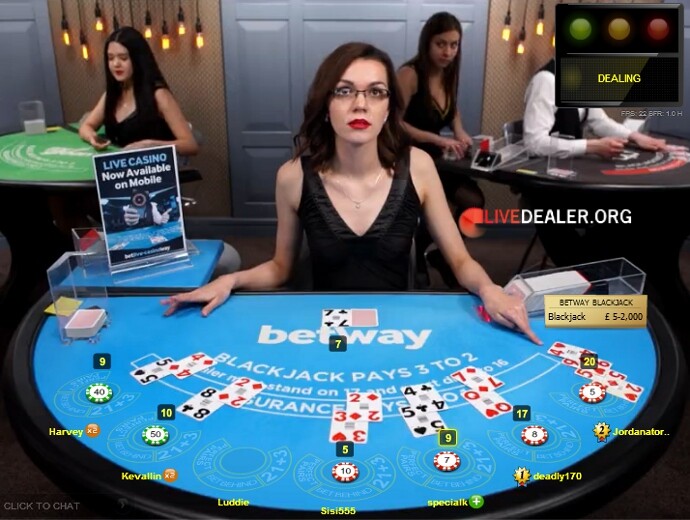 The full range of Evolution's live games are playable at Betway including the Caribbean Stud Poker table which is missing at some casinos. Betway also have the Dragonara roulette table which is quite rare at Evolution casinos.
---
3 Card Poker goes mobile
Hurrah!, finally Evolution's Three Card Poker is now playable on mobile devices.
As far back as 2014 when I visited the London office I was expressing my frustration at the lack of the game on iPad. Finally the tech boffins at Evolution got round to the likeable poker variant and implemented the game on iPad and Android devices using the new UI rolled out on the Caribbean Stud table.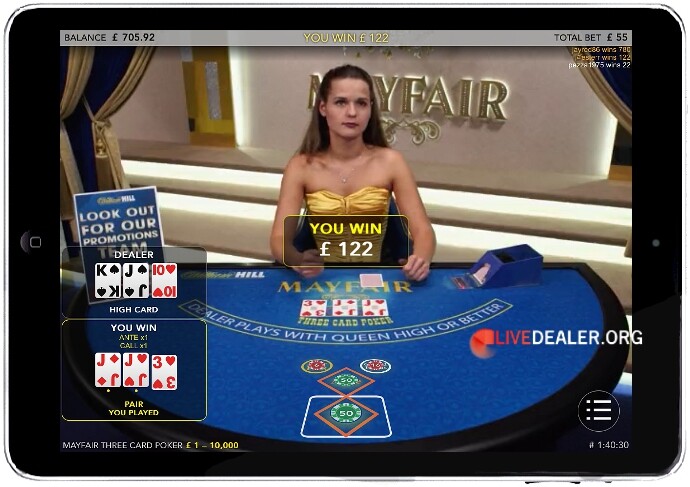 William Hill were again at the front of the Evolution casino line for new features and tables in having Three Card Poker on mobile devices.
Meanwhile William Hill's private Hold'em and Three Card poker tables are no longer open morning shift, presumably through lack of players.
---
More chance of winning the lottery, almost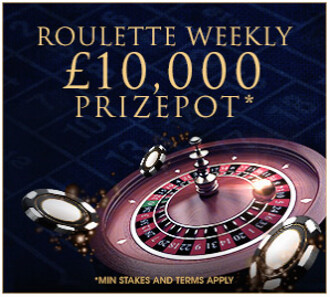 This month William Hill replaced their long-standing Rush Hour roulette promotion with a £10,000 roulette promotion.
The headline grabbing top prize of £8000 may sound very attractive, but your chances of winning the prize in the new weekly promotion are almost as unlikely as winning the lottery.
To be among the weekly prize pot winners you need to have placed a successful straight up bet on one of William Hill's private roulette tables and then win on the same number for at least 3 times in a row. To share the top prize you need 5 consecutive straight up wins with the same number.
As LD wondered,
interested to see how many Gold (£8,000) prize pots are given away
From my maths skills I make it that having won on a straight up bet. The chances of the same number being spun 4 more times in a row is around 1 in 1.874 million. Most likely the only time that you will ever see it happen I doubt any players will have covered the number. Especially when you consider the frequent low number of players on the Macau and Mayfair tables, although the Vegas table is usually busier.
I did find it amusingly though that William Hill devised a promotion dependent on the same number being repeatedly spun. When the same number, colour or whatever is spun frequently within a few rounds there always seems to be some players saying some mischief is afoot.
As a player you are much more likely to benefit from the random bonus cash giveaways at William Hill's private tables hosted by the lovely promotion ladies Polina, Sofia, Sanita et al. and have more fun in the process.
---
and finally
I make no apologies for concentrating this month on tables from Evolution Gaming who just celebrated 10 years in live dealer gaming.
To casinos using other platforms I suggest if they want more player interest, longevity and loyalty they should drop the multitude of annoying popups, be more innovative, have more live games and features, have nice interfaces, stop blocking their own players access to tables, push the platforms to give players more of what they really want and less of the dealer spoon fed lines including how easy it is to change your nickname and so on only to be rebuffed by your casino customer support.
---
https://www.livedealer.org/dev/wp-content/uploads/2016/04/FFApr2016.png
329
359
Unclefester
https://www.livedealer.org/images/Livedealer-logo.png
Unclefester
2016-04-30 20:26:56
2016-04-30 20:26:56
Fester's Findings - April 2016