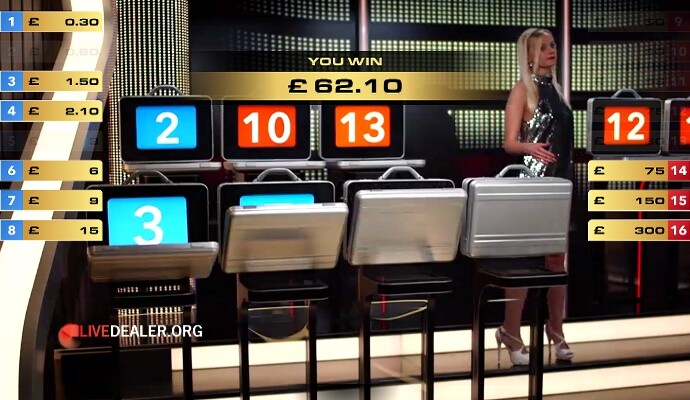 How best to introduce the new Deal or No Deal game from Evolution Gaming ?
Perhaps I should start by explaining how I never was a fan of the world-famous hit TV game show that Evolution's latest game is based on. Undoubtedly this fostered a lack of enthusiasm when it came to reviewing the game at launch.
Alternatively, I could begin by saying, other than the fundamentals of a live presenter (there's no way you'd describe them as a dealer) and gambling with real money. Deal or No Deal feels far removed from the live dealer games I started playing online 10 years ago and the passion behind Livedealer.org.
Or even, more damningly by three simple letters R N G.
Whichever introduction you take most heed of. Chances are you've probably already encountered promotional material for the new game at several Evolution powered casinos. If not yet quite got round to playing Deal or No Deal.
Enough preamble misgivings though and down to explaining the game.
---
Gameplay
Qualification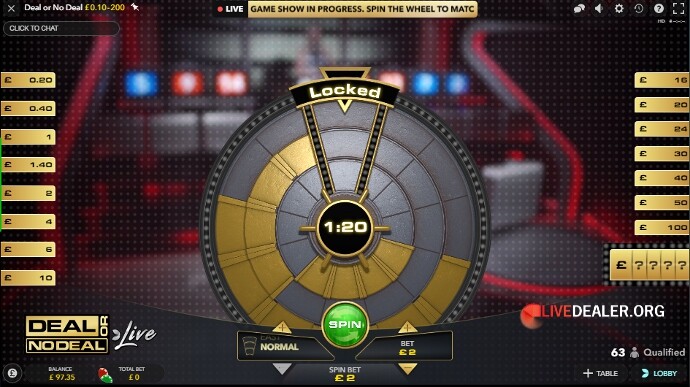 Firstly, before you get to play the main live Deal or No Deal game with its iconic briefcases and Banker's offers. You're required to go through a qualification segment.
Think of qualifying if you will as applying to be on the real TV show. Nothing too arduous though. You place a bet, spin the bank vault reels and if all three segments line-up you make it through to the next stage. This is the first RNG element you encounter, of which there are more.
It's not overly difficult to qualify. Primarily down to the fact you have the opportunity of increasing your likelihood of qualifying by betting more and in doing so locking more of the bank vault reels already in place.
– In Normal mode all three segments are spun, costing you 1x your intial bet.
– Easy mode costs 3x your initial bet with one segment already in place.
– Very Easy mode costs 9x your initial bet and two of the three reels are locked in place.
From my experience playing, if you've not manged to qualify within 3 attempts on Very Easy mode, luck is possibly not on your side today. Beware though as you can lose quite a lot on Easy mode, making it feel just like slots.
Your initial bet amount relates directly to the amount of potential winnings placed in each of the briefcases, of which there are 16 in the main live game.
The briefcases cash values range from:
0.1x initial bet for number 1 case….
through 1x for case 5….
50x for case 15….
right up to 75-500x (determined by RNG) for case 16.
---
Top Up
The sooner you qualify affects how much time you have remaining to add optional extra prize money to any, or all of the briefcases in another RNG element round.
Select a case you wish to add money to, select a bet amount (which directly adjusts the top up prizes available) and spin the RNG wheel.
You can do this as many times as you wish in the spare time you have left. With the Total Bet amount you've so far "invested"/betted in the next live game displayed on screen – albeit not a total of all the attempts when you failed to qualify.
---
Live game
When you do make it through to the live game proper you're presented with a studio set that feels unmistakably familiar to the TV show.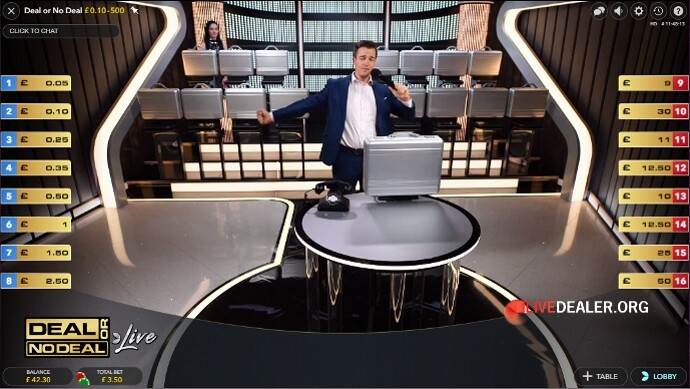 If you've never seen the show. Basically you are on a path to win the cash amount in your briefcase (centre stage, on the table next to the game presenter). Your case and the one immediately behind are the last 2 to be opened.
You're not forced to stick to this route though. At various points in the game you have the option of taking an alternative prize amount offer from an omnipotent like presence known as the Banker or switching cases.
The live segment starts with 3 cases being opened by the game assistant. Inside each case is a randomly generated number from 1 to 16. The prize board is then adjusted to reflect which numbers and associated cash prizes are no longer in play. It's at this stage where the Banker makes his(or hers 😉 ) first cash offer.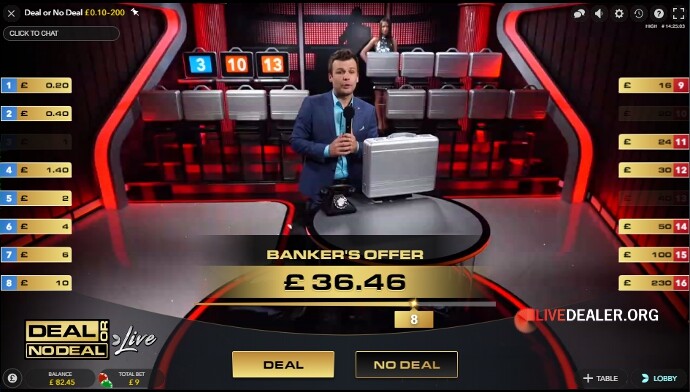 This being a fundamental draw of the original TV game show proper. Whereby the contestants (or in this incarnation you as the online player) decide to DEAL (take the cash from the Banker) or play on (NO DEAL).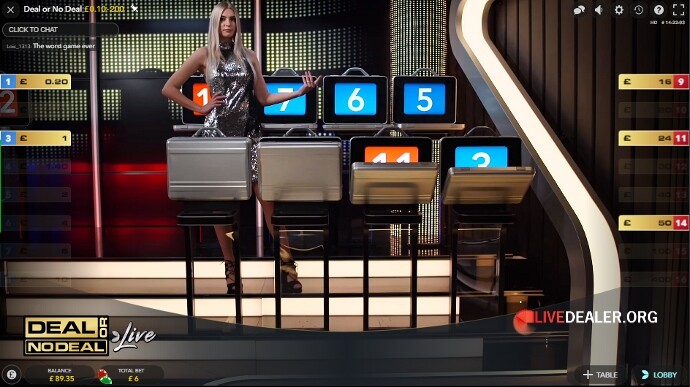 4 more briefcases are then opened and the Banker makes another Deal or No Deal cash offer. And so on until only 2 cases remain .
The amount offered by the Banker changes at each stage to reflect the cash value of cases remaining in play. If it's mostly higher value red cases still in play expect a higher offer to tempt you into the Deal. Whereas mostly blue low value cases remaining results in a substantially lower offer.
At the final stage (if you've elected to carry on playing this far), in addition to the Banker's offer, you are presented with an extra choice of switching your briefcase with the last case to be opened by the assistant. There's no logic to be applied here other than your gut feeling before the last 2 cases are revealed. It does add an extra gamble element and helps mitigate player suspicions of everything not being wholly legit with a live game based around RNG.
The game then starts afresh with the approximate 2 minute qualification process. Meanwhile the live segment starts again for players who were in the process of qualifying during the last couple of mins. So in effect you only get to play the live game every other time (unless you took an early Banker's offer and dived straight back into qualification). You do however get to see a greyed out video of the next live game and hear the presenter so you don't miss any presenter banter while qualifying.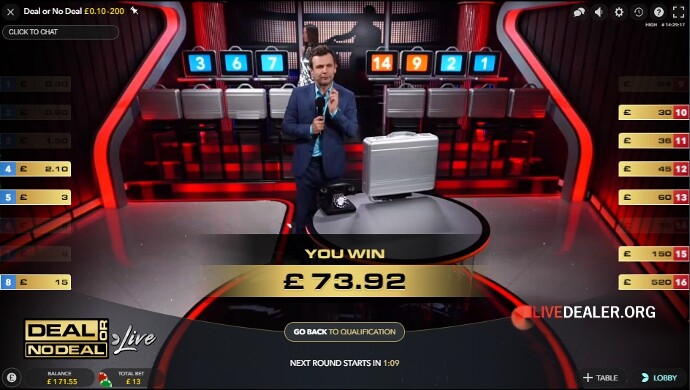 ---
Overall impression of Deal or No Deal
As reported by LD:
"According to Evolution, the aim was to stay true to the Deal or No Deal TV game show's format, while also creating a uniquely entertaining online live gaming experience for an unlimited number of players. This involved creating one of most complex studio sets that Evolution has built to date. The end result is that all the familiar elements — including the universally recognisable studio set, theme music and rich sound effects for UI actions —perfectly recreate the atmosphere of the hit TV show."
Certainly, there's no doubt Evolution have gone to great lengths to capture the feel of the TV show including studio set, sound effects and theme music.
But something is fundamentally missing from the atmosphere. Even to a non fan of the show it's the interaction between TV host and contestants that was the main draw on the UK version and presumably likewise for all other countries. With that signature element stripped away, all you are left with is a RNG game lasting up to 4 minutes in length. The role of the presenter is reduced to little more than a talking spectator of the proceedings.
Even on Evolution live games such as Dream Catcher you see players baying in chat telling the game presenter to spin the wheel harder and so on. But there can be none of that here.
Also of course, the briefcase amounts and Banker's offers vary from player to player according to initial bet (plus optional top ups). So the presenter doesn't even get to relay these values.
As for the new game itself. There's no denying that I'm not a big fan of playing RNG games for money. And for sure many players will question if everything is all above board and fair. With so much potential for skepticism of outcomes.
On the plus side, in comparison to traditional live games such as baccarat, you are more involved throughout the game weighing up the Banker offer's. But this isn't big enough hook to make me keep playing anything like the amount of time I've spent late at night playing baccarat with favourite dealers.
The quoted Return to Player (RTP) of 95.42% is less favourable than other live games. Though better than what many slots players can expect…..precisely the kind of players you imagine Evolution is aiming to lure into live gaming with another soft-gambling, game show format game.
Deal or No Deal is widely available now at many Evolution casinos. Playable on desktop and mobile.
Give it a go, see what you think, and take some advice – accept most Banker offer's that return a profit!
https://www.livedealer.org/dev/wp-content/uploads/2019/05/donD00.png
340
360
Unclefester
https://www.livedealer.org/images/Livedealer-logo.png
Unclefester
2019-05-31 13:42:22
2019-05-31 17:16:40
Deal or No Deal