Random multiplier games are the flavour of the month (or year) right now. Sicbo Deluxe, from Playtech is one of the latest to pop up.
Take a mainstay live dealer game, alter the regular payouts by introducing random multipliers and Hey Presto…you have a whole new game!
The list of these is growing. Sicbo deluxe joins (Evolution's) Lightning Roulette, Super Sicbo and Playtech's own Quantum Roulette among others.
What is Sicbo Deluxe?
Unclefester introduced us to Sicbo Deluxe in the forums last month, complete with its giant ornamental lotus flower (no prizes for guessing the target market).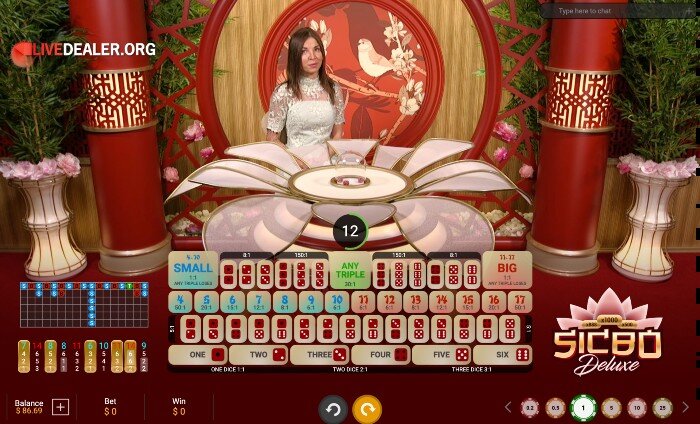 Playtech's 'regular' live sicbo is a pretty simple game to get your head around. Sicbo Deluxe isn't any more complicated. As in regular sicbo you are simply betting on the outcome of the roll of 3 die.
The key difference with Sicbo Deluxe, is the introduction of payout multipliers.
Regular payouts and multiplied payouts
Bet options are identical to 'regular sicbo' and clearly presented as follows:

After bets close, but before the die are rolled, up to 6 bet positions have random multipliers applied to them. These become the new payout.
The multipliers can apply randomly to any bet positions except the Big, Small and the one dice Number bet (all the even money bets that is).
In the pictured example, triple 6s payout goes from 150:1 to 999:1 (or 1,000x); total 9 goes from 6:1 to 24:1 (25x), and the payout on the 2/5 pair becomes 10x.
In case you're interested, the total 9 for 25x payout didn't come in.

The pre-multiplier payouts are not all the same as those offered in Playtech's 'regular sicbo game' (shown below) – decreased as you'd expect to preserve house edge even with multipliers in play.

Double (10:1 v 8:1), Triple (180:1 v 150:1), Pair (6:1 v 5:1) and a few of the Number bets (4, 5, 6, 15, 16, 17) have all had their payouts shaved a bit.
Sticking with the bets that haven't been shaved (Number bets 7 through 14) may be the smart play here. This leads us to…
Return to Player
For a tricked up game, the theoretical returns offered on Sicbo Deluxe isn't too bad, coming in at 97.2%. This is almost the same as the regular sicbo at 97.3%.
Full house rules
…are available here.
Where to play Sicbo Deluxe
The usual Playtech live casino suspects all carry this game, including bet365, Betfair, Paddy Power and Dafabet.
Some video action
https://www.livedealer.org/dev/wp-content/uploads/2020/02/sicbodeluxe-placebets.jpg
424
700
LD
https://www.livedealer.org/images/Livedealer-logo.png
LD
2020-02-20 18:23:42
2021-09-06 02:53:17
Chasing multipliers on Sicbo Deluxe