Blackjack adaptations seem to be the thing in live gaming right now. Majority Rules Speed Blackjack from Playtech is the latest to make an appearance (at GVC brands including Bwin and Party Casino).
In the last few months we've been introduced to Quantum Blackjack, Free Bet Blackjack and Power Blackjack.
They all take a regular game of blackjack and add unique twists. Random multiplier cards, house funded double downs, or the option to quadruple down. All interesting tweaks while largely preserving a healthy main game theoretical house edge.
I'm a fan of all these games.
Majority Rules Speed Blackjack, I'm not so sure about.
What is Majority Rules Speed Blackjack?
There are 2 seats on this table. You can bet on either or both. Each seat can be played by an unlimited number of players. But the way the seat is played will depend on the number of players betting on that seat, as follows:
for 3 or more players, play is decided by Majority Vote
for 1 or 2 players, play is decided by Best Strategy
You don't have a lot of say in how a hand is played. It's either based on a collective decision, or no decision.
This is all neatly explained in the graphic that greets you on first opening the table.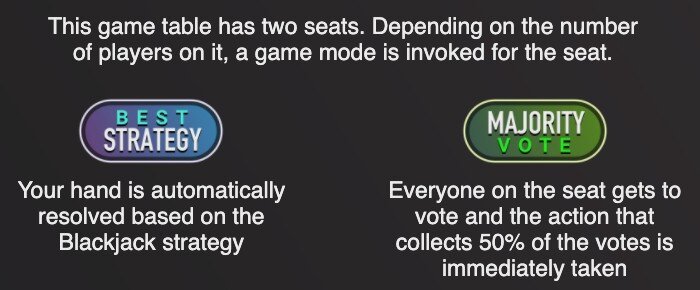 You're also asked to decide whether you want to double your bet when best strategy (or other players) dictate.  This is because in many instances in the game, you don't get a say in whether the Double Down or Split decision is made (or any decision for that matter…hence my reservations with the game.)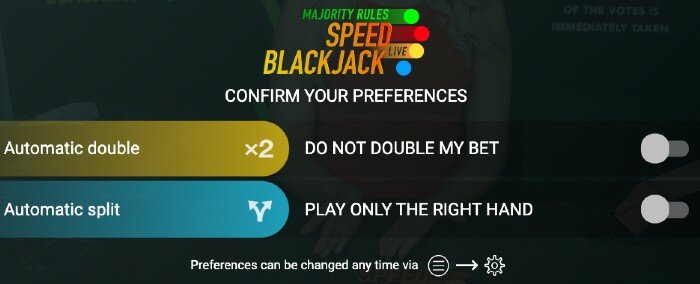 Majority Vote or Best Strategy hands
A Best Strategy seat will be resolved by the dealer using basic strategy. If you have a chip on this seat, you take absolutely no active part in the game. The dealer will play out your hand. If optimal strategy dictates a Double Down or Split this will occur and (depending on your double bet preferences) your bet will be increased accordingly.
A Majority Vote seat will be resolved according to the majority decision of participating players. As soon as any option (Hit, Stand, Double, Split) is selected by 50% of players, this is the chosen play. If no option receives 50% of the vote, the dealer goes with the basic strategy play.
Importantly, you don't get a say in whether you play a Best Strategy or Majority Vote seat. Lack of any say is kind of the theme of this game.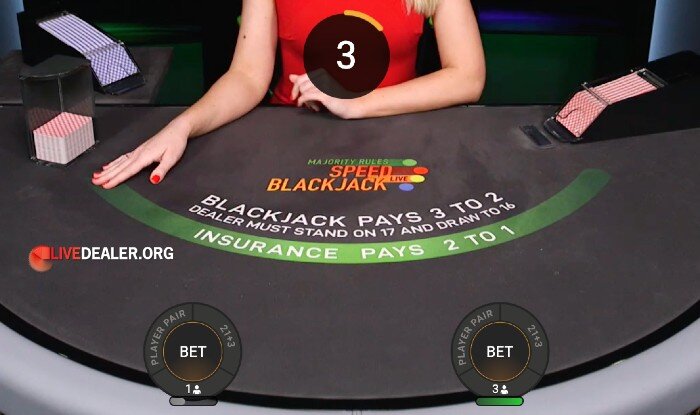 As bets are being placed, the tally of participating players on each seat is displayed. You can try make a selection by keeping an eye on the tally, with 3 being the key number.
In the examples above and below, the left seat was shaping as a Best Strategy hand with only a few seconds of bet time left. And this turned out to be the case.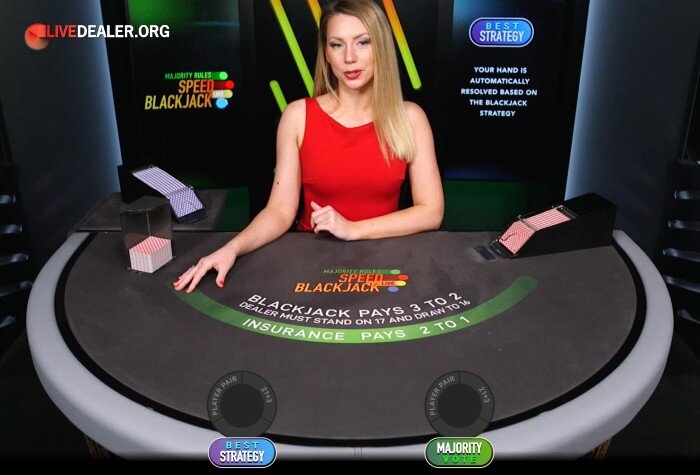 But last second bets from other players means you will never have certainly as to what kind of hand you are playing.
As the game is offered by more casinos and becomes more popular it's likely most hands will be decided by Majority Vote.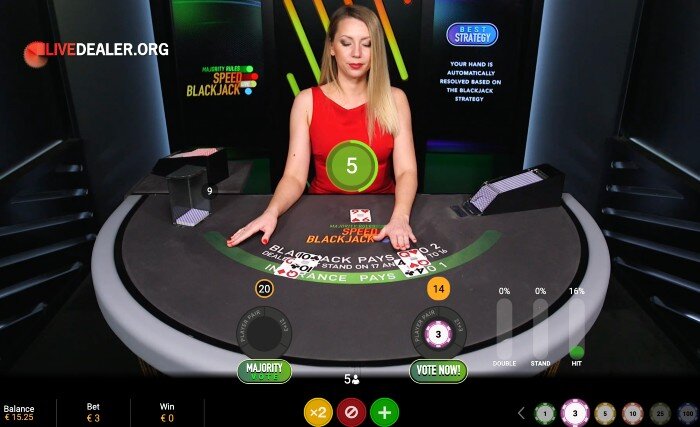 With some players being slow to decide, a quicker decision can help get your vote over the 50% line.
Imagine 4 players, 2 who will make the correct choice, 2 the wrong choice. If the 2 optimal choices are made first, that's the voted play. Phew!
But for the most part, your destiny is in the hands of your fellow players.
Sometimes they will choose correctly.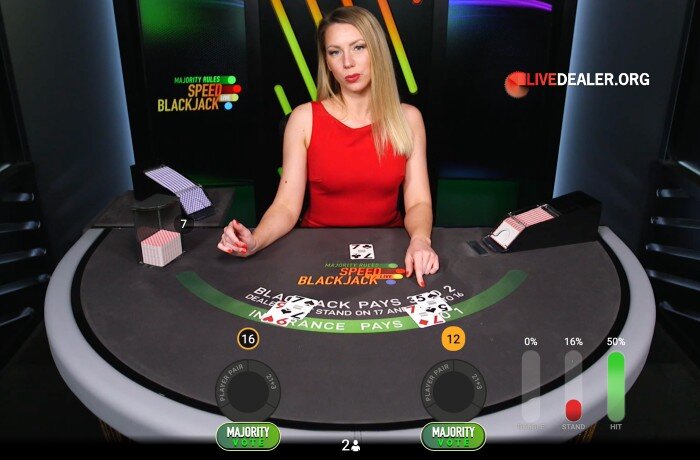 And there's a happy outcome.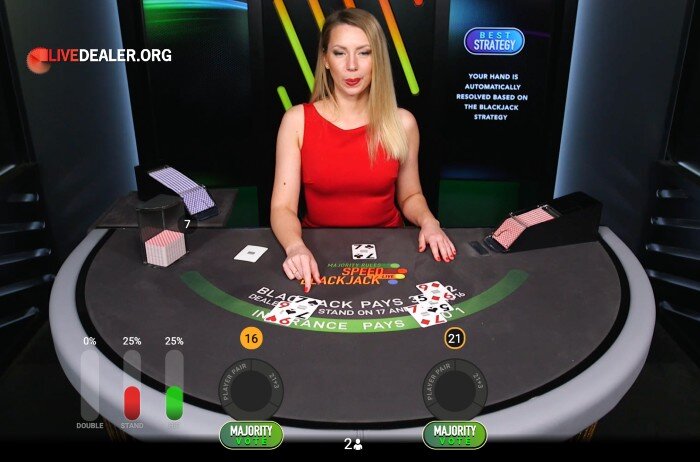 But sometimes they will choose incorrectly.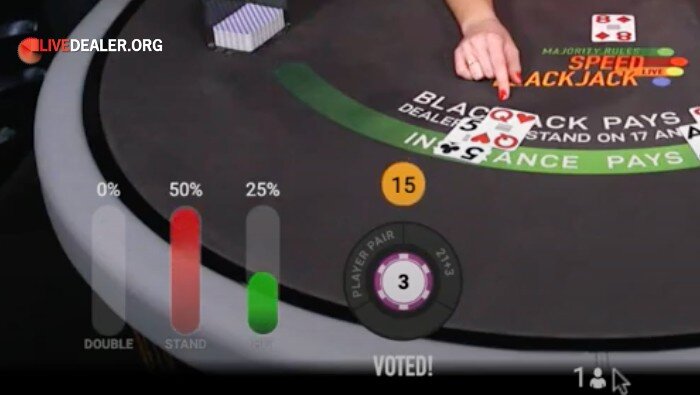 Cue frustration as you vote Hit on 15 against dealers 8. But you're outvoted by fellow players and Stand it is!
Main game house rules
The rules applying to the main game are the same as those on regular Playtech live blackjack tables.
The same basic strategy card applies, and is actually set out in the house rules. No need to learn it playing this table though. After all it's either the dealer or other players that are making your choices.
You're better off not knowing the basic strategy play when there's every chance other players are going to take you down the wrong path anyway.
Return to Player
Theoretical return for this game is published at 99.5%.
This is the same as the RTP rate for Playtech's 7 seat blackjack tables which makes sense given the same rules apply on the main game here. The key difference though, is that on the regular tables you're in control of playing optimally. Therefore the 99.5% is a valid RTP.
On Majority Rules Speed Blackjack the 99.5% is really only valid if you manage to play Best Strategy seats only. Good luck with that!
Outcomes playing Majority Vote seats will deviate considerably from optimal RTP. As the last pictured example suggests.
A fast paced game
If you're playing a Majority Vote seat, you're racing to get your vote in. Best Strategy seats are played out super fast by the dealer. This is a fast game. The word Speed in the title is justified.
https://www.livedealer.org/dev/wp-content/uploads/2020/06/majorityhit.jpg
460
700
LD
https://www.livedealer.org/images/Livedealer-logo.png
LD
2020-06-03 12:30:05
2020-06-03 15:41:05
Majority Vote or Best Strategy Blackjack