Quantum Blackjack is a game I've been eager to play since it's launch late last year.
From Unclefester's beautifully concise summary of Quantum Blackjack in the forum it was apparent that this game is a quantum leap from Playtech. Rather than following the lead, they've blazed a trail here.
An original concept, very well presented, appealing to play and offering players healthy returns to boot.
Chapeau.
What is Quantum Blackjack?
Quantum Blackjack takes a regular game of blackjack (same house rules as other Playtech blackjack tables) and adds 2 unique changes.
1. Multipliers
After bets are placed, 1, 2, or 3 cards are randomly identified as Quantum Multiplier cards and a random multiplier (3x, 5x or 10x) is applied to each. If your winning hand contains one of these cards, the payout is multiplied accordingly.
If your winning hand contains more than one of these cards, they multiply. So a payout multiple of 10x10x10 = 1000x is possible. It should be noted that identical multipliers, eg 7

 and 7

 count as one.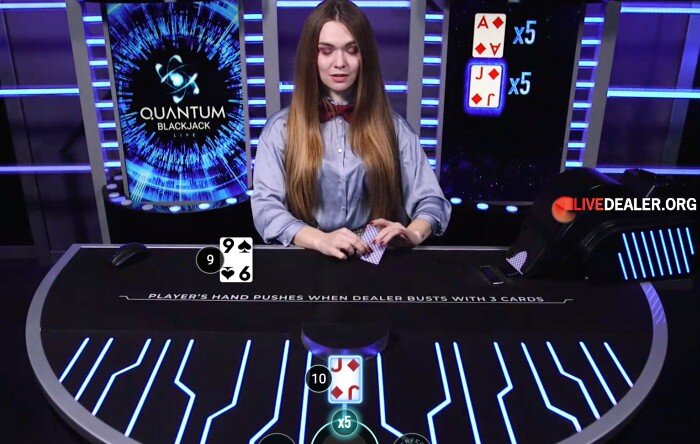 Shown above, multipliers A

 & J

 selected pre deal, and then J

 dealt on the table translates to a payout 5x normal if the hand wins. Had the A

 come out, the multiple would be 25x. Had another J

 come out, the multiplier remains 5x.
2. When dealer busts with 3 cards
Ordinarily you win in this case (assuming you haven't busted). Not so in this game. A 3 card dealer bust leads to a pushed bet. That is, your bet is returned with no win payout.
The exception to this – you have a Quantum Multiplier in your hand, or Blackjack.
It's also a 1 to many deal
One more important distinction from Playtech's 7 seat live blackjack tables…this is a 1 to many deal table. Many players are playing the single deal on this table. Not that this effects the game outcome in any way because you still play your hand uniquely.
And the hand you are playing is clearly displayed in front of you by virtual cards rather than the actual cards dealt (which do a disappear/reappear trick as they are dealt to the player hand).
It's reasonably seamless, much like Evolution's Infinite Blackjack.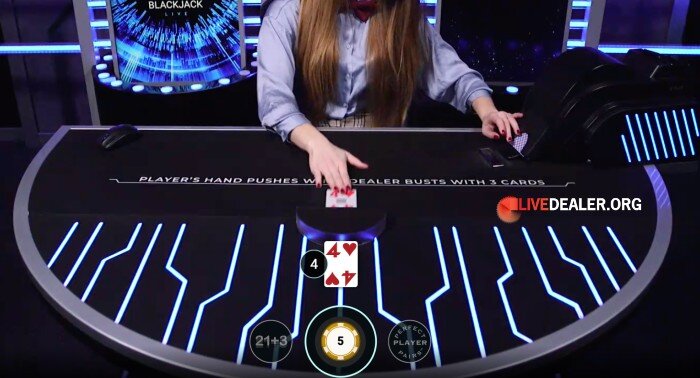 Unlike Infinite Blackjack, all cards dealt are collected after each round and added back into the shuffle machine which always contains 8 full decks before each new deal. This way, all cards selected as Quantum Multipliers are fully represented in the shoe each round.
One advantage of the 1 to many blackjack table format, and the many players it can cater to…low limits.
So it is with Quantum Blackjack. A €/£/$ 1 bet gets you into the main game.
And side bets are offered
21+3 and Pairs side bets are offered (but shouldn't be taken…see RTP rates below). These are the same side bets offered on other Playtech blackjack tables and don't need elaboration here, other than to say that side bet payouts are never multiplied.
Payouts summarised
This little slide out from the game UI pretty much gives you all the key detail you need.
A winning hand containing three 10x multipliers can pay up to 999:1 (your original bet is retained).
A winning Blackjack (can only contain 2 multipliers), can potentially produce payout 100x the normal 3:2. Again your original bet is retained, making for a max payout of 298:2…still not bad.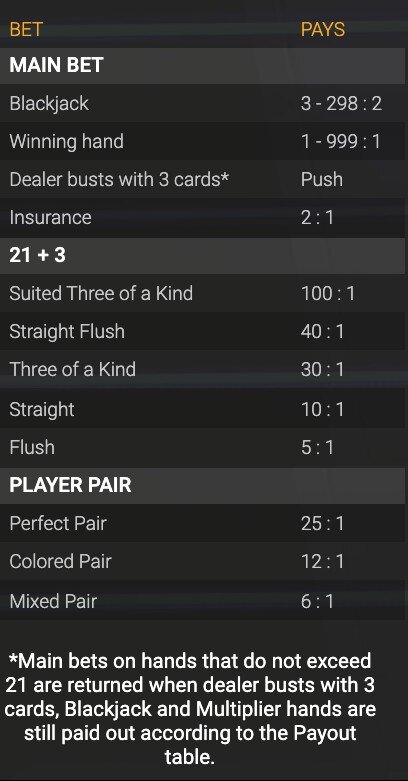 Theoretical Returns
One of the reasons this game is a ripper is that despite the added razzle dazzle, it offers stellar players returns. For the main game that is. But that's the game that is most fun to play here.
Theoretical returns are as follows:
Main game: 99.47%
Pairs side bet: 95.90%
21+3 side bet: 96.3%
Full House Rules
May be read here.
A few recorded rounds of Quantum Blackjack
…including a cheeky Blackjack with multiplier!
Where to play Quantum Blackjack
The above recorded game was played at bet365. Betfair, Paddy Power, Dafabet and Betfred also all carry Quantum Blackjack.
https://www.livedealer.org/dev/wp-content/uploads/2020/02/quantumblackjack-multipliers.jpg
444
700
LD
https://www.livedealer.org/images/Livedealer-logo.png
LD
2020-02-12 14:24:06
2020-02-13 07:27:16
Playing Live Quantum Blackjack