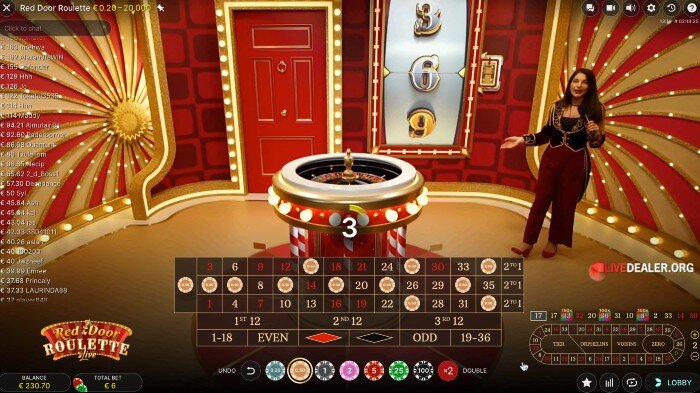 Take a game of roulette, add a Crazy Time (big wheel) bonus game, and you have Red Door Roulette. It's up and running at at bunch of Evolution powered live casinos, including Betsson, 888 and Betvictor.
Evolution are always looking to sprinkle a little Crazy Time magic dust wherever they can. Who can blame them? The game has been a runaway success. A coming together of the ever popular casino classic roulette, and an element of Crazy Time was an inevitability.
The big question is, does the combination work? Chocolate and strawberries, or toothpaste and orange?
This review may be slightly biased by the fact that an hour or so's play netted a tidy €300 plus. But regardless, we think the former.
How to play Red Door Roulette?
Red Door Roulette is powered by a conventionally numbered single zero roulette wheel (auto ball launch). The bet selector mirrors that of one of Evolution's regular live roulette tables with all the familiar roulette bets available (Red/Black, Odd/Even etc) as well as a racetrack for neighbours bets.
Take any bets other than straight up and you're simply playing European Roulette with identical payouts applying. You'll just have to put up with your play being interrupted every third round or so by the bonus game.
Red Door Roulette's key difference to European Roulette, with emphasis on the word key, is explained by the below popup that guides you during your early rounds.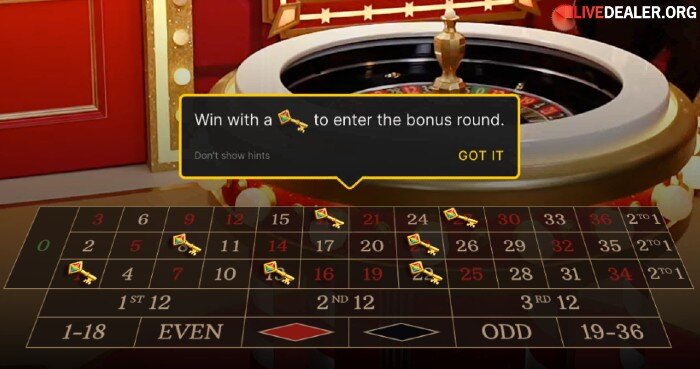 Each round, bonus numbers are selected as designated by gold keys. If any of those numbers win the round a bonus game is triggered. If you have a chip on that number you're in the bonus game.
In terms of game flow, here's how things proceed.
Once bets close the presenter pulls a lever on a single reel slot numbered 3 through 15 to decide how many  bonus numbers there will be for that round – 6 in the below example.

The 6 keys fall randomly onto the table, selecting that round's bonus numbers.
Once the bonus numbers are selected, any number of them can also have a multiplier (2x up to 20x) applied, which will increase winnings in the bonus round should that bonus number win.

With a chip on a winning bonus number (in this case with a 2x multiplier) we're in the bonus game.
The bonus Crazy Time bonus game
Once the bonus game is triggered the presented leads players through the Red Door, where the Crazy Time bonus game takes place.

For all the fancy graphics the bonus game is simply a big wheel (very big actually thanks to some nifty animation) with 64 segments containing different payout values.
If a bonus number multiplier is in play (ie 2x as in the example game) the segment payouts are multiplied accordingly. Then the big wheel is spun until the flapper comes rest on a segment to determine the final payout applying to your original bet.
In the example game the flapper stopped on a 400x segment for a €200 win on the €0.50 bet.

The top possible payout multiple on the bonus game is 4000x. The total payout on the bonus game is also capped at 500,000€. This cap will have return to player ramifications for straight-up bets, discussed in the playing tips section below.
What about regular old straight up wins?
The payout for straight up bet wins that do not trigger the bonus game is 19:1.  Below is a €10 collect on a €0.50 bet on zero.

This is considerably less than the 35:1 payout that you get on a regular roulette straight up bet. The reduction is necessary to fund all those big bonus game payouts, while still preserving the house edge (which as it turns out has been more than preserved…just).
For all other bets, payouts are as per regular roulette.
Red Door Roulette payouts
Bet
Payout
Inside:
Straight Up
19 – 3,999 : 1
Split
17 : 1
Street
11 : 1
Corner
8 : 1
Line
5 : 1
Outside:
Column
2 : 1
Dozen
2 : 1
Red/Black
1 : 1
Odd/Even
1 : 1
1-18/19-36
1 : 1
Red Door Roulette Returns
For all bets other than straight up, the return to player rate (RTP) mirrors European Roulette: 97.30%
For straight up bets the RTP is slightly less at 97.09%.
This will be reduced further (per house rules) where the payout cap is brought into play to 96.50%. Which brings us to strategies for playing Red Door Roulette.
Tips for playing Red Door Roulette
From a pure RTP perspective, the prudent play is to avoid betting straight up on this game. But then you're excluding yourself from the bonus game and effectively playing roulette (with frequent bonus game interruptions). If this is your strategy, we'd suggest you're better off playing a regular live European or French Roulette table.
Red Door Roulette is all about the opportunity for big bonus game payouts. With a more than 97% expected return you aren't paying an exorbitant fee for this. Plenty of live game shows return far less (as does American Roulette at under 95%).
One tip would be to completely avoid bringing the payout cap into play (something few of us need worry about!).
The games max straight up bet is €500, but any bet over €125 potentially brings the cap into play and should be avoided.
Our thoughts on Red Door Roulette
With up to 15 chances in 37 for the game to be triggered each round Red Door Roulette bonus games come pretty thick and fast.  With a healthy (small chip value) table coverage you will find yourself involved in plenty of them. This makes Red Door Roulette a very engaging game.
Another positive is the fact that the bonus game is simple and the outcome is decided by a trusty physical device (even though segment payouts are digitised), rather than an overly complicated entirely RNG situation.
This is a game show I can see myself choosing to play for fun. And I don't say that about many game shows.
https://www.livedealer.org/dev/wp-content/uploads/2023/10/RedDoorRoulette.jpg
393
700
LD
https://www.livedealer.org/images/Livedealer-logo.png
LD
2023-11-01 00:18:36
2023-11-01 00:27:41
Red Door Roulette Live