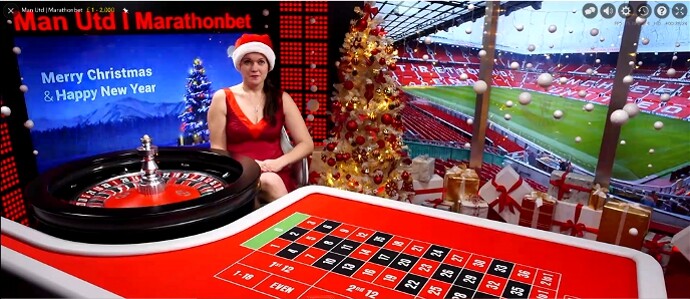 Just when you thought it was over this month's findings is heavy on how Christmas was looking,…sorry. But it also serves to give a seasonal snapshot of the big studios and casinos heading into 2017.
A tale of two studios
Christmas 2016 was more hit and miss than previous years at Playtech. Depending where and when you was playing you could survive the month and not encounter any dealers in red hats. Traditionally the Euro studio only ever brought out the small table trees and planted hats on dealer's heads for a couple of days.
It all started so promisingly early in December when Playtech issued a press release announcing their intention to open a special Christmas roulette table.
"We're delighted to be able to offer our licensees with a dedicated Christmas roulette room.
This is our way of thanking our live casino clients for their custom and commitment this year as well as a great way to add some Christmas cheer to our live offering."
True to their word (it happens sometimes) the generic table was open by the middle of December and stayed active for the remainder of the month.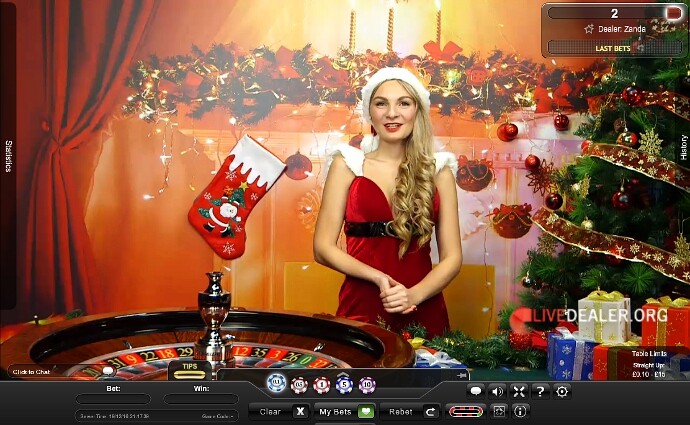 The female dealers looked great in their Mrs Claus outfits. Some of the plunging necklines on the bigger bosomed dealers looked like Playtech was serving the lowest common denominator players. Although that wouldn't be a first, there are other studio tables I can think of having dubious camera angles.
The remainder of the Euro studio Christmas promotions and decorations were to be found at a select few private tables belonging to bet365, Coral, Betfair and Paddy Power.
Bet365 put its old private tables to use again opening them with new backdrop wall and dealer costumes.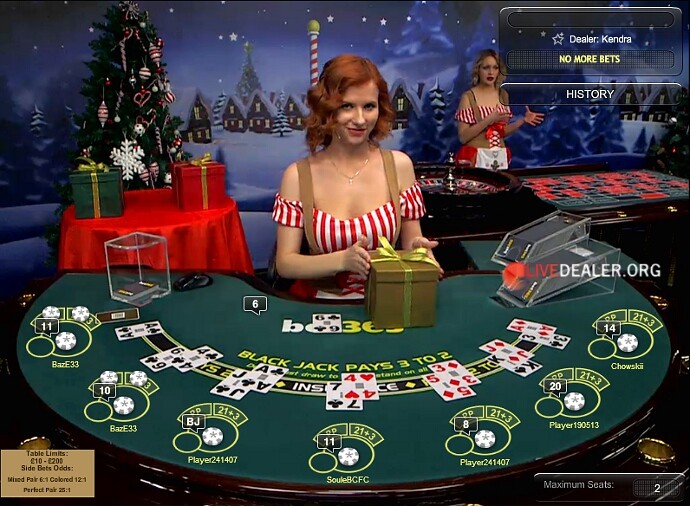 Coral's table area at Playtech had large trees adorned in matching blue tinsel and baubles.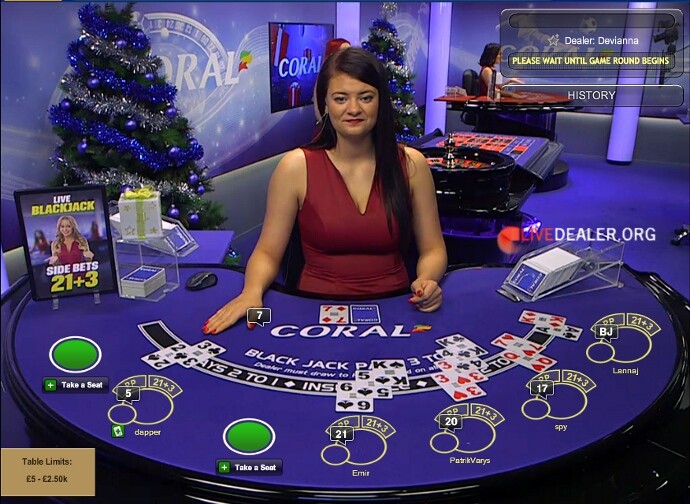 Size isn't everything when it comes to decorations as demonstrated by Betfair. Albeit, to be fair the private tables colour scheme gave Betfair a festive looking head start on the opposition.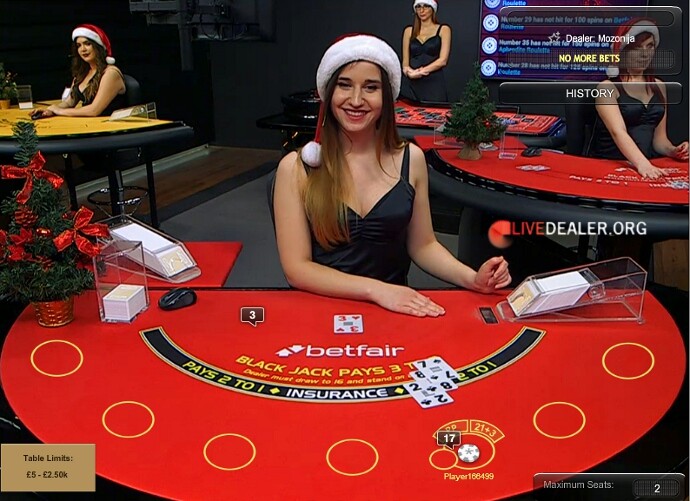 Paddy Power tables looked very reminiscent of Christmas past at Playtech generic tables.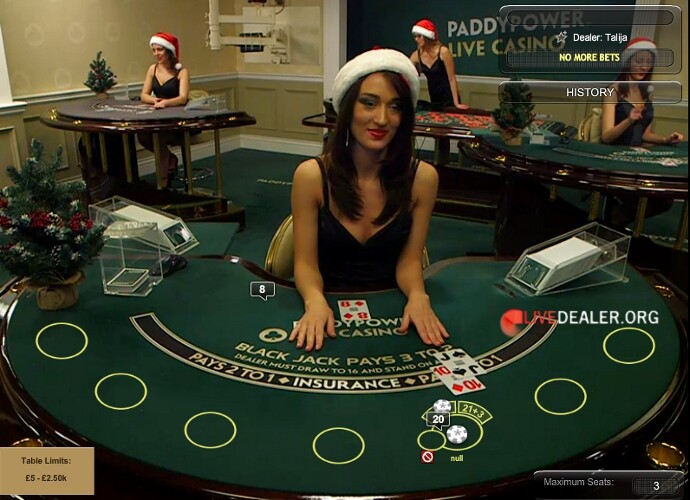 Christmas was markedly more in evidence over at Playtech's Asia studio and longer lasting across generic tables without casinos having to pay extra for all the trappings.
Lots of sparkly red dresses were visible from one of the many baccarat tables housed in the Asia studio (playable with Egalite side bet from select casinos).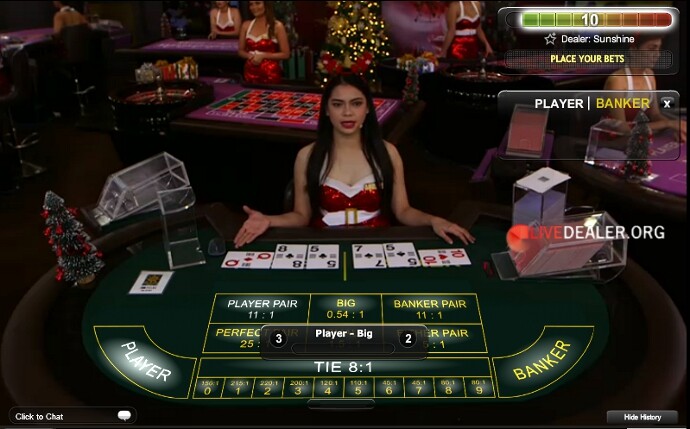 The Asia studio also had a festive backdrop behind the roulette tables.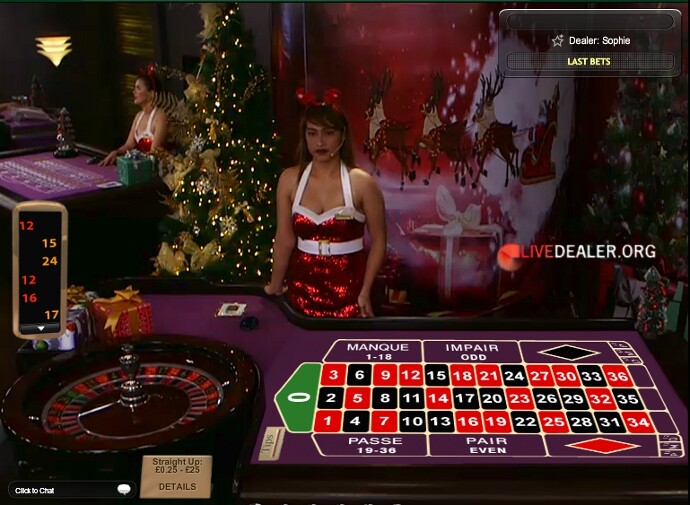 ---
Christmas at Evolution
If you wanted a bigger serving of Christmas decorations, hats and joyful dealers you needed to playing at one of the numerous private decorated casino areas at Evolution Gaming.
Leo Vegas, and in particular the Celebrity Blackjack Party ticked all the Christmas boxes.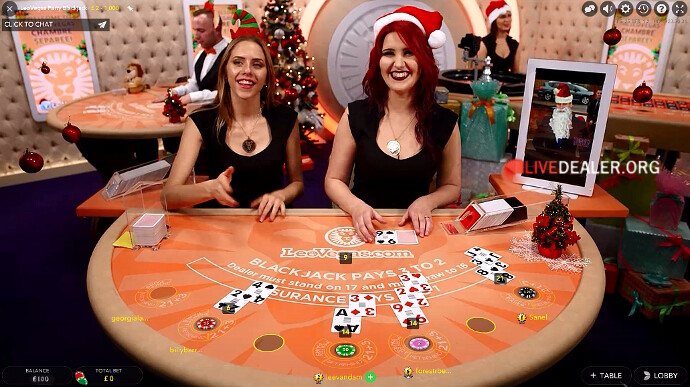 Unibet with its numerous tables probably had the most dealers in hats at any one time, but that's all it had to offer.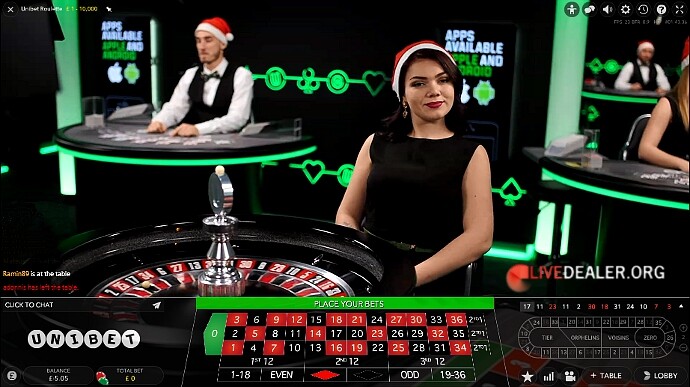 Despite still not having a branded private area Betway tables looked great. Better still if you were lucky enough to chance upon a female dealer.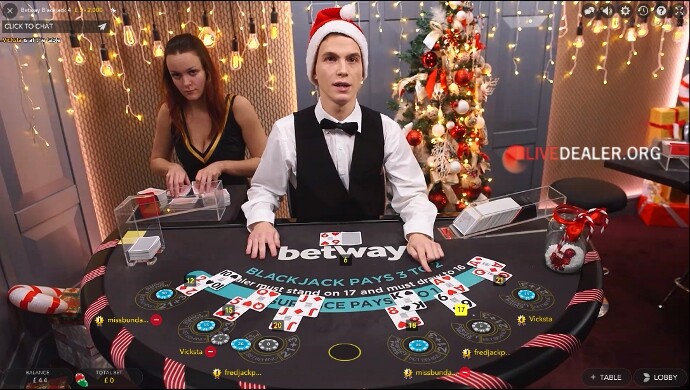 Other years I would have said William Hill had the edge for the most decorated and fun tables to be at. But times change and the live casino seems to be going in another direction with changes to promotion rules, less decorations, less costumes, and different management guidelines.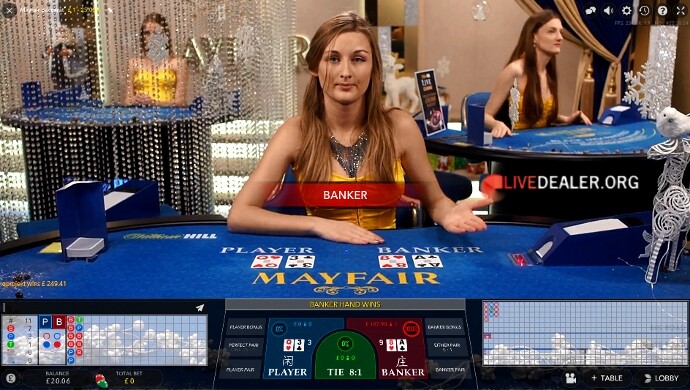 PokerStars' private area was top notch again as with previous ghostly promotions.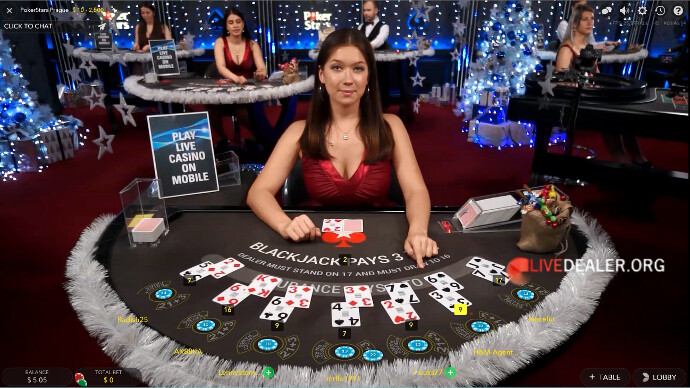 The recently opened Marathonbet area was looking the part thanks to their United colour scheme and complementary decorations. Besides the Russian language blackjack table there's now an English table at Marathonbet which should please more football fans.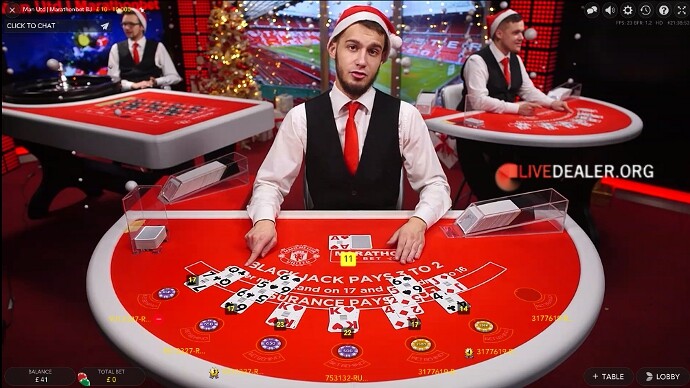 Grosvenor tables were looking different to past Christmases thanks to their relocation to Malta.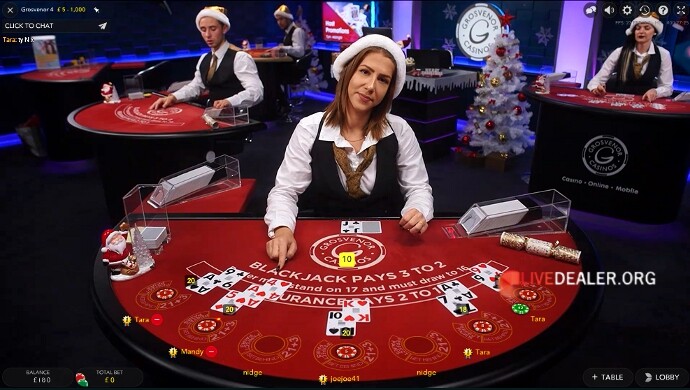 Even some generic language tables over in the Malta studio got into the Christmas spirit. Well they managed to muster some hats for the Italian dealers in the table area unveiled in July, whatever the actual spirit of the dealers.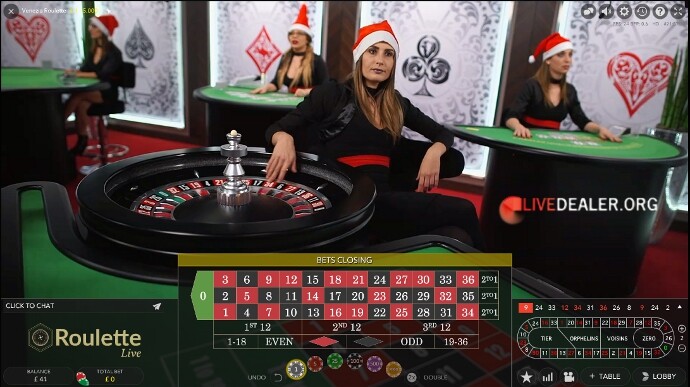 The Spanish roulette table available from Betway (and other casinos) was still looking more like a lobby in an executive building than what you would expect to find in a live casino lobby.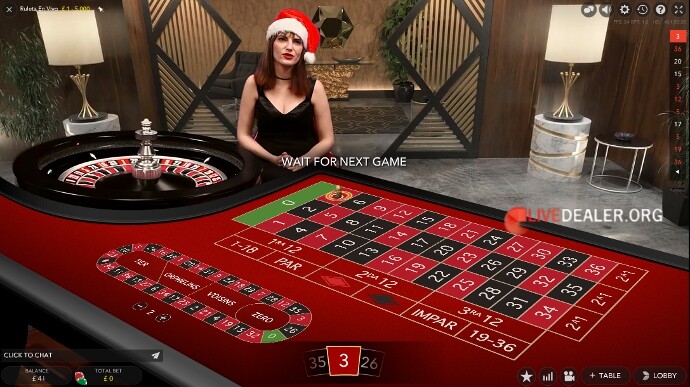 ---
Look what 888 unwrapped for Christmas
Apart from all the Christmas trappings (or lack of at several studios) the big reveal of December was the opening of a new private table area for 888 live casino.
The latest 888 area opened just in time for Christmas complete with decorations and features the current casino trend of big video screens and coloured lighting.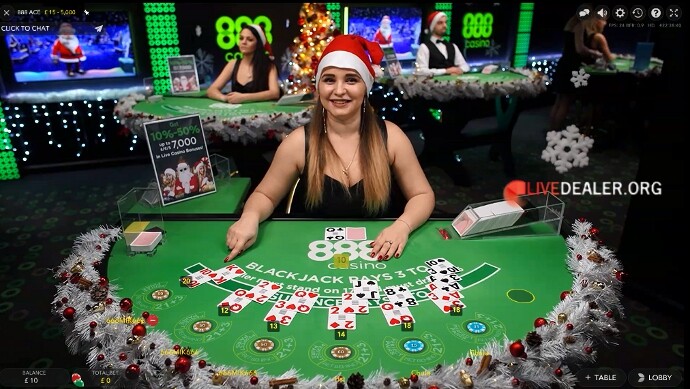 It will be interesting to see how good the area looks post-Christmas devoid of the jolly Santa Claus and so on.
Visually the new area looks bigger than its predecessor although possibly strangely to the casual player with minimal table increase. More enlightened players will know that as 888 increased its table presence at Evolution it opened 3 seperate areas (not including the untouched 777 area) to accommodate all the tables. Actually all the tables are still not truly altogether in one all encompassing table area, but handily for the dealers they're now only a few steps apart, besides achieving the desired makeover and table updates to 888's live casino.
In terms of obvious real changes, roulette is now located centrally to make best use of the new multi-camera, Immersive Lite format table.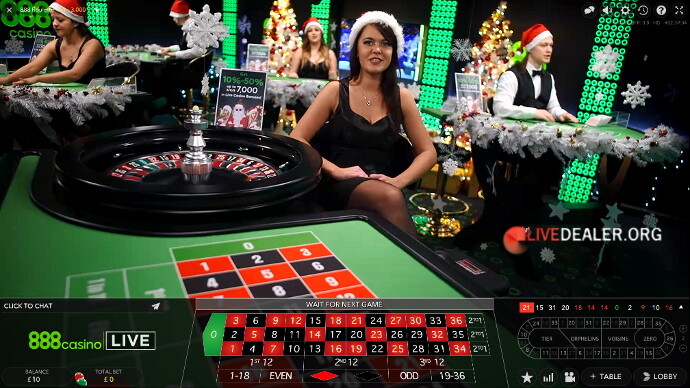 One new table to 888 is the addition of a private Ultimate Texas Hold'em.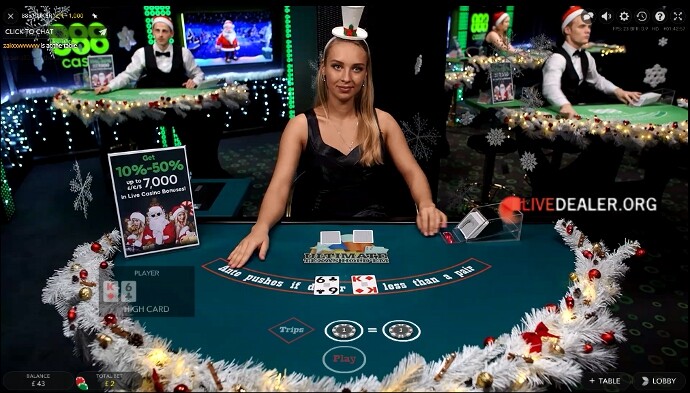 VIP players haven't been overlooked in the move. There's now 2 secluded VIP tables to choose from.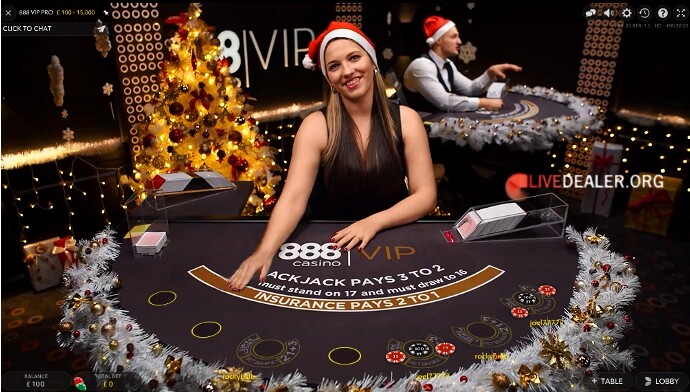 Also new to 888 are black dresses for the female dealers in place of the more unique previous uniform. The new dresses look very much like the old Evolution generic table dresses….leftovers perhaps :D. Of the dealers I spoke to some lamented the loss of the old uniforms, but at least the new dresses don't come with scarves or Grosvenoresque ties.
---
Christmas party
Evolution's Blackjack Party table had a makeover. No, not anything so frivolous as Christmas decorations or hats, a new backdrop….just what players wanted for a great party, or maybe not.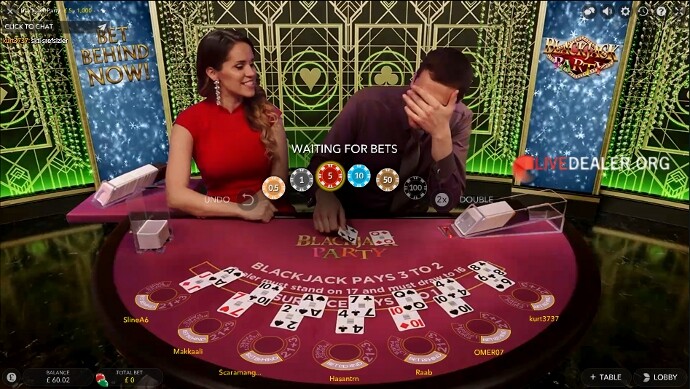 If there was any table at Evolution you would expect to be decorated for Christmas surely this would be it?
In case you didn't realise what table you're sitting at, notwithstanding the logo on the backdrop wall, the table surface now also features the party name.
Personally, I still get so quickly tired of the male dealer and female presenter flirting interaction and never hang around at the table. Any other players of the same mind are better served at the Leo Vegas party table.
---
More Flemish tables
Flemish language live games appear to be a success with the introduction of extra tables at Evolution. Unibet were early trailblazers opening private Flemish tables. More recently they even opened a Flemish Hold'em table with the arrival of their new private area in the Malta studio.
Bwin live casino have followed suit by adding 2 Flemish blackjack tables to their lobby from the German table area that opened in June.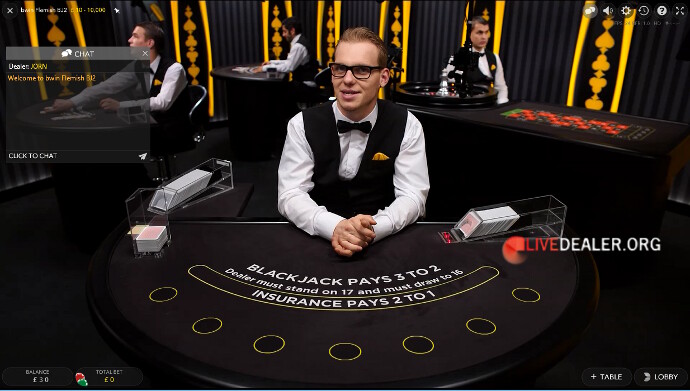 If the Flemish revolution continues at this rate players may begin to wonder how long before English tables are outnumbered when the UK leaves the EU?. Joking aside, of course once a studio has dealers on site with the required language skills it's more practicable to put them to use on several tables and have a larger pool of dealers to cover for any absences and so on.
---
That's all for 2016
Have a happy new year and here's hoping the next 12 months are as busy as 2016 turned out to be.
---
https://www.livedealer.org/dev/wp-content/uploads/2016/12/FFdec.png
332
360
Unclefester
https://www.livedealer.org/images/Livedealer-logo.png
Unclefester
2017-01-01 21:35:24
2017-01-01 22:13:48
Fester's Findings - December 2016