Pretty much something of everything in August. A new game, new side bet, new tables, makeovers, a birthday and more.
21+3 has entered the building
Playtech finally got round to introducing the 21+3 blackjack side bet in August. The new side bet has been on the cards (no pun intended) at Playtech since the end of last year.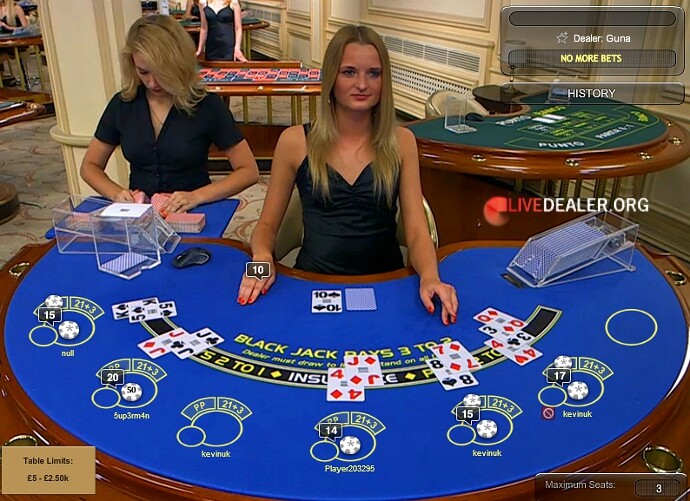 Despite the lower theoretical return/RTP the side bet is sure to prove popular with players, as it has done so on rival platforms with the possibility of winning up to 100x your initial stake.
The new side bet was quickly rolled out on desktop at Bet365, Betfair, Betfred, Ladbrokes, Paddy Power, & Gala/Coral. With mobile devices promised to follow in the future sometime whenever.
---
Ultimate Texas Hold'em goes live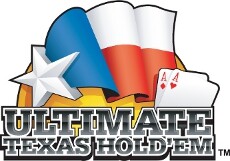 At the start of 2016 Evolution in partnership with Scientific Games revealed plans to launch live Ultimate Texas Hold'em.
In less time than it takes other platforms to introduce a side bet the new poker game has arrived on desktop and mobile. Albeit so far to a limited audience of Unibet and Bwin players prior to a larger rollout later.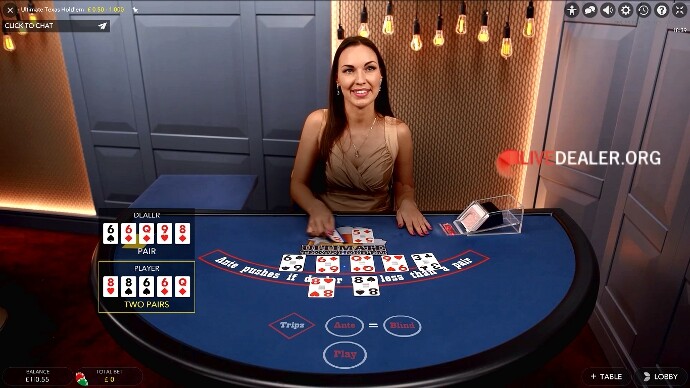 LD's blog is a excellent starting point for any player wanting to get to grips with how to play the game.
---
Birthday celebrations
Most people will tell you how birthdays seem to come around quicker as you get older. 888 casino were already celebrating their 19th birthday in August. Admittedly not 19 years for the live casino, but the years do keep rolling by at an alarming rate since I first played at their tables.
Balloons were the mainstay birthday decoration for 888's private tables at Evolution.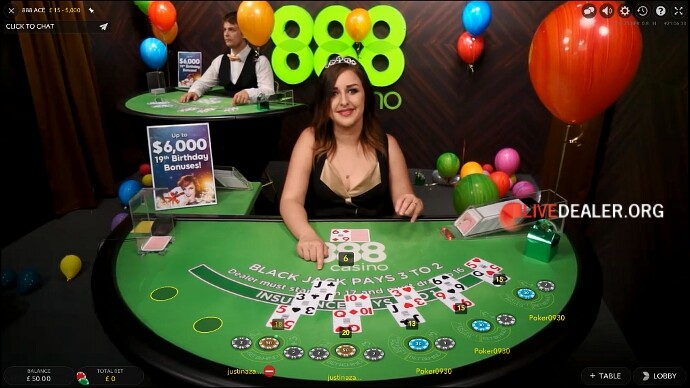 Mystery reload bonuses were also being awarded to mark the birthday. Although, deposit bonuses are a fairly common feature at 888 so you won't have to wait until their 20th birthday celebrations if you missed out this time.
It wasn't celebrations all the way for 888 in August when their combined offer with Rank to takeover William Hill received short shrift.
---
Gala makeover
If you're a player from one of the countries that Gala casino accepts registrations you may like their new website.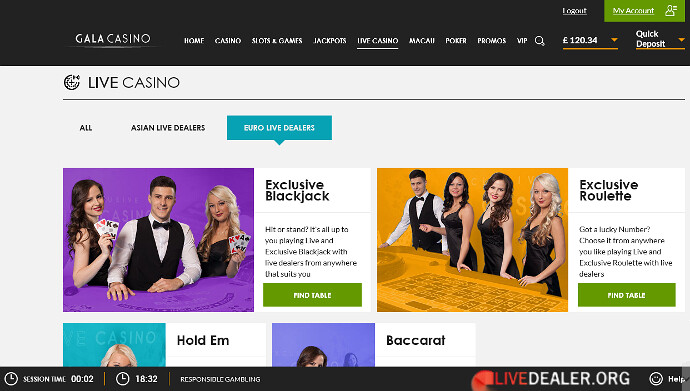 The new design is very clean, crisp, modern looking and as yet no sign of Ladbrokes ;).
---
Dragonara enhancements
Evolution's Dual Play Dragonara roulette table is looking better than ever thanks to improved lighting and a lighter table surface.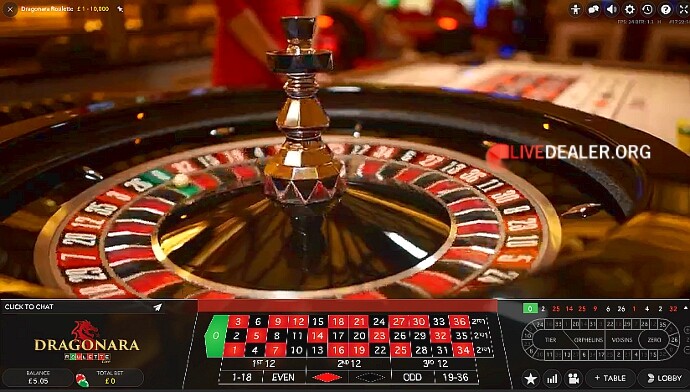 The land-based casino table from Malta looks more polished and less like a table from a smoke filled casino. Extra camera angles also give a more impressive Immersive feeling to the table. The latest enhancements to the table justify its increasing inclusion in more Evolution casinos lobbys.
Players will shortly be getting the choice of another Dual Play Roulette table as a result of an agreement signed with London's Hippodrome Casino. At least this time when the casinos stick a British flag on the table in their lobby it will actually mean the table is from the UK. Not just that the table is called London, or that the dealer had some training in the UK, or knows somebody in the UK. Sometimes you find dealers with the strongest Russian accents dealing tables with British flags at Evolution (William Hill recently had flags across various blackjack and poker tables 😕 ).
---
Shifting sands of Evolution tables
More cosmetic, refreshing of tables was occurring back in Latvia with another new setting for several of the generic low limit green blackjack tables at Evolution.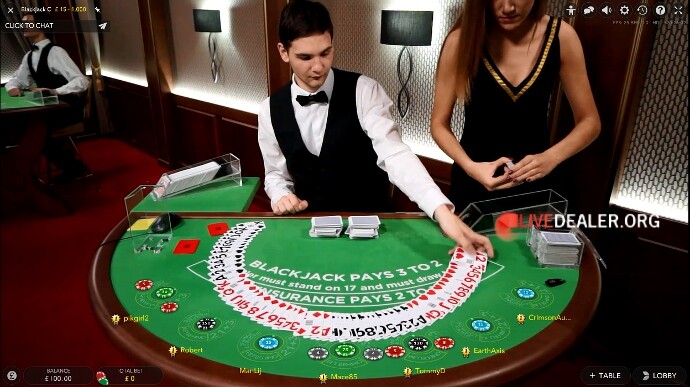 Obviously there's lots of table upheaval in progress at Evolution. It was only as recent as June the generic tables switched to using the old Unibet private area.
---
VIP Paddy Power
Not quite up there among the most earthshattering makeovers ever was the change of a Paddy Power private blackjack table to VIP status and the accompanying new grey table surface at Playtech.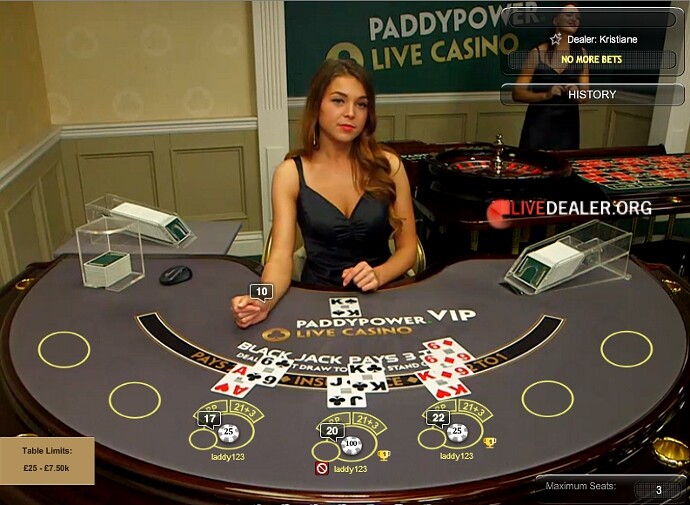 The new higher table limit is unlikely to have a knock on effect on the other 3 private blackjack tables as there's usually lots of free seats.
Presumably the vast majority of Paddy players would be more interested in the chance to win a trip to Macau. If only it wasn't another leaderboard race at Paddy with the top prize going to a high roller again. Thankfully Paddy also lined up £/€10,000 in bonuses to be shared among the top 150 players.
---
In other poker related news
PKR.com is the latest established poker site to launch a live casino service for its players. Founded back in 2005, PKR relaunched their casino site in March when they teamed up with Microgaming.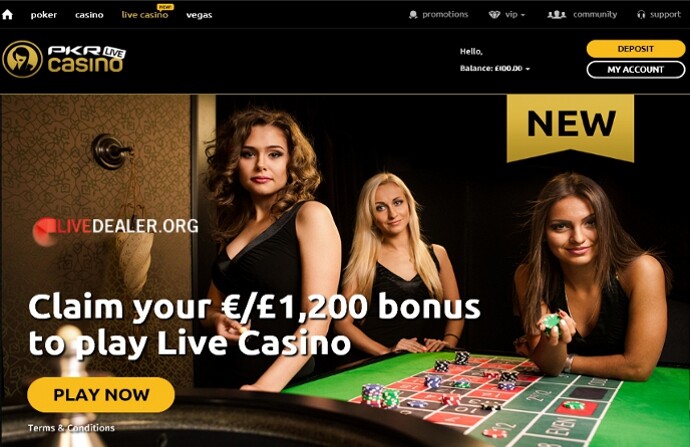 Chris Welch, CEO of PKR is reported as explaining that poker remained the company's DNA, but casino revenues hit record levels this year, making the addition of live casino a natural and exciting progression. Or in other words, if everybody else is doing it.
Given the existing Microgaming agreement with Evolution Gaming it comes as no surprise that the new Live Casino offering from PKR makes use of the Evolution platform.
So far there's no private tables for PKR at Evolution unlike famous rival poker sites. But it's reasonable to assume an exclusive blackjack table will surface sometime in the future.
---
Betway expansion
Evolution tables seem to be proving a hit with Betway players. They've opened 2 more blackjack tables taking their private table tally to 5.
It was only back in February that Betway connected players to Evolution tables. At the current rate of table expansion Betway will surely be looking to have a dedicated private area sometime, rather than having branded tables squeezed in higgledy-piggledy fashion around the studio.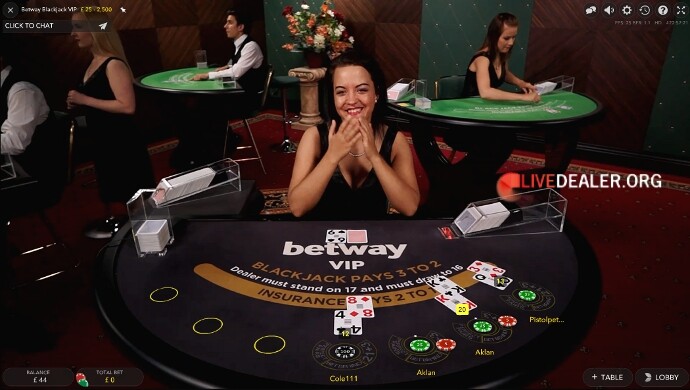 ---
Extra language tables
Having covered a sizeable selection of language roulette tables, Evolution are pressing ahead opening more non English blackjack tables. Not only private tables to suit individual casino customer demographics, but also generic tables.
French and Flemish blackjack tables are open daily complete with snazzy decor alongside the generic Flemish roulette table from the Malta studio.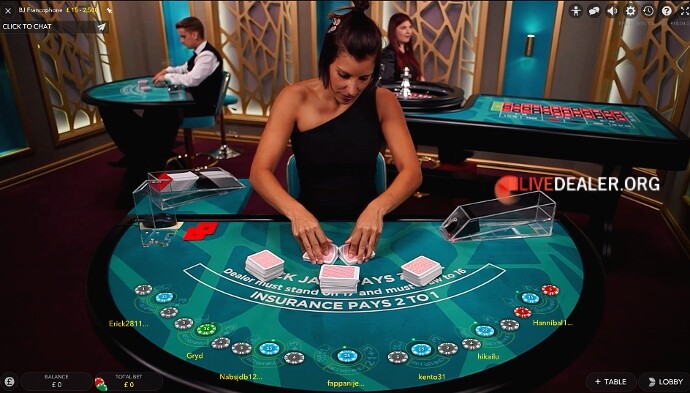 Casino uptake of the new language blackjack tables is way behind the roulette tables. Curiously the generic French and Flemish blackjack tables are available at Stan James but not at big sister casino Unibet with whom they share private tables (including private French and Flemish tables).
---
As one door closes, another opens
A couple of memorable events in online live casino history occurred in August.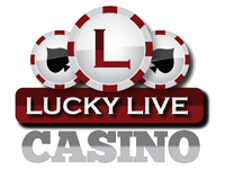 Firstly Lucky Live quietly closed its casino doors. Any players trying to access the site are directed to sister casino Fairway. As LD said,
Bit of an end of an era really. Lucky Live were one of the early operating European market facing live casinos and among the first to offer games streamed from tables within bricks and mortar casinos… a real novelty back then.
Then came news from across the pond that Ezugi had beaten all its rivals and made landfall on US soil. At last players in the States have the option of playing online with US based licensed dealers.

Currently only New Jersey residents benefit from a partnership between Ezugi and the Golden Nugget Casino. But surely it's just the start of bigger things to come for US players.
Kfir Kugler, CEO at Ezugi New Jersey said,
We are honoured to partner with Golden Nugget Atlantic City to bring the first ever Online Live Dealer solution to New Jersey.
and,
Live Dealer games are extremely engaging and belong in the US.
Everybody at Livedealer.org certainly agrees with that sentiment.
Back in Europe, Ezugi also found time to launch roulette from a new studio in Belgium.
---
and finally, back to where it all started
LD kicked off August with news of Royal Panda's modest new private table area at Evolution. The 3 Panda tables all lovingly presented in the new HD wide format.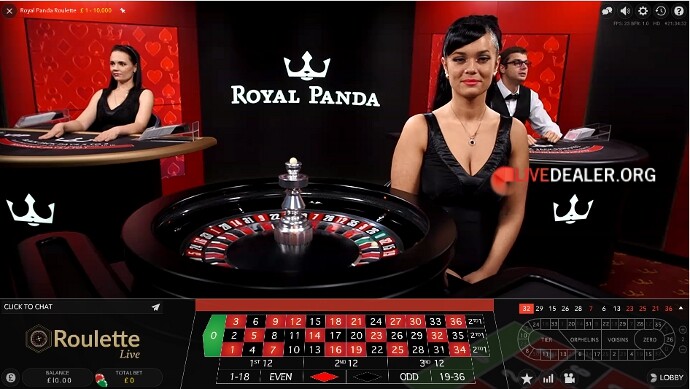 Size wise it must be a contender for one of the smallest areas in the Riga studio. Although much better looking than many casinos areas I've had the pleasure (or should that be displeasure) of playing in. Neat finishing touches to the private area include carpet emblazed with Royal Panda's logo.
---
https://www.livedealer.org/dev/wp-content/uploads/2016/08/ff-aug.png
340
360
Unclefester
https://www.livedealer.org/images/Livedealer-logo.png
Unclefester
2016-08-31 17:56:36
2016-08-31 17:56:36
Fester's Findings - August 2016