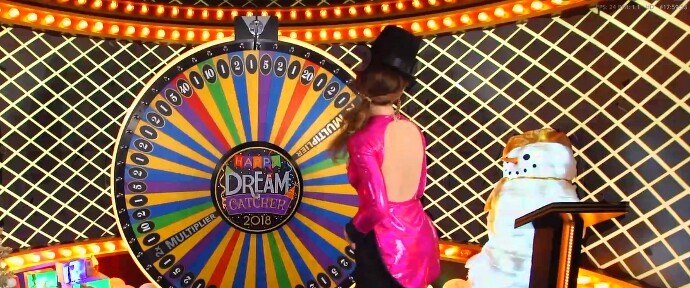 Following a busy end to 2017, January was quieter albeit punctuated by a couple of new studios. So, I've took the opportunity to look back on the last couple of months. Perchance you'll find something of interest.
A new year beckoned
Once the great looking Christmas themed tables were over thoughts turned to 2018.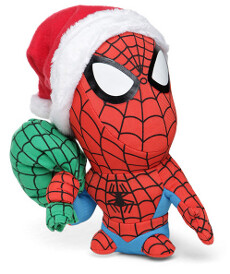 As expected the new year was ushered in by a flurry of costumes and in-character performances by Evolution dealers on the Dream Catcher wheel.
Going forward from this and the earlier Halloween spectacle Evolution have truly set the bar high for players who like this sort of entertainment. Usually I'm not known for liking game distractions, but I really did enjoy both promotions and on a live game I don't normally visit.
The pleasure of Alina (pictured below) who really should be on television, in full flow striding around the wheel is a delight to behold.
Although Dream Catcher was only launched in 2017 (covered in LD's review of 2017), it's already a hit for Evolution and I'm sure we'll be seeing more of these money wheel games in the future.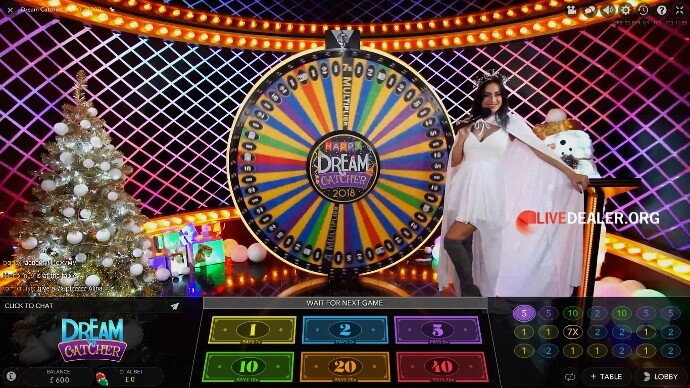 Well done to Alina and your colleagues for almost converting me into a money wheel player.
---
Texas Hold'em Bonus

In January Evolution did have something to launch, albeit it was more of an announcement of the general release of the Texas Hold'em Bonus Poker table. For regular visitors of Livedealer.org and players at Unibet and Leo Vegas the Evolution press release came a month late.
As yet following the opening up of the game to other casino licensees there's been no immediate rush uptake of the new poker table. But it's definitely a good game for players who like poker and worth the wait when it does finally come to your favourite Evolution casino.
LD back from his Australia sojourn has already got to grips with playing the latest poker variant in his blog. It's worth adding, true to previous form the game is already playable on mobile devices (iPad version shown here).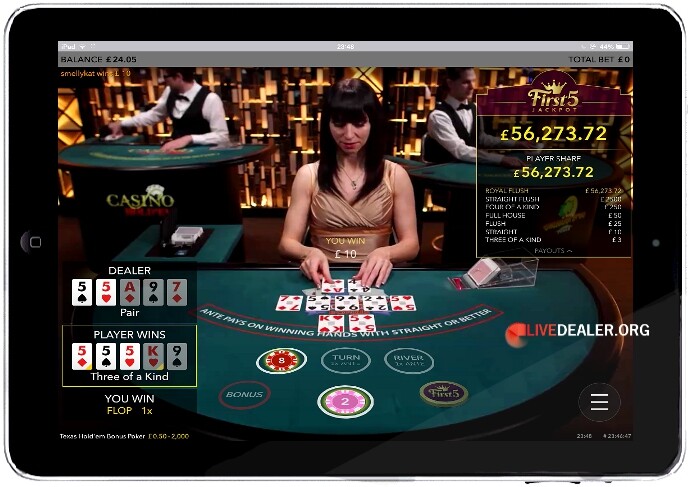 Meanwhile online casino poker players at Playtech remain stuck in BM (before mobile) when it comes to live dealer games. Seriously, how much longer will it be before Playtech finally get their act together when it comes to delivering Casino Hold'em or by some miracle the newer 3 Card Brag. While I'm on the subject, I recommend you stay clear of less informed casino review sites that erroneously say you can play mobile live dealer poker at Playtech. If they can't get that information right, how can you rely on anything they say.
As for how much longer mobile players will have to wait at Playtech. Hang in there, my casino spider senses are detecting some movement. The wait will be much shorter now than all those years you've waited ever since your favourite dealers went mobile.
---
Auto-play roulette
Another game or feature not just new out of the box at Evolution, but something easy to miss tucked away at the bottom right of the screen, especially if you've been away for the last couple of months is the Auto-play feature that's available on roulette tables.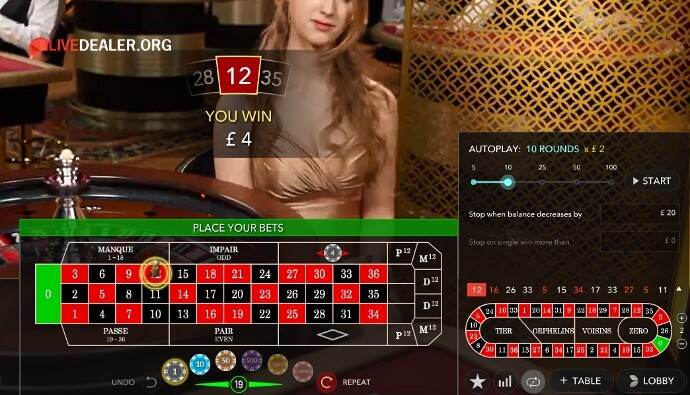 The feature works in the same manner as auto-play on Dream Catcher.
It may be a small button, for a small feature, but it can be useful. I've found myself hitting the Autoplay button when short on free time I could be at the computer, but wanted to get through a specific number of bets to fulfil a casino requisite number of live game rounds to be eligible for some promotion.
---
Playtech now and then
In December Playtech, for the most part completed the process of opening its new studio Lounge tables. The new, all access common (generic) tables replacing the closed old Riga studio tables that were so well known to players for many years.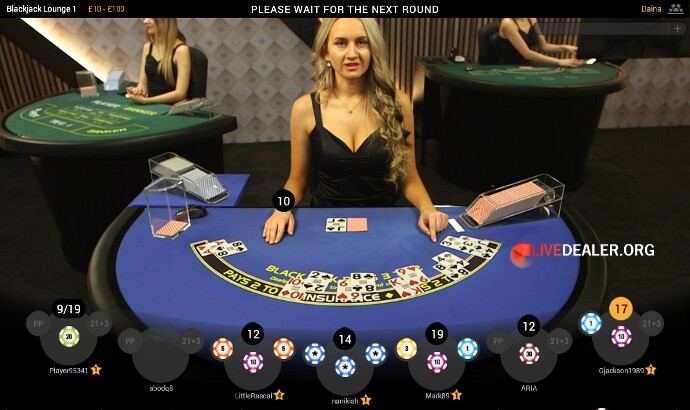 There's no denying that Playtech's Euro tables had long since stopped being my first port of call whenever I felt like playing a few rounds of blackjack, roulette or poker though I did still frequent the baccarat tables at times. But the fact that in the whole of January, a month after the new Lounge tables opened I've not wished to play any games thereon is a reflection of my feeling for the new studio tables. It's not that I dislike the Lounge tables appearance per se, but feel underwhelmed by them. It's a brand new studio, a blank canvass, not the situation of trying to update a studio confined in your existing building whilst maintaining live table output, which others (notably Evolution) have done in my opinion to much better looking results.
This is supposed to be the studio that takes Playtech into the 2020's. It may be the world's largest live studio. And it may have oodles more technology….not always the best thing if it's simply used as a tool to amuse dealers, or to fake dealer intellect/experience.
It may have all these, and more, but if it doesn't grab you aesthetically when so many other great looking table areas are around now in 2018 and with new studios launching, why choose Playtech. Obviously that's not a choice to many players because they join a casino/bookmakers and play what tables are presented to them, in doing so never knowing what else is out there.
When you see the new German and Russian roulette tables set against the bland geometric backdrop, the VIP blackjack table and so on. Is that really the best Playtech could come up? The have no character, another homogenous bunch of tables that might as well be in the back of a lorry (I jest but it wouldn't be a first).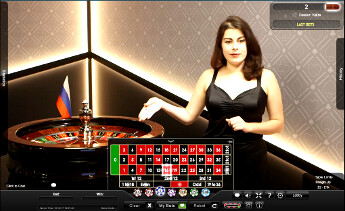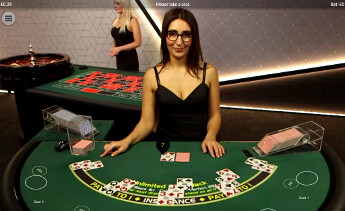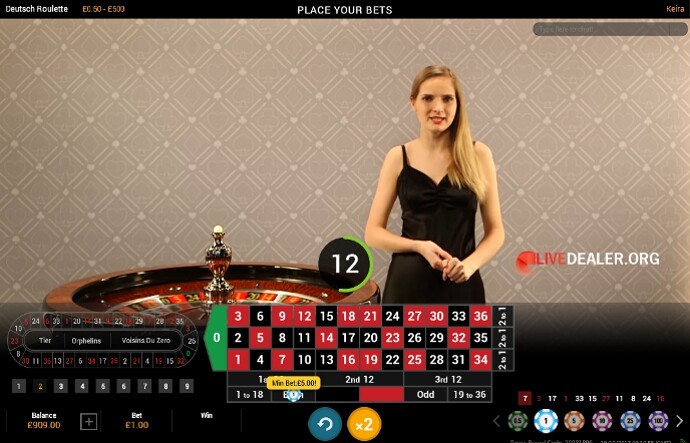 I'm still minded to wonder as I mused back in November,
"if Playtech's objective was to provide licensee casinos a very basic looking, functional set of generic common tables. With the aim of encouraging 'smaller' casinos to splash out extra coffers for more lavish tables such as the Prestige [roulette and baccarat], Liberace Grand Royale or ideally invest extra for private tables"

No doubt I'm being over critical/cynical (never known to do that ;)), and there's a degree of sentiment I have towards the old studio and memories of Italian dealers I conversed with when I was a Playtech novice.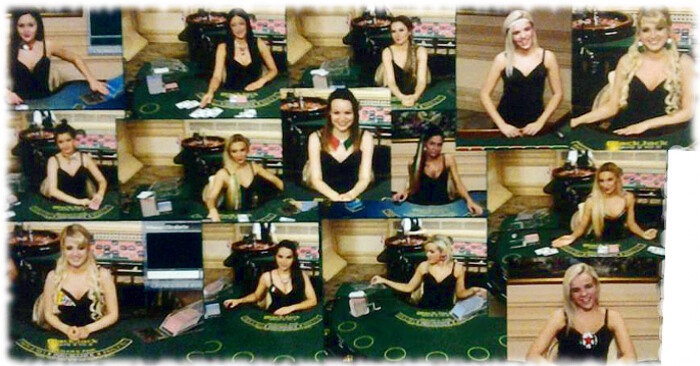 ---
That's how to do it
While Playtech completed the opening of its Lounge tables in December, Evolution unveiled their new look Riga common tables albeit those aimed at high staking players. It may have been just a cosmetic change of the high roller Evolution VIP (red area) tables but they sure do look great now. Everything bar the carpet and dealers(mercifully) having been replaced or updated in a very effective manner.
Quoting LD from the forums,
"Very nice. Make me feel filthy rich just looking at them"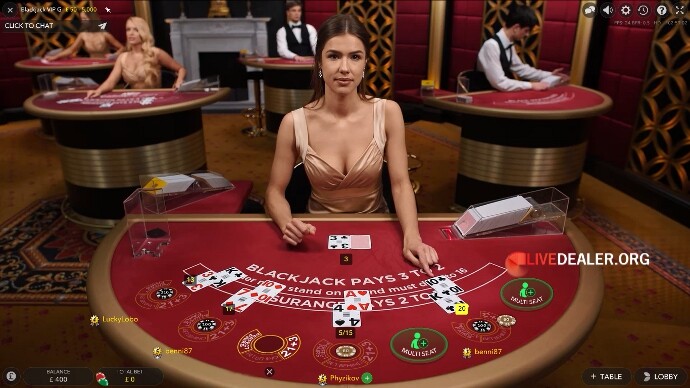 Besides oozing opulence the new look VIP tables are a great looking complement to the mid-range Silver tables. The majority of which also having had a facelift at the end of last year. Each table area quite distinct, but both with great style.
---
That's how to do it, Entertasia style
On a much smaller scale but staying within Latvia, Playtech wasn't the only live dealer provider taking the finishing wraps of a new studio.

Asian live dealer supplier Entertasia (EA) announced in January, the opening of the first Asian owned, Asian designed live dealer studio in Europe, the company claims.
EA who are celebrating 15 years involvement with live dealer software say they've committed,
"tens of millions of dollars to this venture"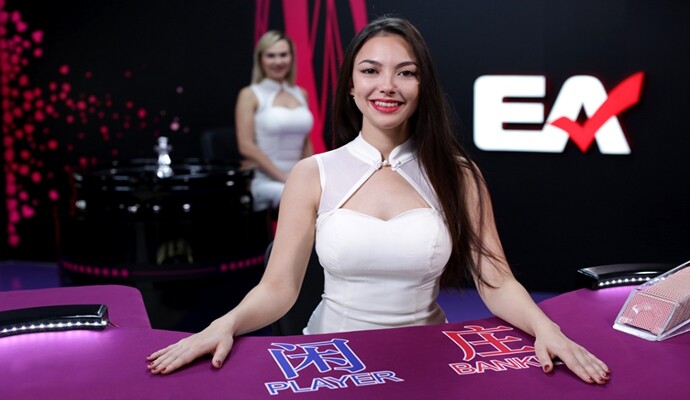 A spokesman for EA commented;
"While Asia is the traditional home of the live dealer concept, and most of the innovations and ideas that have produced the slick, intuitive and profitable live dealer solutions we see around the world today have foraged in the highly competitive and demanding world of digital Asian betting, EA believes that the Live Dealer market in Europe is now ready for explosive growth and EA's state of the art Live Dealer solutions are well placed to dominate in the European market place. To this end, EA has used their experience and expertise to deliver a world-beating live dealer studio in Latvia containing the best of their gaming technology but delivered from Europe, with a western feel and look".
First impressions aesthetically of the new venture being very positive.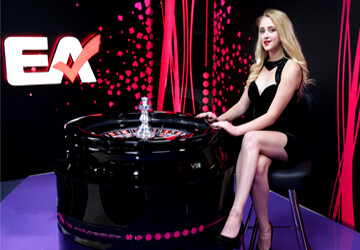 I can well imagine Asian players who are a fundamental part of Playtech's business, and who Evolution had eyes on, preferring the striking look of EA's tables over the new Lounge tables at Playtech. Of course Playtech also has its Asia studio tables, but western dealers have a "certain appeal" to many players. It will be interesting how much of a success the studio may become and in particular if any Asian facing casinos switch from Playtech's Euro table output.
This all the stuff of the future though. Other studios have gone through the process of starting up, hiring staff (known personally) and never delivering in Latvia.
---
That's how to do it, Vancouver style
As January came to an end the next evolution in live dealer output went live across the Atlantic Ocean as Evolution Gaming's new Canada studio launched.

From what I've seen of the new studio so far it looks darn good.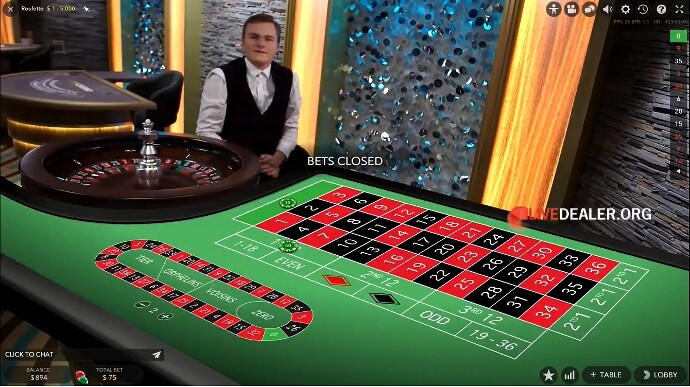 The interface and games, including a baccarat table with player controlled squeeze are instantly recognisable as a product of Evolution.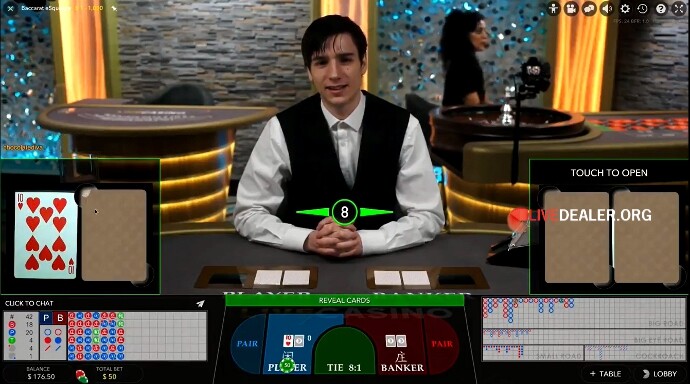 ---
Uniformity and 888 tables
New, low limit blackjack tables are always welcome news, and when they are private tables all the better for players of a particular casino.
888 casino have 2 such newly opened tables now available to it's players in the shape of FIVER and START. No frills, no large video screens, no dedicated table setting, just your basic table emblazoned with the 888 logo.
Truth be told, a lack of space in 888's multiple private table areas being the reason for the new tables placement on the general floor table area at Evolution. Although they are less noisy and more secluded with another rival private casino table (Codeta) situated out of sight in front of the 888 tables.
One slightly disturbing surprise for yours truly was the sight of some dealers coming to the tables wearing the 777 giant ladybird neckhuggers. Like their Alien counterparts they must be bug**rs to get off! 😛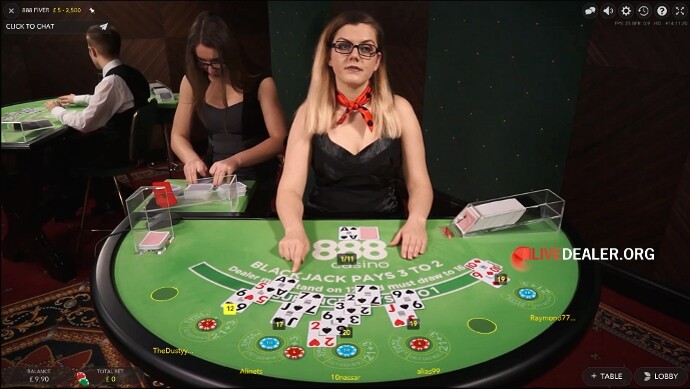 For the record, anybody with the power at 888 reading this, in case it wasn't obvious by now….I would rather see less of the 777 scarfs, not more.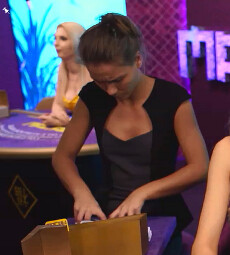 Another item of attire that's been catching my eye is the new uniform for shufflers across Evolution common and private tables (pictured here & the Silver table above).
Very smart looking indeed and much nicer than many dealer uniforms you come across on casino travels.
I realise many players don't take notice of such things, but I do and appreciate such things. Well done Evolution again. It's nice to see or know when dealers and other staff genuinely feel comfortable in their uniforms.
---
https://www.livedealer.org/dev/wp-content/uploads/2018/02/FFjan18.png
340
360
Unclefester
https://www.livedealer.org/images/Livedealer-logo.png
Unclefester
2018-02-02 07:21:06
2018-02-02 07:21:06
Fester's Findings - January