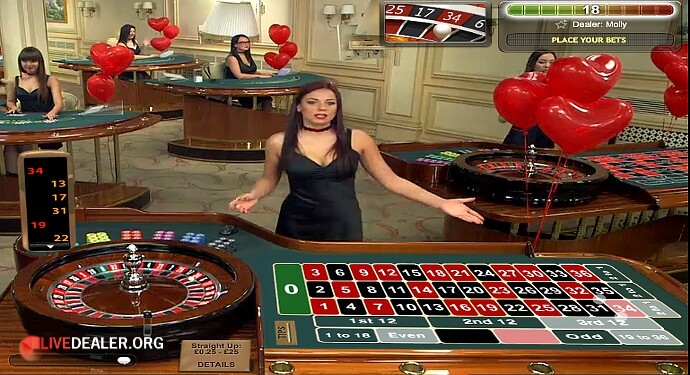 Well I gave you forewarning last month to expect the Playtech Valentine's Day promotion so there should be no excuses if you missed it. Oh alright, just in case you were busy here's how Playtech was looking and more.
Valentine spectacle at Playtech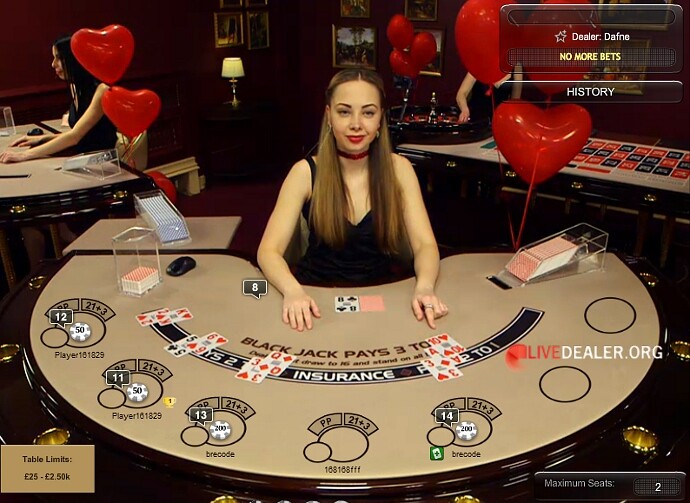 Somebody at Playtech had been busy blowing up lots of red balloons to decorate the Euro studio generic table areas for Valentine's Day. In a break from previous years the 'comfortable' looking neck hearts were absent from dealer's red neck bands at the Euro studio. Most of the private tables also joined in the love fest.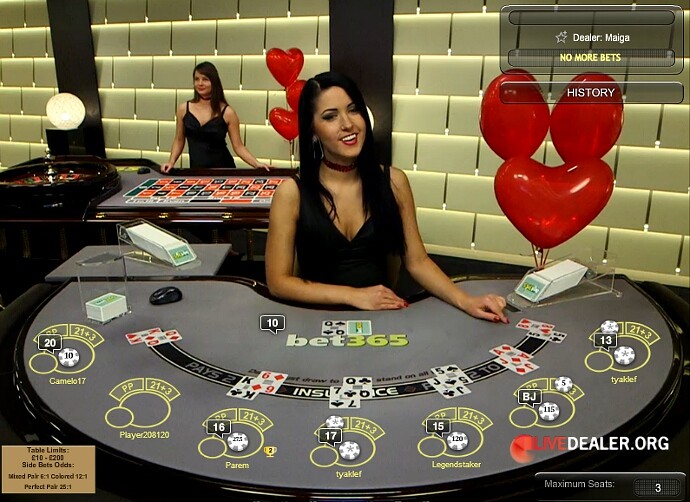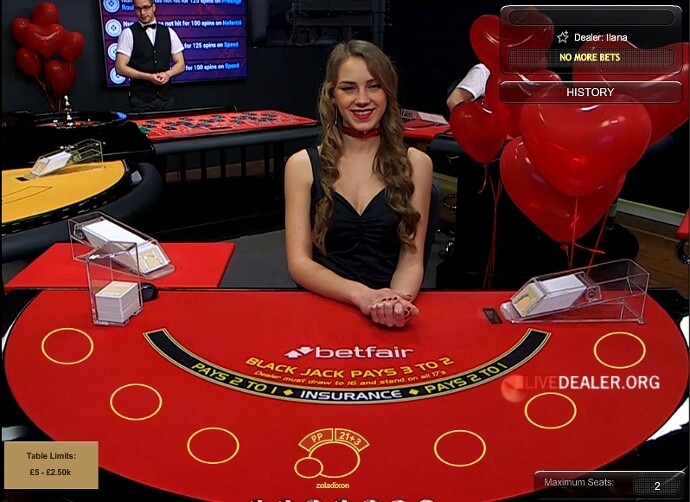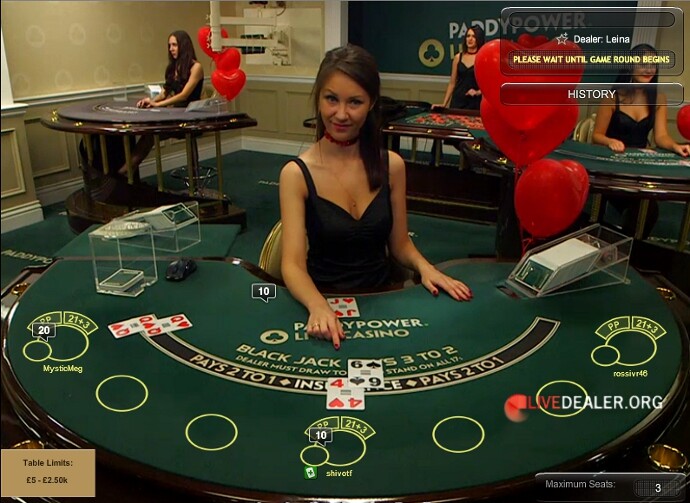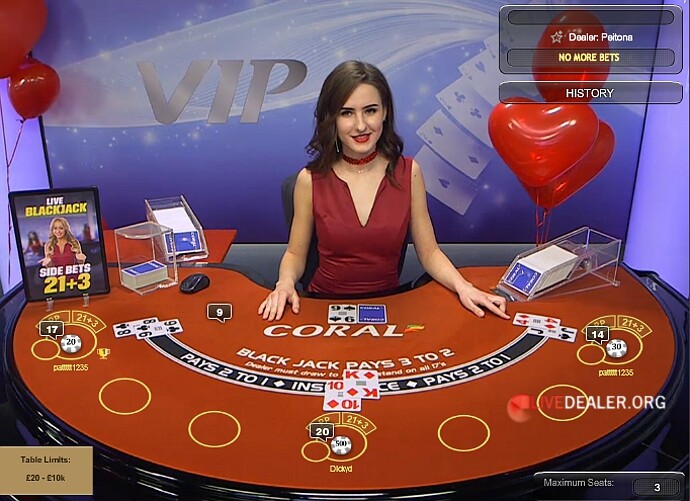 Sky Casino again being the notable exception in not having any promotional trimmings or dealer accessories. Either Sky doesn't want to pay extra to Playtech for such trivialities or they are gunning for loveless players who don't celebrate Christmas, think Halloween is an American tradition, not interested in seeing dealers Playboy bunnified, don't watch football tournaments…..
Neck hearts were still in fashion in Playtech's Asia studio, complete with cupid backdrop wall and so on.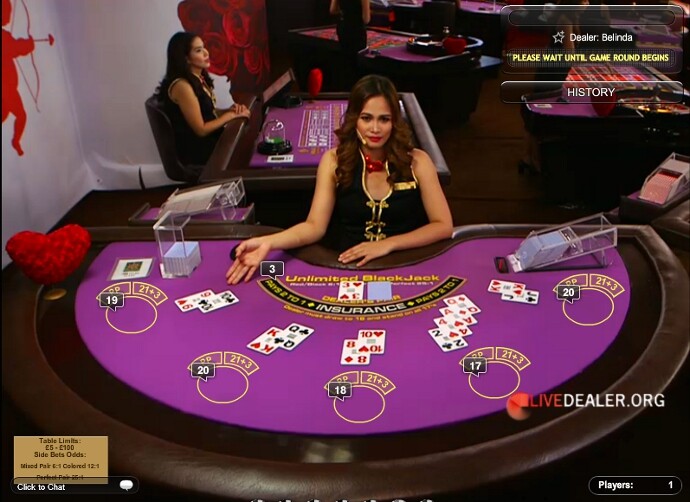 ---
Some love from Evolution
As is usual Evolution Gaming generic tables were devoid of any recognition of Valentine's Day. Although a couple of private table areas had some promotional themed love to share. No prizes for guessing that 888 Casino joined in and managed to drag it out over several days!
Since its launch just before Christmas, 888's new private area has spent more time in 'promotion mode' than 'regular mode', well almost.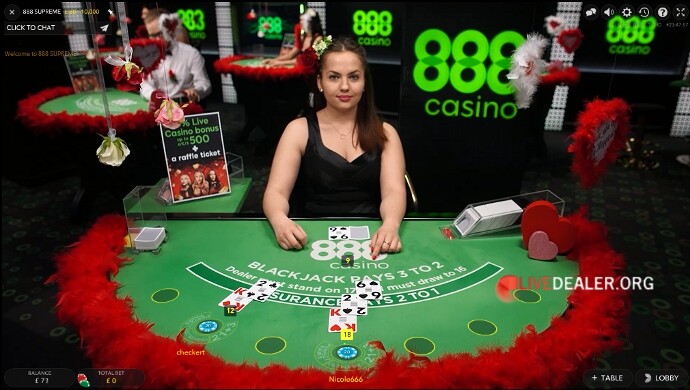 Over in the Malta studio, Grosvenor managed to get hold of a couple of red balloons for eagle-eyed players…..I must have missed the news story regarding the shortage of balloons on the island ;).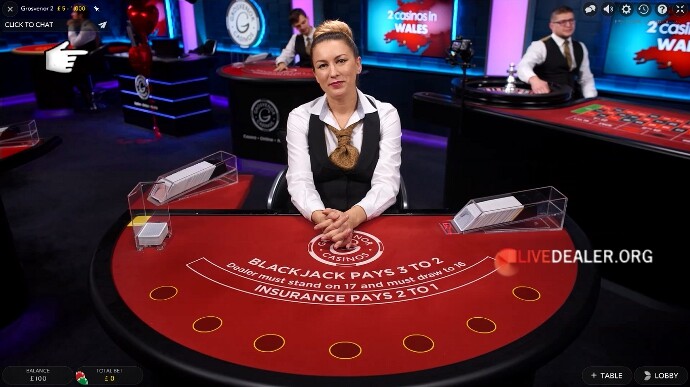 Back in Riga Mr Green's 'any colour as long as it's green' private area had red video walls. It seems a waste when other casinos with video walls don't make best use of them on special occasions.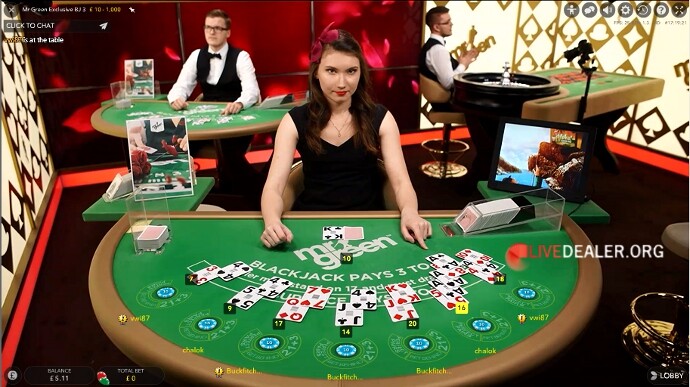 ---
New Squeeze table
Playtech have opened another baccarat table with dealer squeeze. The new table appears in the Euro lobby of several casinos but don't expect to find your favourite Euro dealers at the table. The table is heavy in Asian styling, comes with Asian dealers, and surprise, surprise it's not in Europe!.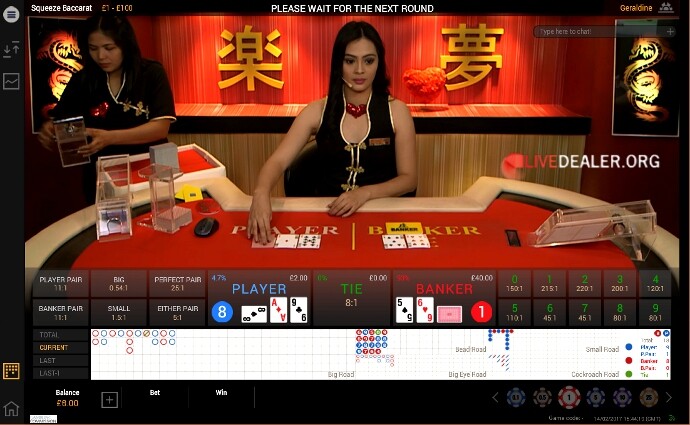 ---
Interesting times at Playtech
2017 looks set to be a memorable year for Playtech dealers and players alike with the press release confirming a new replacement Riga studio.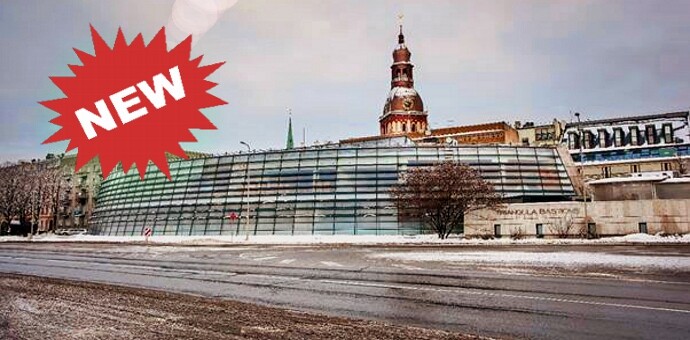 Seeing confirmation of what I was hearing from sources in Latvia reminded of the time not so long ago when Playtech dealers weren't allowed to say that the studio was located in Riga.
I'm still unconvinced about the new era of openness at Playtech despite all the evolutionary changes that have gone through in the last couple of years (albeit some of those have since been reversed). But it was interesting to see how much location information was readily made public in the press release.
"Built on top of the city's fortified 16th century walls in the heart of Riga Old Town"
Not that previous lack of such information stopped determined obsessive players from locating the old studio. As a dealer posted in the forum,
"There have been situations, when a player has been standing at our front entrance and following dealers in public transport"
Playtech also have a new live poker game in the pipeline. As a matter of fact, the new Three-card Brag game is already being put through its paces in the old Riga studio. It's certainly long overdue that Playtech updated its poker offering with so much more available from local rival Evolution. Whether any Playtech casinos will have the three-card poker variant before switching to the new studio is doubtful though.
More observant players may have spotted that the live lobby Casino Hold'em tab has switched to a Poker tab at several casinos in readiness for the new table game.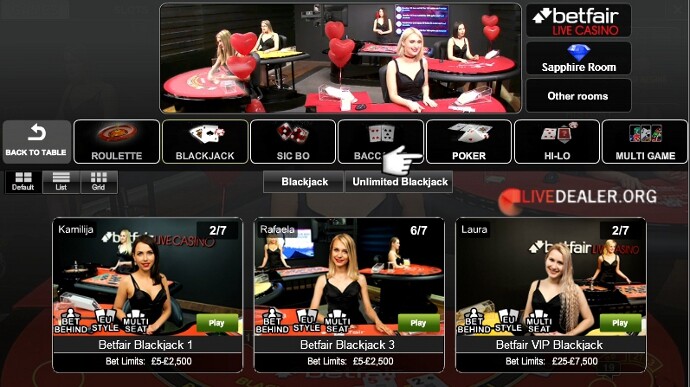 Irrespective of any new poker tables, many players would surely be happy if Hold'em was finally made playable on mobile devices. It's not as if a string of recent annual reports were suggesting little appetite for live dealers on mobile.
---
New Playtech live lobby
Last year Evolution casinos got their hands on a new look live lobby complete with customisable banner. This year looks set to be the turn of Playtech casinos. No, thankfully not the alternative lobby format at Betfair with its overly large tables.
There's talk of Playtech's new bells and whistles 'intelligent lobby', that can even tell you the next roulette numbers….if only that were the case.
What is for sure is the new look live lobby launched at bet365.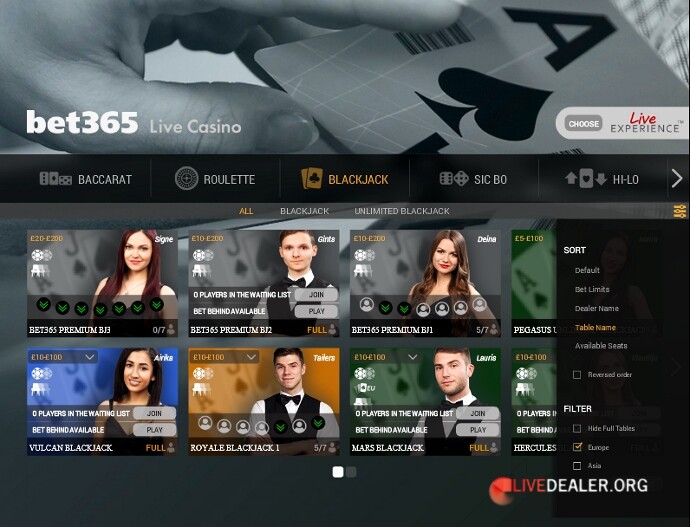 Currently there's an empty banner area where you would expect to see the Live Clickable Lobby that according to Playtech spiel "results in trust and loyalty". Perhaps the video feed will be restored once the new studio is fully operational.
---
Poker tables in decline
Just as Playtech are getting their act together with the prospect of a new poker table it appears private tables are going out of favour at Evolution.
In January's blog I mentioned the poker table changes at PokerStars and Unibet, but held back to discover what the situation was at William Hill. A month later it's safe to report William Hill's private Mayfair poker tables (Hold'em & Three-card) closed around the time the new Gold Salle Privée table arrived on the scene and have remained closed.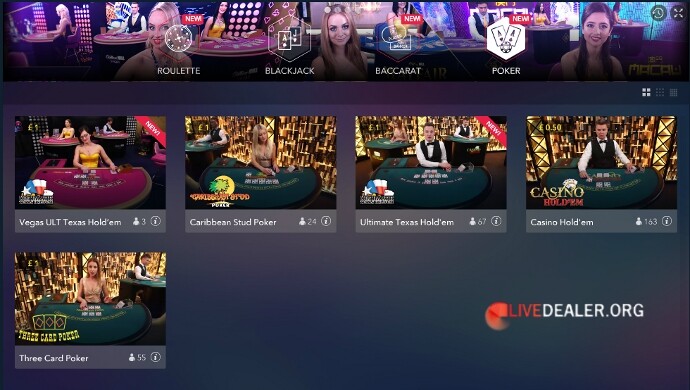 With the 2016 opening of the swish poker area at Evolution and all the variants available therein it's not really so surprising that casinos are re-evaluating if they need to offer private poker tables when they only ever have a handful of players.
William Hill players still have option of the private Ultimate Texas Hold'em table in the noisy Vegas area if you don't mind the distraction of your dealer turning round chatting to other dealers when you're mid-game trying to decide whether to raise, check or fold.
Alternatively, if you hanker a really quiet game of poker almost entirely to yourself you could switch to Genting casino. Their private Three Card Poker table is still open despite the lack of players.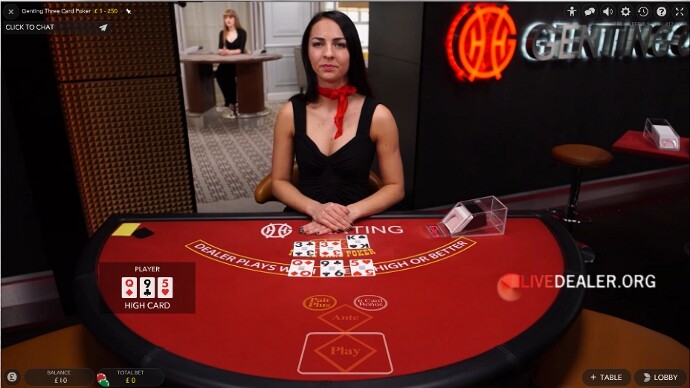 ---
Coming in March
Big reveal month for Playtech as the protective wrappers come off the new Riga studio tables.
---
https://www.livedealer.org/dev/wp-content/uploads/2017/03/ff-feb.png
340
360
Unclefester
https://www.livedealer.org/images/Livedealer-logo.png
Unclefester
2017-03-03 13:54:37
2017-03-03 15:19:26
Fester's Findings - February 2017