A strong month from Playtech with the unveiling of new games and replacement tables. Opening ceremonies aside, what else caught my casino interest in May.
Snappy Coral tables
As Playtech continue the process of migration from the old Riga studio to their new studio it was the turn of Coral casino private tables to start afresh. The new Coral dedicated area comprising of a multi-camera roulette table and 4 blackjack tables.
The placing of the roulette table and camera angles is a good showcase for everything in Coral's area.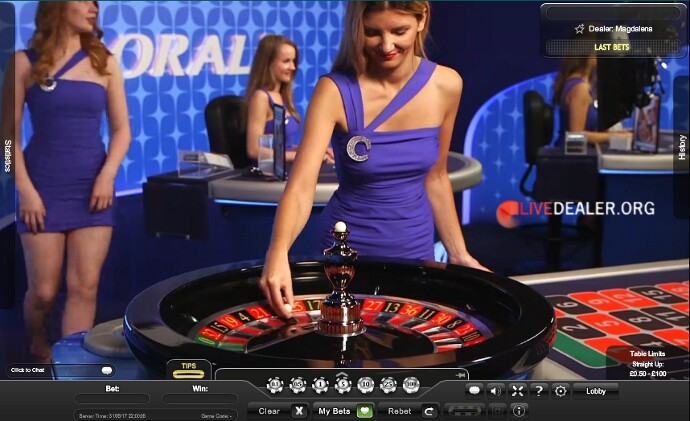 Even though so far it's only a minor increase of a solitary blackjack table from their previous offering I really like the new look complete with new blue dealer dresses and C brooches….give me brooches over scarves any day!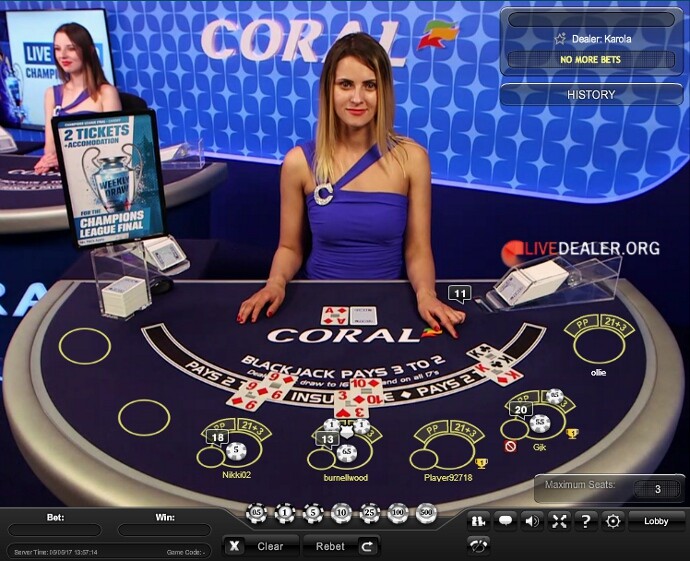 The new VIP blackjack table is more secluded and a lot more gold than the old table at Coral.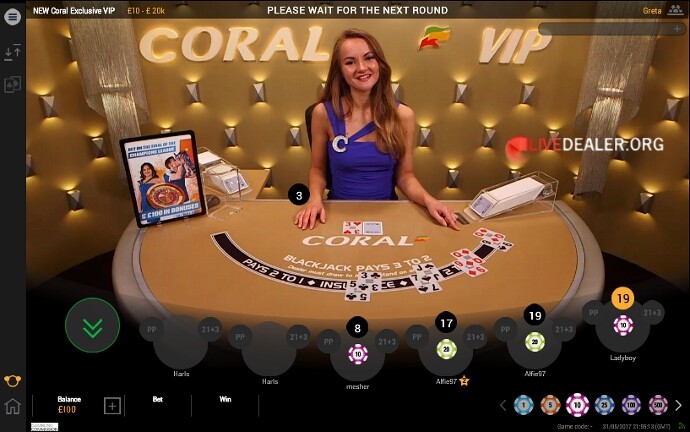 Unlike the other Coral blackjack tables, the VIP table makes use of Playtechs new, 'all singing' HD wide interface with its front seat row of Mickey Mouse players. The jury still seems to be very much out on whether players (including LD) like the new interface,
"still not sold on the Mickey ears"
Nevertheless, Coral's area definitely gets my vote for the best looking combination of tables and dealer uniform opened in the new studio. Albeit so far we've only got to see the Liberace(Grand Royale) and Sky Casino tables for comparison.
When all the other new private tables have opened at Playtech (bet365, Ladbrokes et al) it would be worth revisiting LD's poll for who's got the best looking private room, especially as so many of the Evolution casino areas have also changed in the meantime.
---
Are you a Dragon or Tiger player
As I've remarked previously, few months go by nowadays without something new to appeal to baccarat loving players at the major platforms. Whilst not per se another baccarat table, Dragon Tiger was launched at Playtech in May.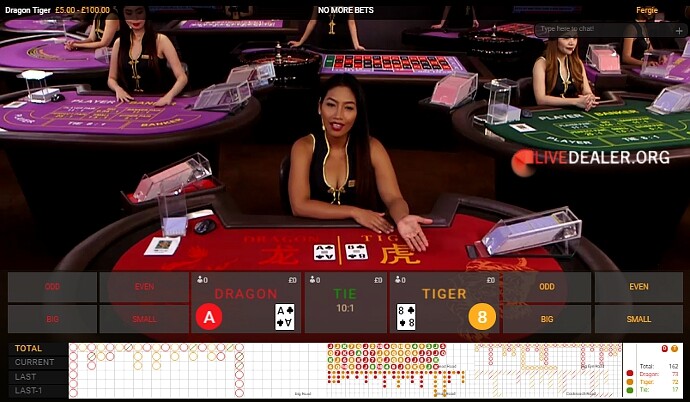 For players unfamiliar to the game I would say think of it as Baccarat Lite. What you have in this game is just one card dealt to each position (Dragon & Tiger), highest card wins. To quote LD from his blog,
"you don't have to be a genius to get your head around it's intricacies. There aren't really any!"
The most appealing aspect of the game to some players will possibly be the 10:1 payout offered on the Tie bet. Unlike baccarat though beware of losing half of your bet if you don't bet on Tie, as opposed to the normal return for a Tie game on Player and Banker bets.
There are also High/Low and Odd/Even side bets to spice up the game. These pay 1:1 except when a 7 is dealt and you lose regardless.
You may not need to be a genius to play the game and you don't need to be a genius to spot the game is from Playtech's Asia studio. What I did find interesting though was how dealers were actively encouraging players to use the chat option and saying how much more interesting the game would be if they did so. Obviously this is nothing new to you if you're used playing in the Riga studio, but Asian players are traditionally much less talkative with dealers and fundamentally it's a game that at heart is aimed at Asian players.
Currently you'll find the game at bet365, but expect more casinos with the Asian tables to have the game in the coming months.
Alternatively if you don't want to wait and bet365 isn't an option, you could try the similar game War of Bets from Betgames. It's available with a raft of unfamiliar live games at Dublinbet.
As for rival casinos using the Evolution platform, well maybe it's about time for Evolution to launch another table in the ongoing battle part# (I've lost count) for baccarat players….how about calling it Baccarat Lite as they already have Immersive Lite.
---
Three Card Brag goes live
Just in time for the end of May, Playtech's new live game 3 Card Brag was launched to a limited playing audience.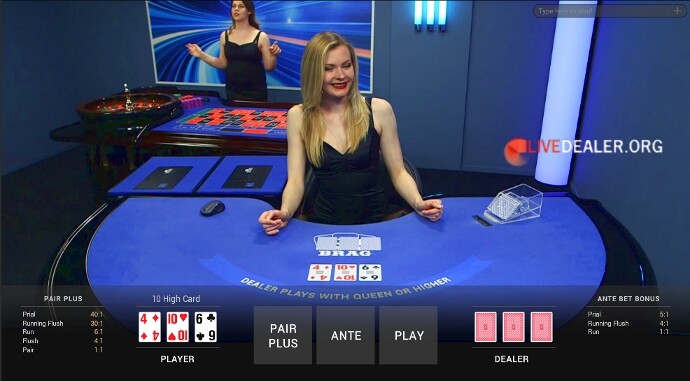 About time too! The old spidey senses were tingling about the new table in front of Speed Roulette back in February.
"Playtech have a new table game in trial/demo stage in the Euro studio…..Three card brag.
The table is currently situated in front of the Speed Roulette table."
That explains all the background noise at the Speed table then, with (count them) 2 shuffling machines at the new poker table!. I'm only joking, it's not noisy, there are premier tables considerably noisier than here. Actually only one of the machines is in use at a time. Clearly though Playtech have no intention of training/allowing dealers to shuffle when the inevitable gremlins throw a spanner in the shuffling machine works.
Back to the game, well its fundamentally very similar to 3 Card Poker, the main difference being the ranking of card hands. In Bragg, a Prial (three-of-a-kind) is the highest rank (3-3-3 being the best). I'll gladly leave LD to provided a more detailed look at the game (house rules, return to player rates, video etc) in the fullness of time.
The new Brag table is now playable at bet365, Betfair, Paddy Power and Sky Casino daily from 3pm UK time.
---
UK roulette
I rather liked the styling of Playtech's London roulette table in its HD blue incarnation in the old Riga studio. So I was naturally interested to see how Playtech could better it, if at all, with the arrival of the new studio. Mid May Playtech unveiled the new, replacement roulette table.
Firstly they've renamed it UK roulette. That's fine, no harm done.
Secondly they've kept the multiple camera format. Which I'm not always the greatest devotee of at live tables, especially so if there's no option to turn it off and you can't always see your favourite dealers :(.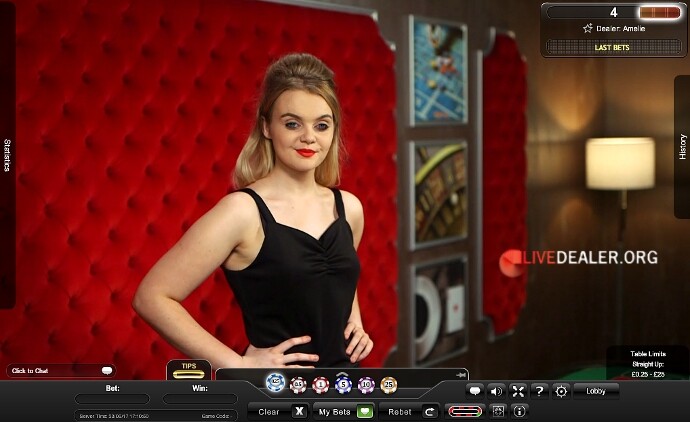 Thirdly, the new roulette wheel looks pretty funky with a yellow splash of paint depicting famous London landmarks. Surely though they ought to be UK wide landmarks given the name change, even if nobody outside of the UK recognises them :D.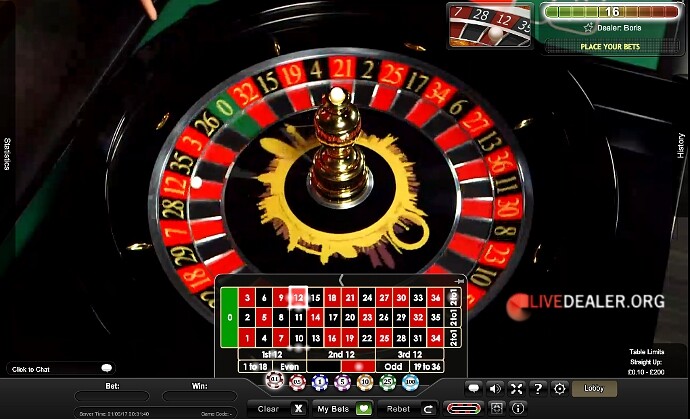 Lastly, yes you know what's coming. A brand new visual setting. That looks to me, too much like something I might expect from NetEnt….which is great if you like the look of their tables.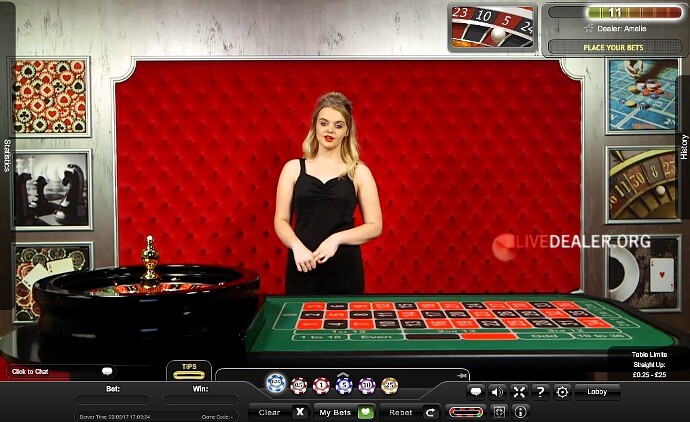 But I'm sticking with my opinion that Coral's new tables are the best looking from Playtech so far in 2017.
---
PokerStars news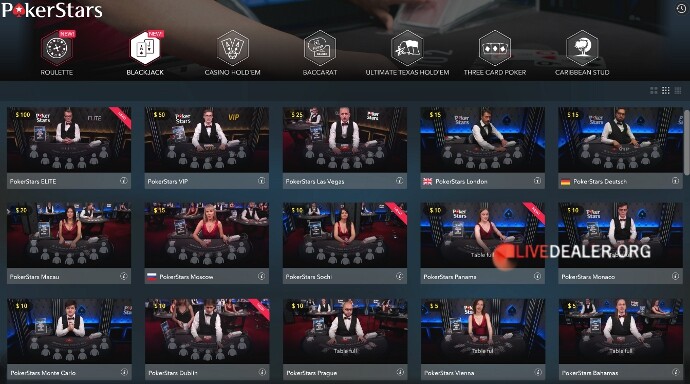 PokerStars have expanded their already considerable number of private blackjack tables with the creation of a new VIP blackjack table area at Evolution. This combined with renaming the previous VIP and Elite tables has increased the number of private tables currenty available at PokerStars to 16 including the roulette table and Malta based language tables.
The new table area comprises of 3 higher limit tables and a subtle, but stylish colour change from the main table area.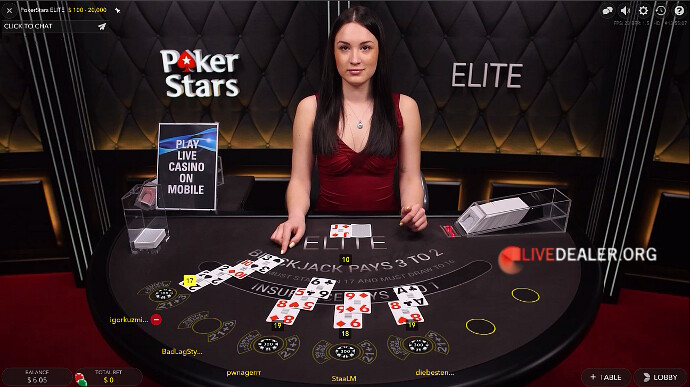 In other news, Amaya the owner of PokerStars and Full Tilt announced it would be changing its corporate name to "The Stars Group Inc.". No doubt renaming to "The Tilt Group" wasn't even considered judging by how Full Tilt's tables closed at Evolution last year ;).
---
Leo Vegas now and next
Another casino in the process of overhauling and expanding their high stakes private tables at Evolution is Leo Vegas. As LD reported, new blackjack tables opened in May as a forerunner to a new Premier Stakes area set to be launched in July.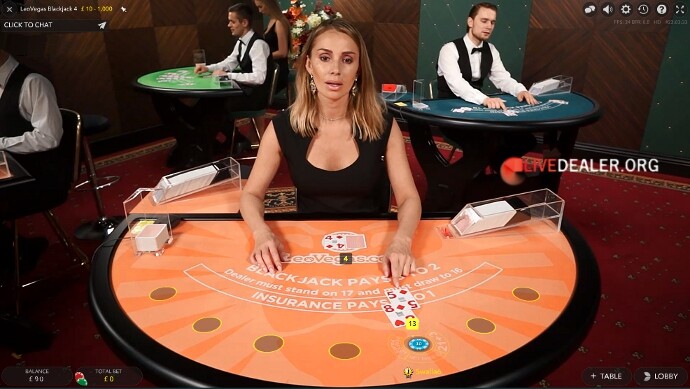 Leo Vegas rightly make claim to be 'The King of Mobile' and demonstrated their continued interest in retaining the crown with a bunch of worthy enhancements to their mobile casino in May.
---
Not in Latvia
Live tables based in Romania continue to be a feature at Playtech and Evolution casinos. Indeed, Evolution appear to be making more use of them as their mainstay generic tables, while private tables expand in the Riga Studio.
Evolution's green Romanian tables especially caught my eye in May looking very attractive with new styling including blue windows….give me a window over more gold beads any day :).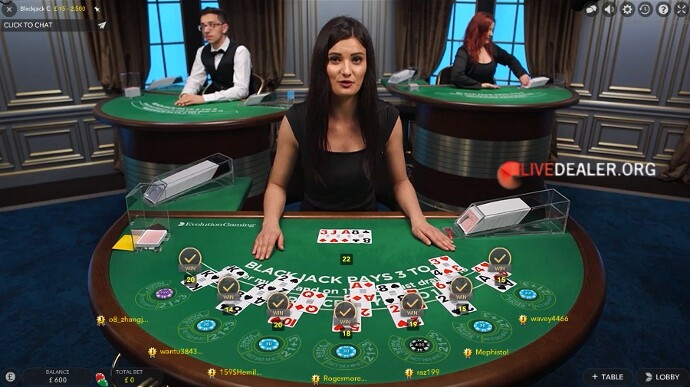 Platform provider Authentic Gaming are also in the process of streaming new in-casino tables from the capital city Bucharest.
---
Dream Catcher progress report
A few more casinos rolled out Evolution's big wheel game Dream Catcher in May, albeit still conspicuous by it absence at some of the largest brands (in terms of number of private tables). So not quite everywhere in May as proclaimed elsewhere in the forum.
I thought I'd better give the table another spin before dismissing in out of hand. I was pleased to find some female 'presenters' at the wheel compared with their less favoured inflated male colleagues. But it still wasn't working for my interest or bank balance.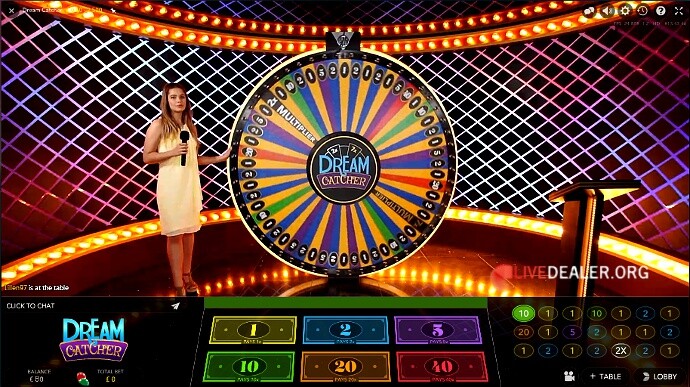 It's also come to my attention that this is only the first game of potentially more in the category of Money Wheel games from Evolution Gaming. Good news if you like this sort of thing then.
---
https://www.livedealer.org/dev/wp-content/uploads/2017/06/FFmay17.png
334
360
Unclefester
https://www.livedealer.org/images/Livedealer-logo.png
Unclefester
2017-06-02 19:43:02
2017-06-02 19:43:02
Fester's Findings - May 2017