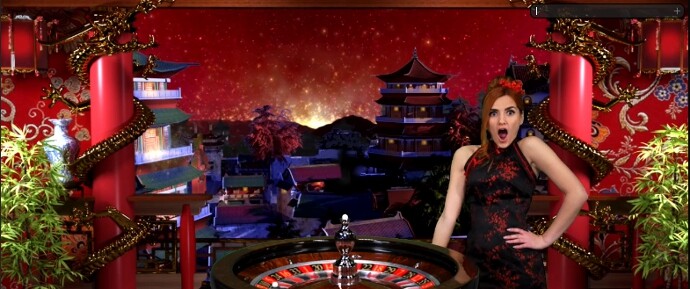 Wow!, after a quiet start to the year live dealer developments look to have really picked up. With also not one, but two promotion events squeezed into February.
Evolution at ICE London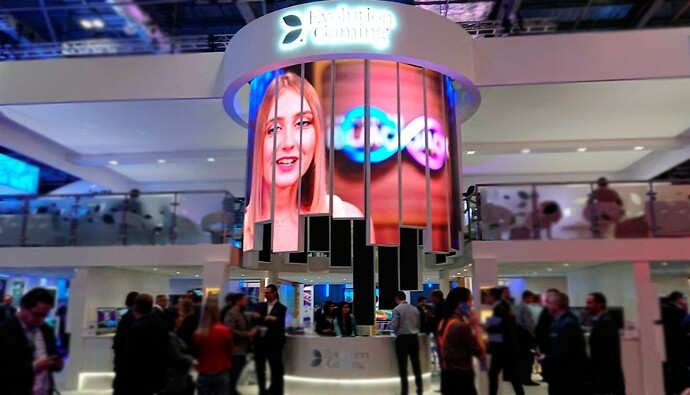 Evolution Gaming had plenty to announce at London's ICE 2019 gaming expo. 10 new games was the headline from the B2B (business-to-business) event. Too good to be true you may be thinking for 2019. Well yes actually, slightly an over inflated figure for devotees of live dealer games (maybe they've been infiltrated by an ex Playtech employee used to such press hyperbole 😉 ).
RNG games accounting for 2 of the new titles, adding to the roulette and blackjack 'First Person Gaming (FPG)' products launched last year.
The headline figure also included Infinite Blackjack which of course went live at the back-end of last year, albeit with a different table cover (not sure that counts Evo').
Of the remaining 7 new games announced for launch in 2019 it's an intriguing mix of traditional casino games and more 'innovative' games.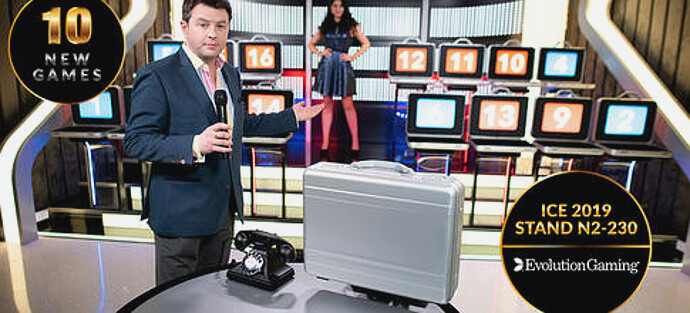 Those new games being; Deal or No Deal, Lightning Dice, Free Bet Blackjack, Super Sic Bo, Side Bet City, 2 Hand Casino Hold'em and Monopoly Live: Dream Catcher Edition.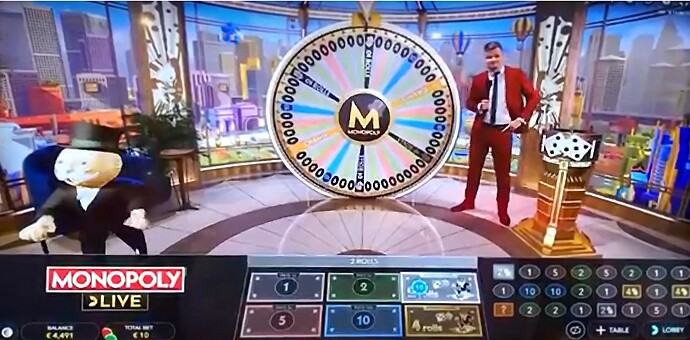 As LD remarked,
"There's a distinct 'soft gambling' feel to a many of these new games. Perhaps Evolution are going after a whole new player base that clearly exists with the success of DreamCatcher."
---
Chinese New Year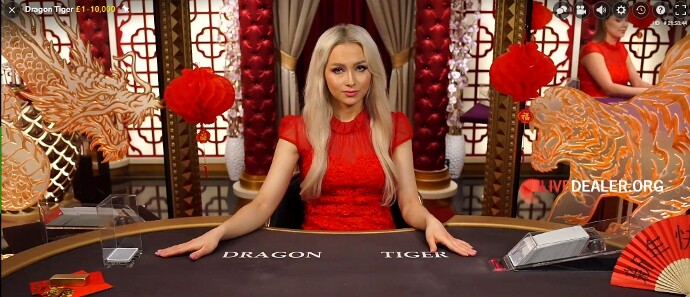 Unsurprisingly Chinese New Year decorations at Evolution were centered on the baccarat tables. All the various tables looked very nice, even without any pig ornaments specific to the start of 2019, the Year of the Pig.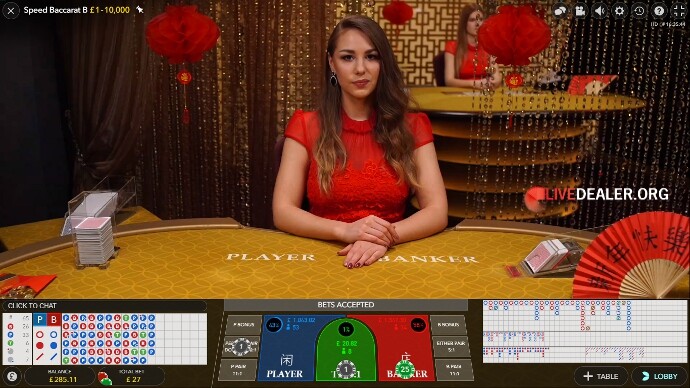 A smattering of Evolution private table areas also joined in the promotion celebration to varying degrees of decoration.
I'd say Genting casino tables looked the most tasteful, in keeping with the general character of the dedicated area.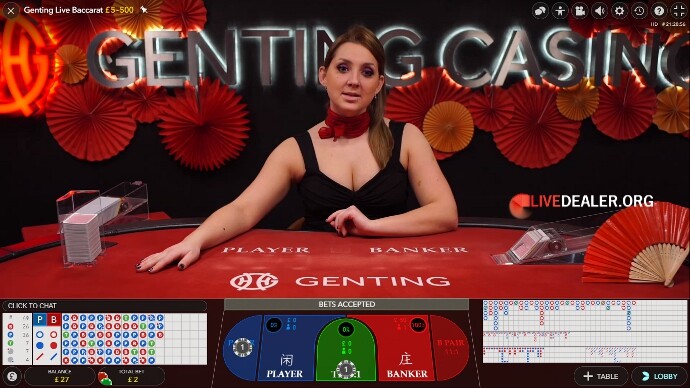 Mr Green's private area was more 'chaotic' decorated with lanterns, cherry blossom and gold maneki-neko (lucky cat), but still no pigs.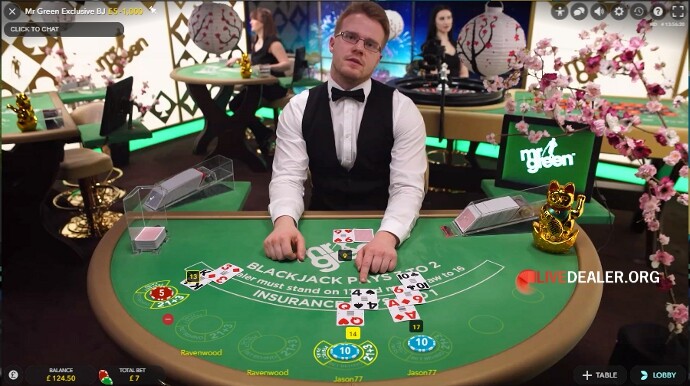 Grosvenor tables looked the epitome of a studio located on a Mediterranean island (ie. Malta), with limited choice of knick-knack they could lay their hands on. At least they tried 😛 .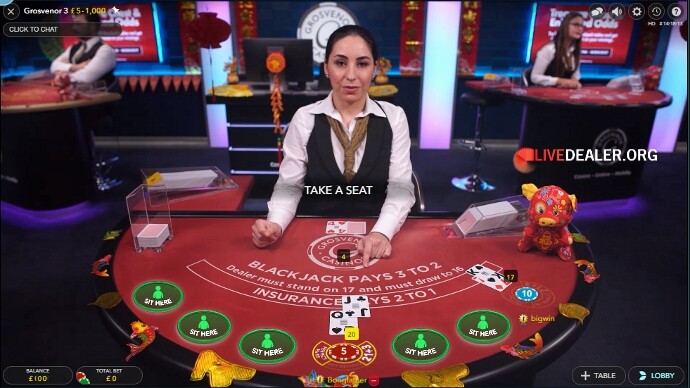 Back on the European mainland, Playtech produced a commendable effort to appeal to their diminishing Asian market.
2 themed Chinese New Year tables were opened in the Riga studio specially for the promotion. A Dragon Tiger table was of course a no-brainer. Credit where it's due, the backdrops were arguably the best I've seen from Playtech.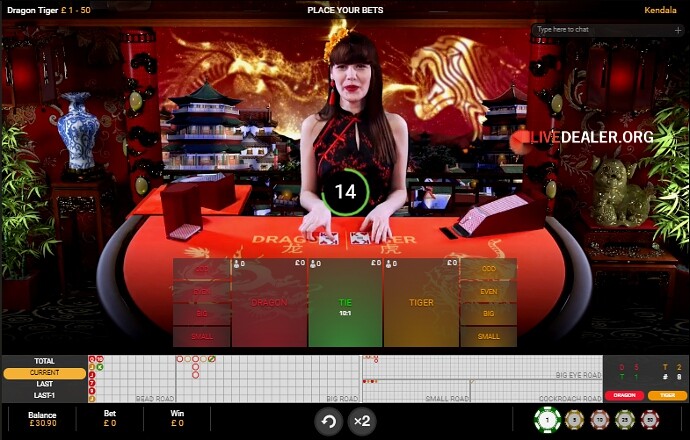 Roulette being the other Riga table and giving you the better opportunity to see the dealer to best effect.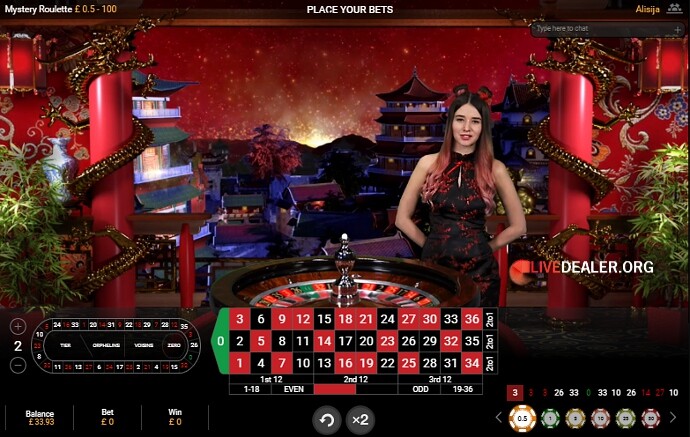 Playtech's Asia studio was strangely lacking for the most part. Although the Emperor Room was certainly worth a visit. Cherry blossom tree decoration and yellow dealer dresses were just the ticket for the red all encompassing area.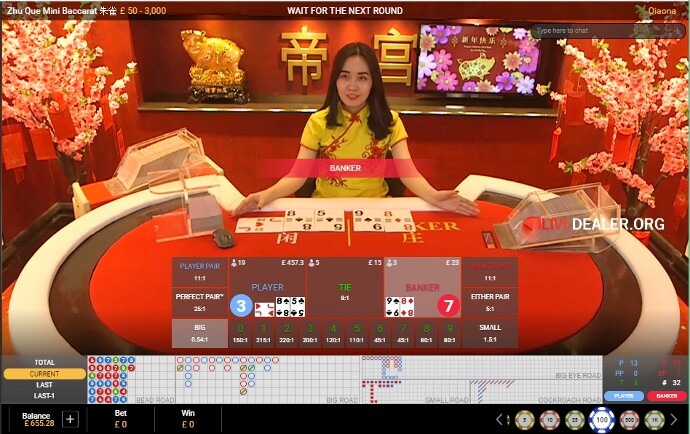 ---
More live games
New game announcements haven't been limited to just Evolution already in 2019. Playtech made some noises at the ICE event (more on which another time). And before that, BetConstruct confirmed Baccarat Super 6 and Dragon Tiger as new additions to its portfolio of live casino games.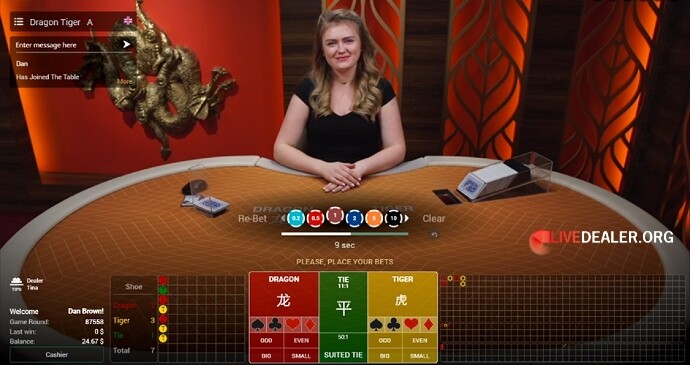 The addition of up to 16 side bets adds more excitement to the games if optional bets are your thing. Although, a majority of European players aren't likely to encounter their games in the better known, high profile online casinos.
---
Valentine's Day lovin'
Well there wasn't much outpouring of gushy Valentine's Day promotions to be found across the live casino platforms. More like a trickle if you searched.
At Playtech it was limited to dribs and drabs such as the occasional bonus cards on Ladbrokes private blackjack tables. I'm not sure how best to call it, tame or feeble?. Certainly a far cry from the all loved up Playtech dealer tables of yesteryear.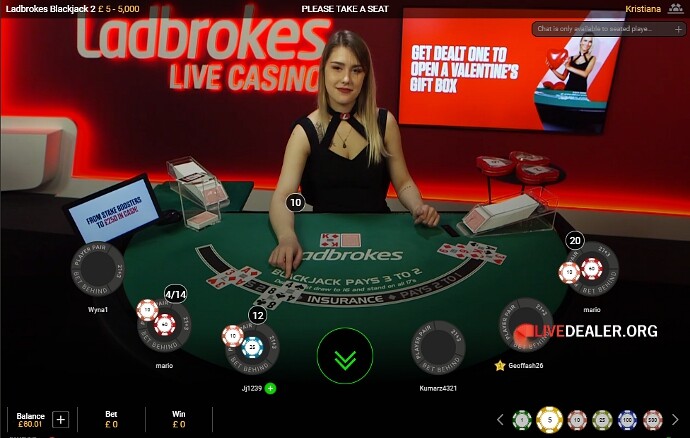 Evolution Gaming served up a bigger cascade of love spread across several private tables areas. With Dream Catcher once again also called into action as the main thrust of promotion decorations and presenter chat (spot the teddy bear).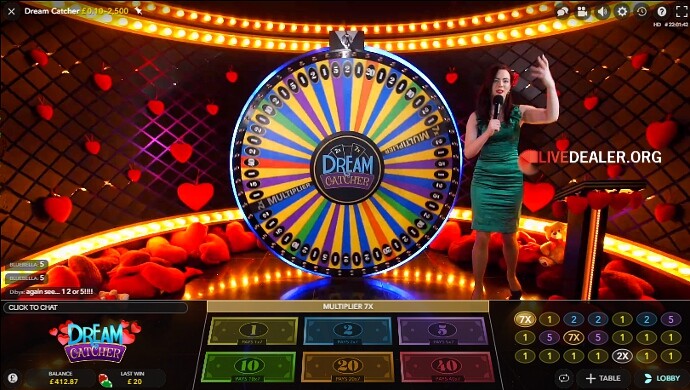 Come Valentine's Day Mr Green managed to squeeze in both Chinese New Year and video wall heart trimmings. And with plenty of free player seats available (presumably everybody else was busy wining and dining, that or drowning their sorrows).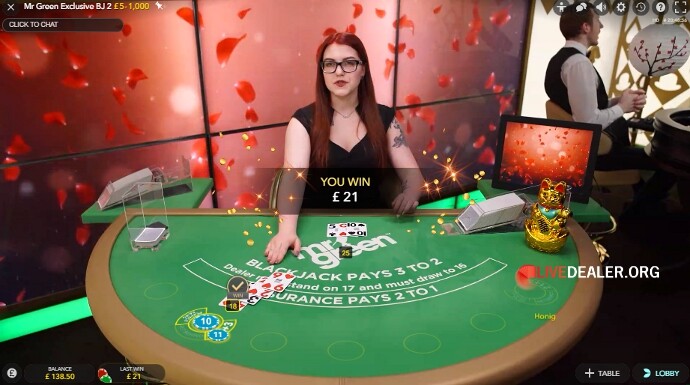 PokerStars' private tables were my favorite looking. The VIP blackjack looked especially tasteful and elegant.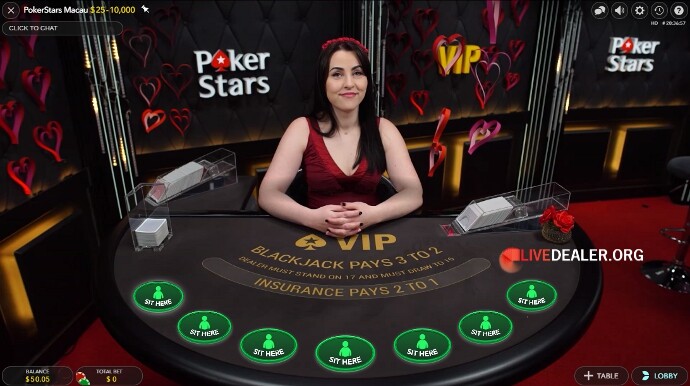 The pastel flowers on Unibet shared Exclusive tables weren't especially to my liking – even if the dealer was dreamy. Half-hearted was my impression, rather than subtle if that's what they were going for.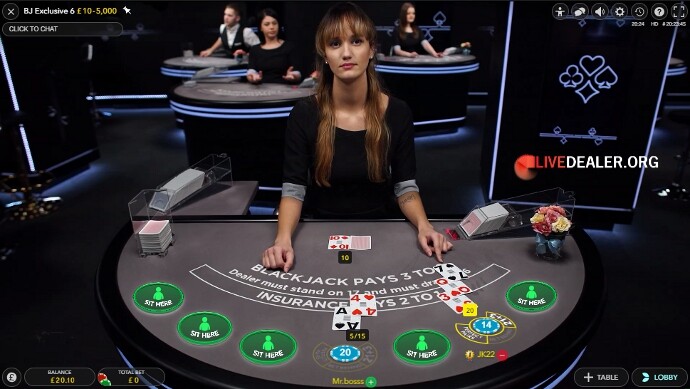 888 Casino made better use of pastel colours (not too much do you think?), plus old playing cards on their deluxe Elite Lounge  tables.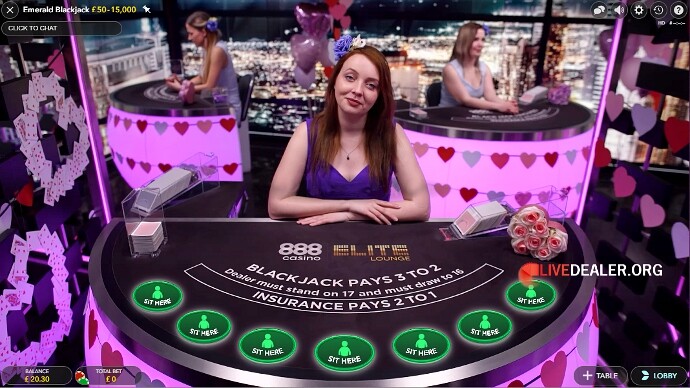 Good old fashioned red flowers and balloons were also employed across 888's regular private tables.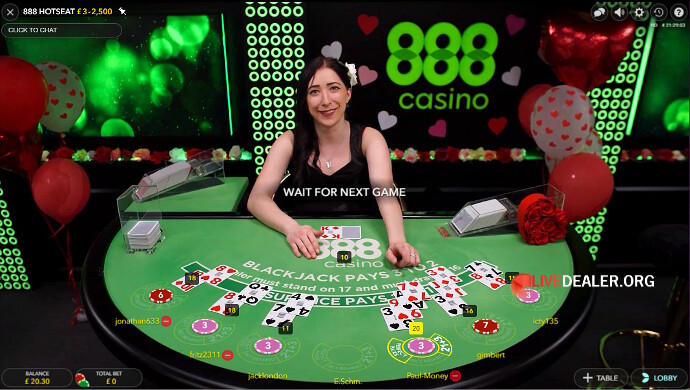 ---
Georgia to the fore
As I briefly drew attention to a few months ago, Evolution's Georgia studio has quickly taken on a greater role. Providing a fair portion of extra table capacity as the platform continues to expand. This was reaffirmed in the 2018 year end financial results presentation from Evolution as reported in LD's blog.
Whereas traditionally private tables were housed in the Latvia studio, more branded tables are taking up residence in the Georgia studio. There's a few factors coming into play here. But obviously for casinos having running out of space in their dedicated table area in Latvia, it's a cheaper and easier option to add extra tables in Georgia.
As a player the only real downside being you're less likely to always able to locate favourite dealers. Specifically at casinos with less private tables, spread across multiple studios. When the dealers aren't dealing your casino table(s), they're more likely to be 'invisible' dealing other private tables.
Royal Panda are a case in point. Having one of the smallest dedicated private table areas at Evolution. Their new blackjack table in Georgia besides looking less uniform, is more than just a 'dealer break' away.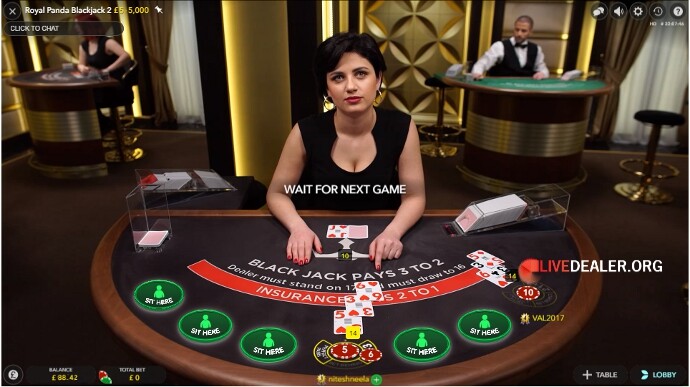 And as for Betway, now with 9 private tables (including roulette). If you experienced their humble beginnings as they opened extra private tables anywhere in the Riga studio, before finally establishing an area they could call home. It's very much a return to form with a new blackjack table located in Georgia.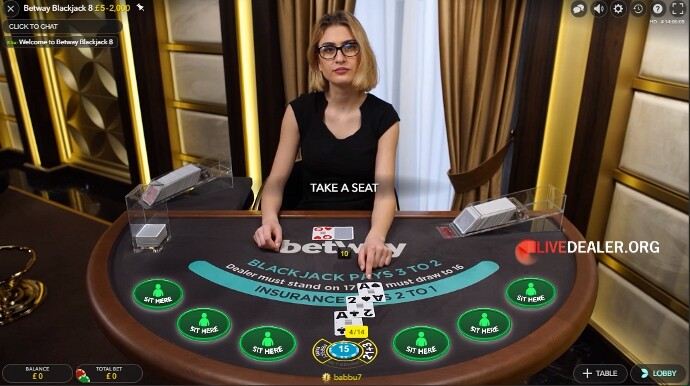 I'll try not to let one rogue table from Betway bother me so much this time around LD,
"until now these tables have been spread throughout Evolution's general floor area rather than being housed in a dedicated area. A fact that was beginning to irk Unclefester a little bit I suspect"
….. unless it's just the taste of things to come again 😮 .
---
New shared private tables
We've become pretty much accustomed to extra private, shared or generic blackjack tables opening every month at Evolution Gaming (no wonder they hit the 550+ mark ). But less frequently on other platforms.
One set of tables that have increased at Playtech are those labelled Privée. There are now 5 matching tables shared across group casinos Ladbrokes, Coral and Gala.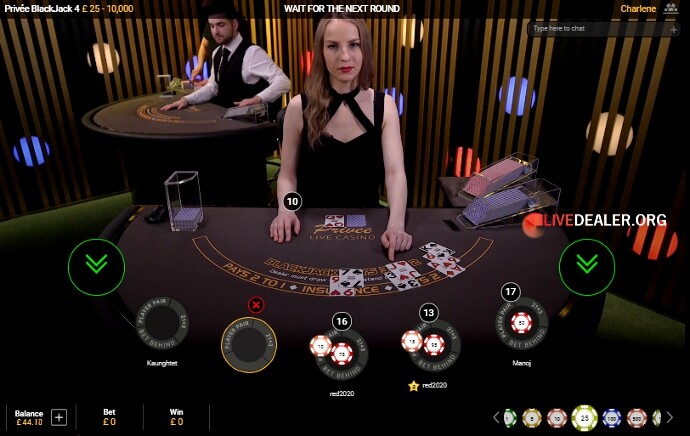 On the subject of shared private tables. Back over at Evolution there's a new private Salon Privé table. This one being available only to players at Betsson Group brands (Betsson, NordicBet, Betsafe,..) and of course one player at a time, unlike Playtech's comparable (Privé or Privée whatever!) tables.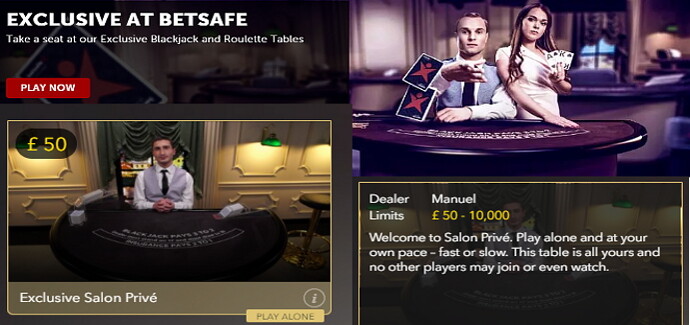 ---
Live football 2019
Playtech's Live Football Roulette table has had a graphical makeover. Not that the previous backdrop looked shabby, but the new version does the job even better.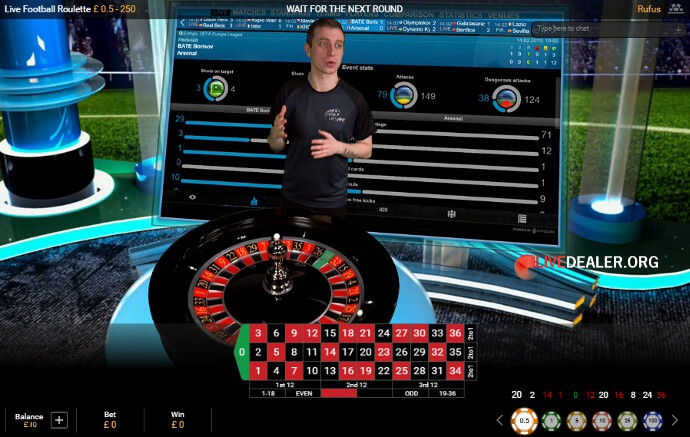 It's a good table to drop in on if you fancy mixing sport chat with some roulette action. Even better when the roulette ball drops in your straight up bet pocket.
---
Local language blackjack tables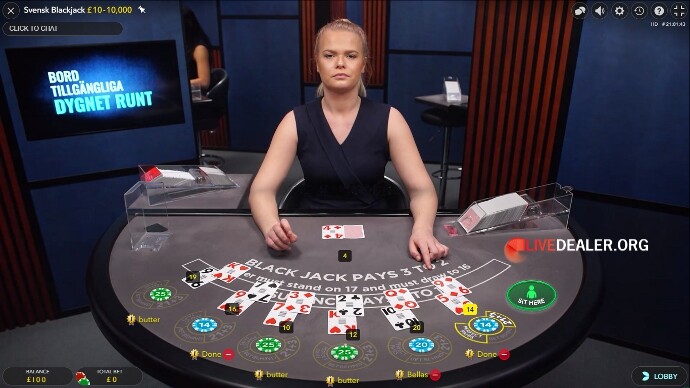 Having covered a fair number of the European languages for roulette players, Evolution Gaming is making further progress with local language blackjack tables.
Not quite so visually attractive and distinct as the roulette tables. Understandably so though given they are mostly private and shared tables primarily focused on catering for each casino's player base.
Betsson Group casino brands have such a trio of new carbon copy blackjack tables where the only discernible difference besides dealer, is the language spoken, either Swedish, Norwegian or Finnish.

All 3 language tables are available across the Betsson Group list of casinos including Betsson, NordicBet and Betsafe.
---
https://www.livedealer.org/dev/wp-content/uploads/2019/03/ff_feb19.png
340
361
Unclefester
https://www.livedealer.org/images/Livedealer-logo.png
Unclefester
2019-03-03 22:08:23
2019-03-04 02:59:23
Fester's Findings - February 2019