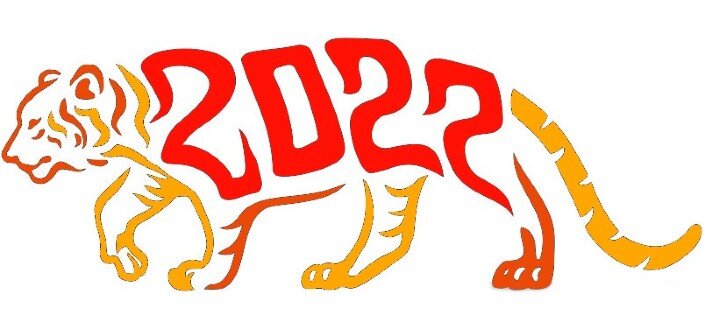 It's Chinese New Year February 1, and the first day of the Year of the Tiger.
We've been trying to understand the Chinese Shēngxiāo (生肖) for over a decade now. During that time almost all of the 12 signs of the zodiac have ticked over. Just the Tiger, which we'll get to in a minute and the Rabbit are left to dissect.
Having almost completed a full cycle, lets recap what we've learned over the years about each of these signs, and what they've meant for our fortunes over the years.
Here they are in their traditional order.
The Rat (…1960, 1972, 1984, 1996, 2008, 2020…)
The last Year of Rat began January 25 2020. Turned out to be more about bats than the rats. It brought prosperity to few. Pain to many. We were promised rats were cunning, resourceful and alert. All very useful characteristics, especially if you're a gambler. Didn't really live up to those expectations.
The Ox (…1961, 1973, 1985, 1997, 2009, 2021…)
We've just come out of the Year of the Ox. Not sure how it went for you but seemed very much to me like a rat year on repeat.  We were told that the Ox is strong, dependable and determined (if a little dim witted). One thing we could depend on during this time was more game show releases.
The Tiger (…1962, 1974, 1986, 1998, 2010, 2022…)
More on the Tiger below.
The Rabbit (…1963, 1975, 1987, 1999, 2011, 2023…)
The next Rabbit year begins 22 January 2023 . It's the only zodiac we've yet to research so are a little in the dark. But as the old saying goes, 'trust in the rabbit's foot, but remember it wasn't so lucky for the rabbit'. Remember also, our last rabbit year (2011) brought us the depths of the GFC. Eek.
The Dragon (…1952, 1964, 1976, 1988, 2000, 2012…)
Of all the zodiacal signs the Dragon is the only mystical creature. It's considered the supreme sign and ultimate bringer of good fortune. Surround yourself with dragons and success is assured. Play live dealer tables adorned in dragon symbols (eg Playtech's recently released Dragon Jackpot Baccarat) and you cannot lose. This is not entirely true. You can lose. You probably will lose – somewhere in the order of 2-5% of your total bet stakes.
The Snake (…1953, 1965, 1977, 1989, 2001, 2013…)
Hard to get a good read on what a snake year, or being born in a snake year means for your good fortunes (unlike all the other zodiacs which are clear, unambiguous and always deliver on expected outcomes). Snakes are supposed to be logical and rational. But they are also risk takers prone to chasing losses.
The Horse (…1954, 1966, 1978, 1990, 2002, 2014…)
The horse is imbued with many wonderful traits. Noble. Powerful. Graceful. Free spirited. Just not lucky unfortunately. Although apparently horses do very well when on a roll. But then don't we all?
The Goat (…1955, 1967, 1979, 1991, 2003, 2015…)
Our research on the Goat seemed to focus more on Guiseppe the bridge builder than on hard facts on what it means to live through, or be born in a goat year. May have missed the standout oracle of the zodiac.
The Monkey (…1956, 1968, 1980, 1992, 2004, 2016…)
We learnt that monkeys are sharp, full of charm and flamboyant entertainers. They are also prone to masturbating in front of an audience, as a visit to the zoo usually demonstrates. This may touch on their want to entertain. Also touches on another worrying trait of the monkey – recklessness.
The Rooster (…1957, 1969, 1981, 1993, 2005, 2017…)
If you're born on a rooster year, your lucky numbers are 5, 7, and 8. Lucky colors are golden brown through to yellow. Lucky days are the 4th and 26th of any month. Face south when taking a really big punt. Crow when you win!
The Dog (…1958, 1970, 1982, 1994, 2006, 2018…)
If you're a Dog, some good news. Tigers and Dogs are very compatible meaning this coming Tiger year should a prosperous one for you. Take that big risk you've been hesitating to take. Bet the house. Go nuts. Find love (hello Tiger). You can't lose.
The Pig (…1959, 1971, 1983, 1995, 2007, 2019…)
The Pig is a curious but lazy over-sleeper. You can never expect too much from a pig or pig year.  Also compatible with the Tiger, pigs should enjoy more opportunity during this year than others. May be too lazy to take advantage of it though.
So in summary, and returning to the original question of what has been learnt. Not much.
But let's turn to the Tiger.
Will the Tiger year bring prosperity?
For Tigers?
If you're a Tiger this is your birth sign year or benmingnian (本命年). You'd think this would be a good thing. Alas no. Birth sign years are bad news, always.
There are things you can do to minimise the harm though. Wearing red always helps. As is sticking with known lucky things for Tigers:
numbers 1, 3, 4
colors blue, grey, orange
days 16 and 27 of the month
directions north, east and south
For the rest of us?
There's good news for those of you born in Dog, Horse and Pig years. Owing to good compatibility with the Tiger, this is your year to shine.
On the other hand, if you're a Snake, Goat, Ox or Monkey it's not going to smooth sailing. Don't expect too many red packets. Don't expect much cash in the few that you do get.
There is good news for the rest of us. Technically 2022 is a Water Tiger year. The prognosticators all seem pretty consistent in the belief that a Water Tiger generally brings prosperity.
But give your salad a nice, high prosperity toss just to make sure.
Kung hei fat choi!
https://www.livedealer.org/dev/wp-content/uploads/2022/01/2022tiger.jpg
320
705
LD
https://www.livedealer.org/images/Livedealer-logo.png
LD
2022-01-31 08:05:18
2022-01-31 08:05:18
Table Triumph in the Year of the Tiger