A veritable smorgasbord of new table areas dominated June.
The Elite Lounge
888 casino's new Elite Lounge tables opened precisely on schedule the first week in June. LD's sneak peek video gave us a glimpse of what to expect of the private tables, minus what the dealers would look like in their attractive new Coral casinoesque blue dresses.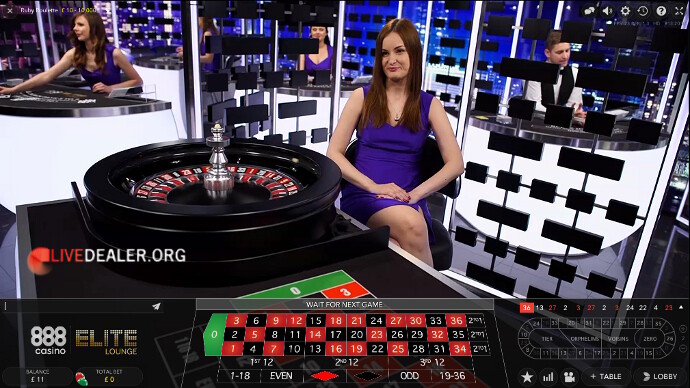 Tables numbers of 1 roulette and 5 blackjack matched the details given before launch and are conveniently all bundled together under the same lobby tab, or directly accessible from the casino home page for those high rollers in a hurry to get playing in the Elite Lounge.
Arriving on schedule is something that Evolution could teach Playtech about new tables, along with being less secretive about tables (even when they belong to the same casino), and a raft of other things. Unfortunately, even the mighty Evolution don't always get it right first time, or from my viewpoint keep repeating the same mistakes of female dealers in ghastly neck ties, inflated ego cocky game presenters and background music at tables.
When the new Elite tables opened they looked so distinctive and stunning. Not just another private area with new coloured walls and a few videos screens on the walls. I was ready to say they are my favourite tables at Evolution, except for one major detail. Yes that's right, one of the cardinal sins, background music :x. To quote Father Jack;
"Feck!, Arse!"
The only saving grace being at least it wasn't headache inducing noise like you get with William Hill's Vegas tables (even if that is true to the real Vegas experience).
Thankfully by mid June common sense, coupled with a 'few' unhappy high roller comments had prevailed and the music was switched off. Celebration time in the Fester household and back to Jack,
"Drink!"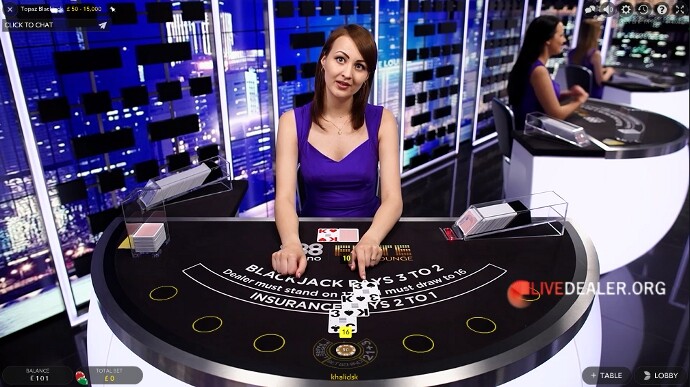 Problem sorted then, and the Elite tables are officially my favourite, new for 2017 tables at Evolution. Well they definitely were for a couple of days, until the opening of another contender later in June (more on that below).
Before leaving the subject of 888 live casino, there was one more set of tables rolled out with rather less fanfare. Hidden tucked away under the Card & Table Games section are new to 888, NetEnt live dealer tables…certainly worth checking out if you've never played them before.
---
A big welcome to the Clubhouse
Wow!, words almost fail me how much I like the new Evolution Clubhouse table area. Without resorting to excessive lighting, multi-coloured walls, large video screens, bucket loads of gold paint, beads, and so on Evolution have delivered a very distinctive and smart looking set of tables.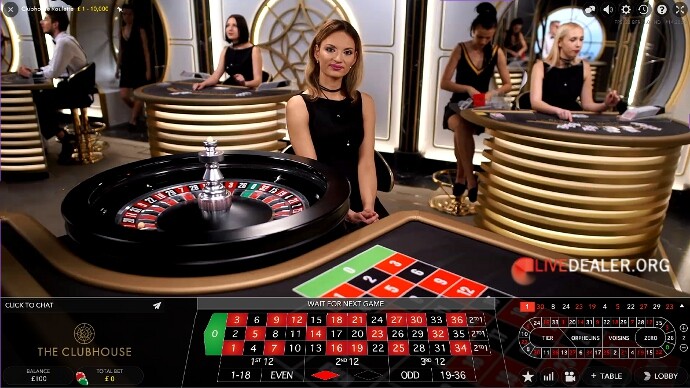 The design concept running throughout the area of dark tables against light coloured walls and vice versa coupled with the circular wall design, doorways and windows looks so good.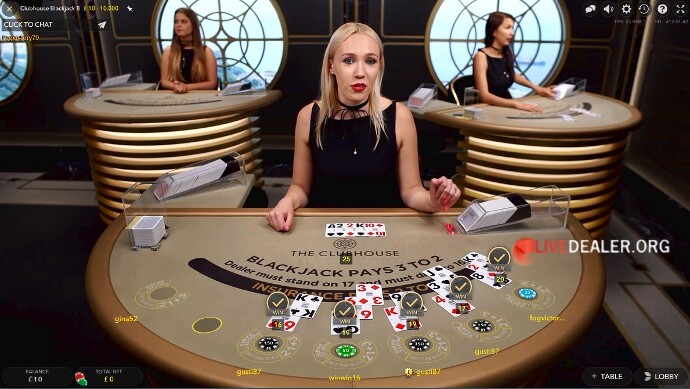 Unless Evolution had opened tables in another studio location you didn't know about, you'd be right in assuming that the windows aren't quite what they seem despite seeing the swaying motion of trees. But they add so much to the overall appearance of the area.
There's none of that feeling that it's a set of tables squeezed into one corner of a building with another set of tables just behind that studio dividing wall. It really does come across as some airy luxury Clubhouse building with open vistas of the real world outside.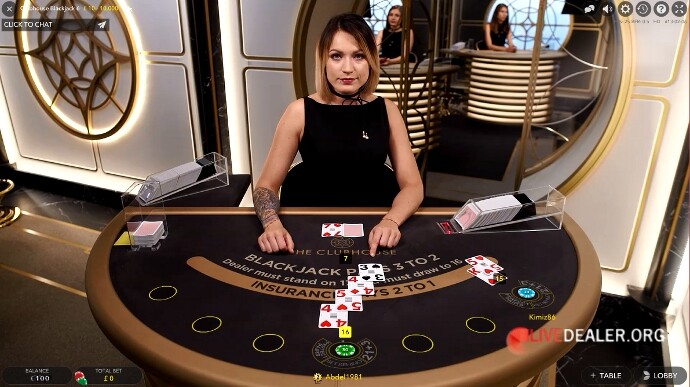 Anyway, almost enough waxing lyrical and down to the nitty-gritty. The area is one of the biggest you'll find at Evolution. With 1 roulette and 11 blackjack tables operational its got more tables than some whole studios!
Time for the bad news. No not some annoying Fester's cardinal sin or anything like that, nor even the abundance of male dealers. Sadly a vast majority of casino players will never experience the tables because they're only accessible to players from GVC Holdings gaming brands such as Bwin, Sportingbet & Party Casino.
More astute followers of the forums might have guessed that the tables would be playable at Bwin given their long track record in tables featuring a window backdrop. But nothing before of this grandeur.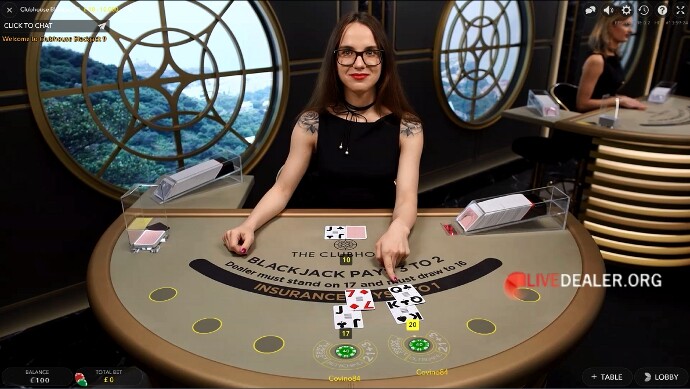 ---
New look Paddy Power
Private tables belonging to Paddy Power could never lay claim to being the busiest area at Playtech. But they were well received aesthetically when they first opened back in the mists of time before everybody else joined the Playtech dedicated private area bandwagon.
Times have changed though, with the majority of the 'bigger' casinos at Playtech and Evolution having private areas. With each new opening akin to a competition to be in some way different from the opposition.
Now that Playtech have a new Riga studio it's natural to assume that as casinos switch buildings they will look to change uniform, table numbers, area styling, table layout and so on of their private tables. Cue the turn of Paddy Power and same group brand Betfair to launch their new tables in one hectic week in June.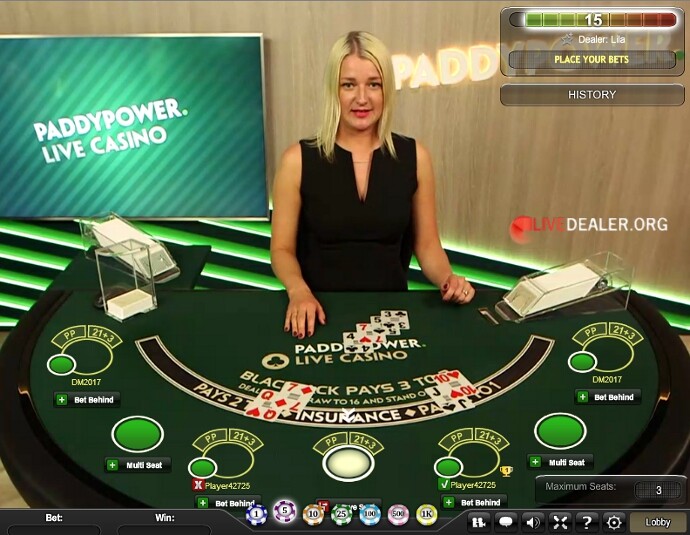 There's no point hiding from the fact I don't like the green lighting and wood effect styling of the new Paddy's area. Everybody has different tastes though.
New to Paddy are video screens behind the dealers which relay information from other tables.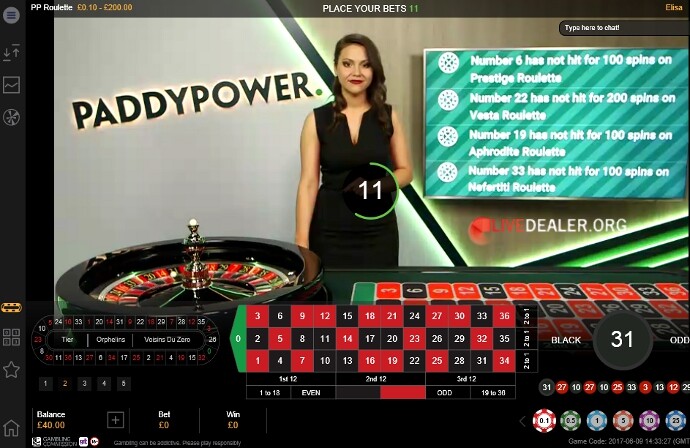 In terms of numbers, tables consist of 1 roulette table and 4 blackjack tables. So nothing different there then, except the positioning of tables has changed so that you only see the table you're playing at. A longtime ago in a poll far far away (okay not that far really) I expressed,
"Personally I prefer private rooms/tables to only have the table you are playing at visible.

Sometimes when you are sat at normal tables the dealer seems too distracted in watching what is occurring around them & is listening to what is being said at other tables."
This is still my general rule when it comes to playing, but I have to concede that visually there are private areas that look mighty impressive from the vantage point of a well positioned table overlooking the private area.
It's also pointless alluding to a sense of exclusivity with individual tables in camera shot, even though in reality the tables are lined up next to each other, when dealers engage in cross table chat (cardinal sin 101). It's something I first came across at Evolution and has crept in at Playtech to my disdain.
---
Less changes at Betfair
The opening of Betfair's new private area at Playtech revealed less changes than at Paddy Power. With no major change in styling, more of a tweaking and refining. Likewise, as before there are 5 private tables (1 roulette & 4 blackjack).
Dealers assigned to Betfair's tables have a new uniform. It's something that wasn't practicable a couple of years ago when the majority of Playtech dealers moved/ran from table area to table area in the same day. Now if you strike up conversation with a memorable dealer you can be a lot more sure where to find him or her later or another day at Playtech.
As to be expected the new roulette is a multiple camera setup and like an increasing number of roulette tables at Playtech it uses the new game interface.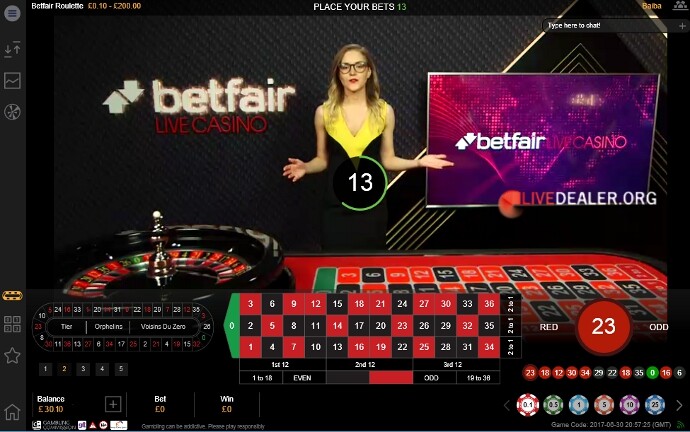 The blackjack tables are in a different layout than previously so (like the Paddy tables) only your table is in view for a greater sense of exclusivity and privacy for the players. If not for those reasons you might argue it's simply because they want every player to be able to see the video screens behind each table.
By the end of June the blackjack tables switched over to using the new Mickey Mouse interface.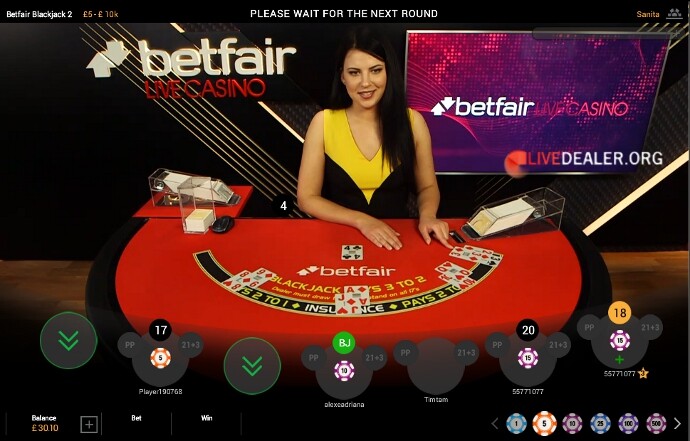 If you are among those players who Playtech (not for the only time) and Betfair block access to specific tables you won't get the full range of private blackjack tables and will miss out on visiting the bright yellow VIP table.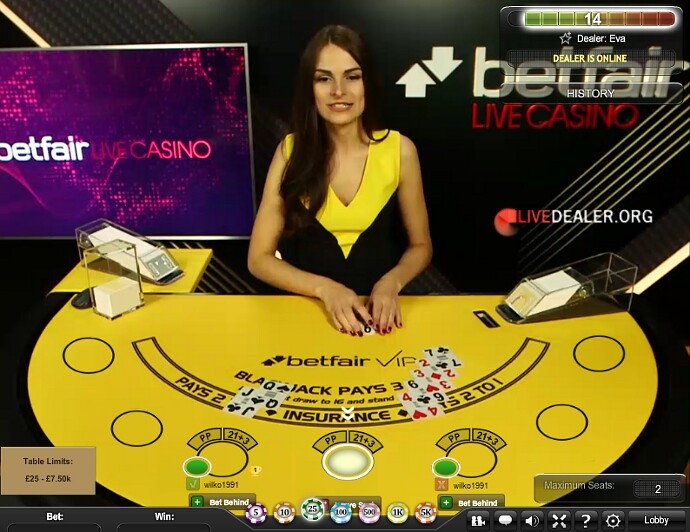 As LD once wrote about the practice in general,
"This is hard to understand.
I would have though rule #1 of running a successful casino, online or land based would be make it as easy as possible for players to access tables, and provide an environment that encourages them to stay there for as long as possible. Rule #2, don't forget rule #1"

Thankfully the dealers and styling of the table area at Betfair do encourage you to stay, even if you can't take a seat at the VIP table.
---
Extra tables at bet365
Casual players taking a seat at bet365 in the last days of June should be forgiven for not realising that their private tables had upped sticks and moved studios. More seasoned players will have noticed some rearrangement of tables and increase in blackjack tables, but are still probably no wiser as to the bigger picture. Which is precisely where Livedealer.org comes to the fore keeping players informed of all the developments at your favourite and not so favourite casinos.
So anyway, in case it missed you by, bet365 private tables are now in Playtech's new studio but have kept the styling of their previous table area(s) from the old studio.
The old original look black hole tables (1 roulette and 2 blackjack) are replicated in full even down to positioning. One obvious difference though is the new multiple camera capture on the roulette table.
A problem I've encountered before with some multi-camera setups is how it can feel too scripted or unnatural as dealers turn to 'hit' the appropriate camera shot in sequence and it's especially noticeable with a camera angle on the bet365 table where the dealer has to look up into the camera (the same is true for the Prestige table). In my opinion, when casinos are in the business of convincing online players everything is genuine and above board the last thing they should be projecting is a feeling of fakeness in whatsover form it takes such as trained table poses, instructed spoken obvious non-truths and so on.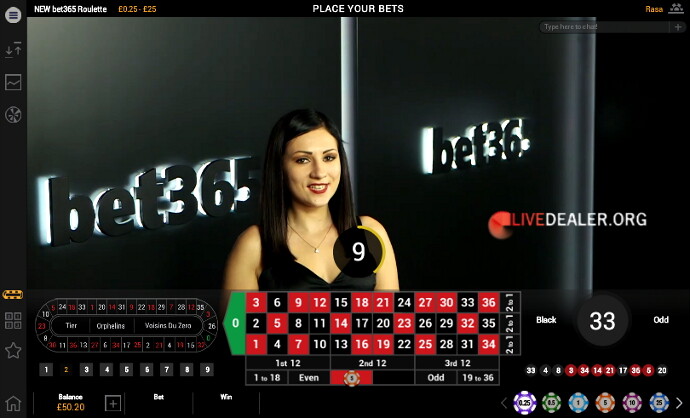 The new blackjack tables look very much like their predecessors rebooted with the new Mickey interface.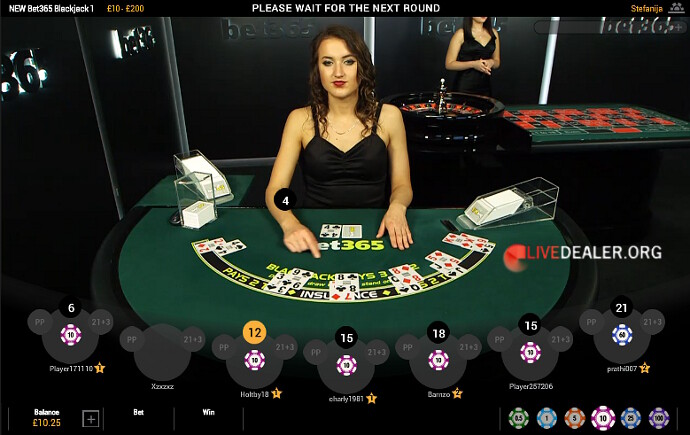 The more recent, so called Premium tables are where the most changes are to be found. Players now have an increased selection of 7 Premium blackjack tables and a roulette to choose from.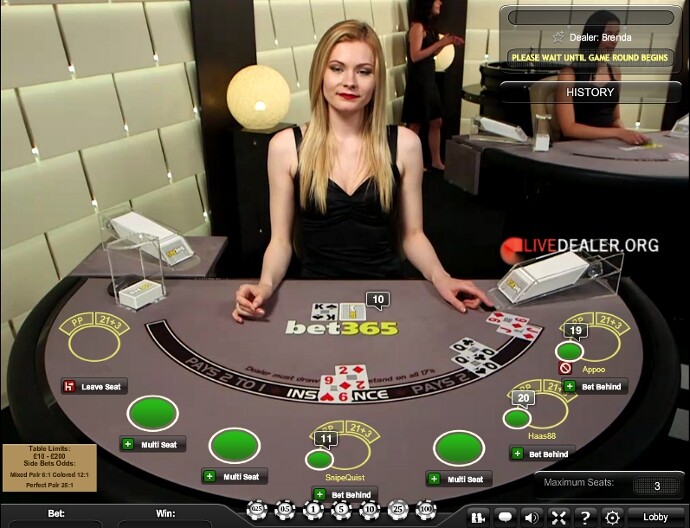 Looking from the blackjack tables the Premium roulette wheel sans table looks almost like an afterthought, squeezed into a corner.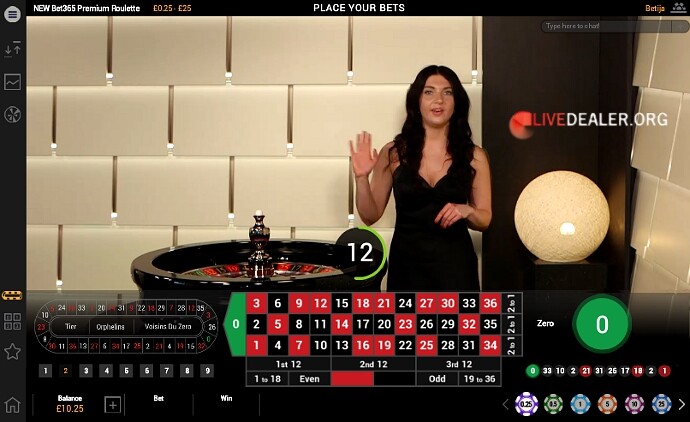 ---
Jumbo 7 Jackpot
Evolution Gaming added a new jackpot side bet to their generic Casino Hold'em table in June. The so called Jumbo 7 Jackpot with its eye catching top prize for a 7 Card Straight Flush is comparable to the Caribbean Stud Poker Jackpot launched a few months back. As with the Caribbean side bet the progressive top prize is shared amongst all players placing the side bet on the very rare occasions that the requisite card combination is obtained.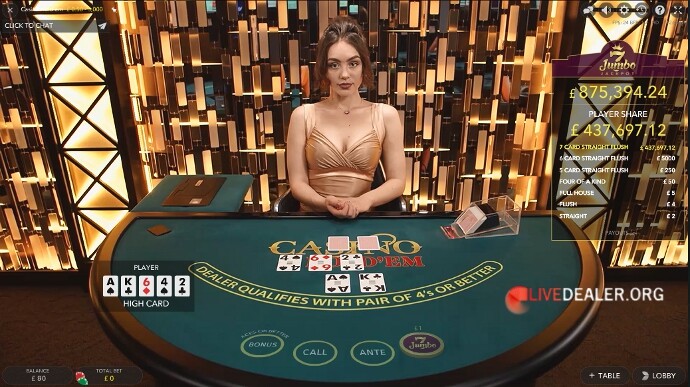 Also like with the Caribbean table there are some fixed payout prizes (ranging from 2 to 5000 monetary units) for lower ranking card hands that will help maintain player interest in the side bet for longer.
Back when there was only a couple of poker tables at Evolution the Hold'em table was always so busy. Typically with player numbers in the hundreds, much more than you encounter at rival Playtech. For a long time I said Evolution should have another generic Hold'em table to reduce the burden on the poor dealers having their chat flooded with so many players just repeating the word "bonus" ad infinitum while betting on the BONUS side bet.
The new jackpot side bet is sure to attract players back to the table who've drifted away to other newer games such as my preferred option of Ultimate Texas Hold'em (the next candidate for a progressive jackpot?). Well at least the poor Casino Hold'em dealers should have a bit more variety in their chat screen from now on,
"bonus", "bonus", "jumbo", "bonus", "jackpot", "jumbo", "jumbo"
Currently the new Jumbo side bet is playable at the same casinos as the Caribbean jackpot which includes Unibet, Leo Vegas and most recently Betsson Group casinos(Betsson, NordicBet, Betsafe, etc.)
---
Grand Casino Dual Play
Evolution's latest Dual Play Roulette spun into action in June. The in-casino table is streamed live from the Grand Casino in Bucharest.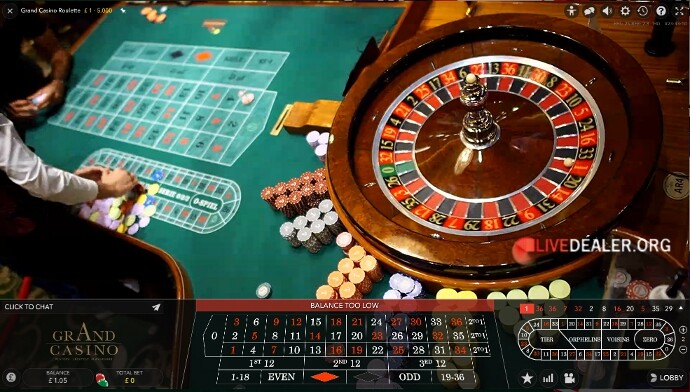 Visually the table looks really good with vibrant colours. Obviously there's better lighting in the room than you often encounter with these bricks and mortar online tables. All the wheel action is caught with multiple camera angles giving you a great feeling for the table thanks to the high quality video.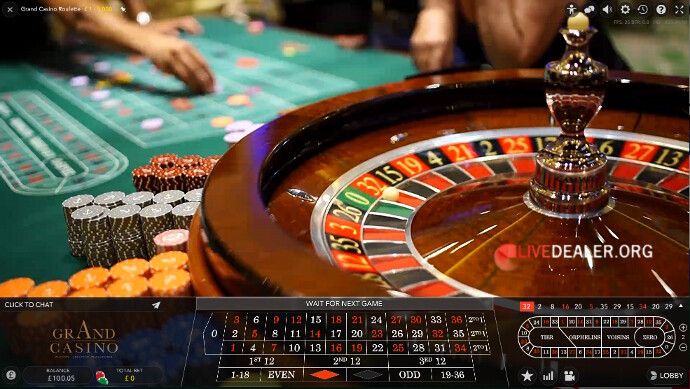 You will find the table available to play all day (long after patrons inside the casino have gone home) at Betsson(plus same group casinos), Mr Green, Leo Vegas and Unibet.
So far I have nothing but admiration for all of Evolution's Romania tables. The studio tables also from the Grand Casino look good. The new Dual Play Roulette is a great showcase for the casino. Any players thinking of visiting Romania are bound to be drawn to go check out the casino.
Obviously land-based bricks and mortar casino tables are taking on a bigger role in online gaming as the platforms compete with each other. I noted recent activity involving Playtech includes a deal with Caesars Entertainment EMEA to replace existing technology systems in UK properties. Now it's well known Playtech have their toes in many waters, not just in the business of providing online live dealer tables, but you have to wonder how long before Playtech launch their own version of a Dual Play (non geo-restricted) table.
---
Was there ever any doubt
When Evolution weren't busy preparing to open impressive looking new table areas and so on they found time to pick up another trophy in the 2017 EGR B2B awards. Winning the Live Casino Supplier of the Year category for the eighth successive year.
While dealers celebrating the award will change over the years, it would be a brave person to bet against Evolution getting their hands on the trophy again 12 months from now. I just hope Evolution remember to leave space in their significantly expanded studio for all the trophies yet to come.
---
Czy mówisz po polsku?
When it comes to language tables, players have never had it so good in terms of table numbers and variety of languages catered for.
Whilst not at the pace with which new private table areas are opening. It's interesting looking back to LD's blog from 2015 and see how platforms are welcoming ever more players without the need for dealers to resort to that famous phrase "I'm sorry player, this is an English only table", or words to that effect.
That's one realm of fantasy from several years ago I actually managed to post which always looked a sure thing as platforms competed for players, coupled with an increasing role for land-based casino tables such as the Grand Casino Dual Play roulette.
Even less well established platforms have something to offer such as German and Italian speaking dealers at Extreme Live Gaming.
Like most things (awards, tables, games), nobody does it more so than Evolution Gaming. Too many language tables to cover here, but the Italian Punto Banco playable at 888 live casino (including to non Italian residents) is one of my favourite tables.
Other notable tables include Spanish roulette at PokerStars, a private German blackjack at Mr Green and more obscure, less widely spoken languages such as Turkish, Greek and Danish roulette available at several casinos.
While on the subject of Danish, Leo Vegas opened another party format blackjack table. The new Malta based Celebrity Blackjack table is a Danish language table. Unlike the generic Party Blackjack at Evolution and Leo's English language Celebrity Party table, the presenter is also tasked with shuffling the cards and not just being a endless chat companion for the dealer.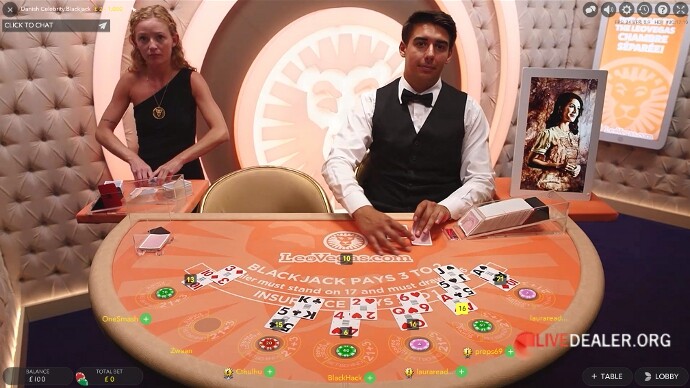 Back to where I started on this language ramble by asking if you speak Polish. If you do, then the good news is Evolution have opened a Polish roulette table. If you don't, you can simply treat it as another roulette table when results aren't going way on the other tables.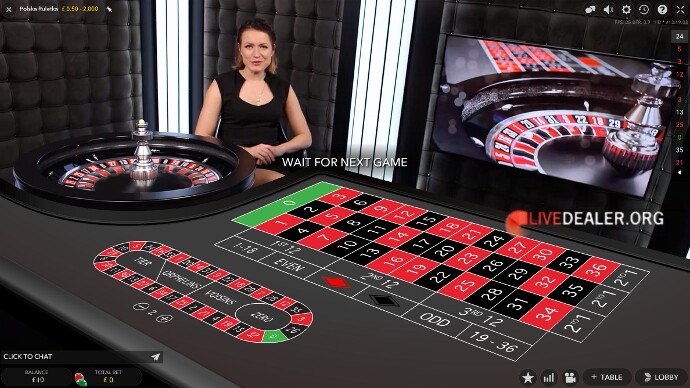 The new Polish table is playable at Bwin and Party Casino.
It's a pity you can't play French (the rules, not the spoken kind) roulette on the numerous language tables at Evolution. It would definitely increase the number of players at the quieter tables and give the dealers some more winners names to congratulate.
---
Cometh July
All things being equal it should be Ladbrokes turn to borrow the removal van at Playtech and make the short trip across Riga to the new studio. Will it be all change, no change, or some changes?….naturally I know nothing as always :). But I doubt we'll see a repeat of the multiple private baccarat tables that ushered in the age of Ladbrokes at Playtech and all the 'delightful' pop-ups that ensued.
Thanks to LD we also know a new game play feature will be added to Evolution's Dream Catcher in July.
---
https://www.livedealer.org/dev/wp-content/uploads/2017/06/FFjune17.png
324
360
Unclefester
https://www.livedealer.org/images/Livedealer-logo.png
Unclefester
2017-07-05 00:15:13
2017-07-05 00:15:13
Fester's Findings - June 2017