Live casino game ranges are still dominated by live blackjack, live roulette and live baccarat tables.
This will probably always be the case. Walk into most bricks and mortar casinos and you'll find a pretty similar situation. They are after all among the most popular casino games in the world.
Live poker variations have also become must-have games at most casinos in the last few years. While live sicbo has always been considered an essential offering for Asian markets.
But as player numbers expand, the major platforms are becoming more willing to cater to niche tastes. Perhaps it is their willingness to invest in game categories beyond the mainstays that has helped attract a new audience to live dealer gaming, in turn expanding player numbers.
Either way, you certainly aren't limited to blackjack, baccarat and roulette at the bigger live casinos these days.
Here is a summary of some of the other live games you can play.
---
Roulette Adaptations
These games are based on roulette, but a significant departure from the game as it is traditionally played.
Two balls are launched into the wheel in this game. As a result, you have very different bet options and payouts to your standard game of roulette.
You have double the chance of inside bet wins (only 1 of the 2 balls required to land on your number choice), and super-sized payouts for outside bets (both balls must land on your bet choice).
From: Evolution Gaming | Launched: May 2016 | More on Double Ball Roulette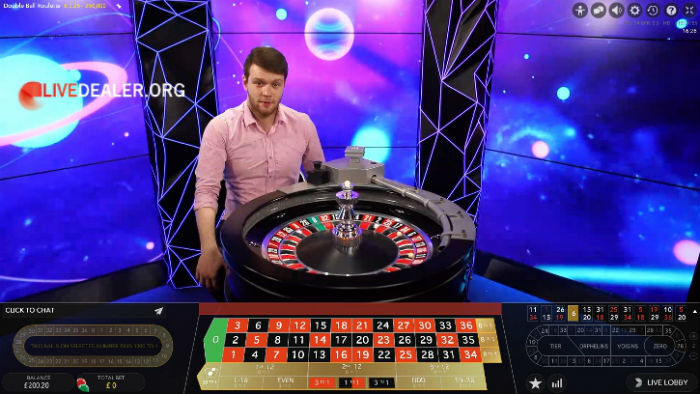 After you place your bets, 1 to 5 Lightning Numbers are randomly selected. The Lightning Numbers each have randomly assigned elevated payouts applied (50x, 100x, 200x or 500x).
On the flip side, the payout for regular straight up wins is reduced to 29:1 rather than the 35:1 we're used to on more conventional roulette tables.
From: Evolution Gaming | Launched: July 2018 | More on Lightning Roulette in the forums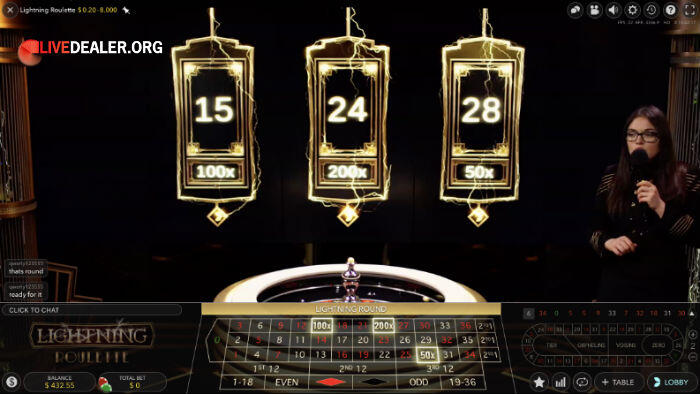 Take regular European Roulette bets, or take the Spread Bets on offer.
The Spread Bet outcome is determined by the random pairing of roulette numbers. There are 7 Spread Bets to choose from each representing a range of possible Spread Bet outcomes, and offering payouts between 1:1 and 400:1.
From: Playtech  | Launched: July 2019 | More on Spread Bet Roulette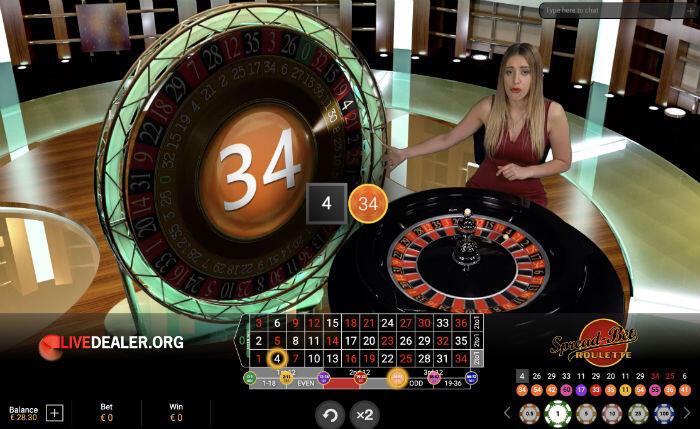 This is Playtech's answer to Evolution's Lightning Roulette. More a copy than an answer.
After bets close, 1 to 5 numbers are randomly selected to have Quantum Multipliers applied; from 50x up to 500x. The payout for straight up wins where multipliers are not applied is 29:1.
Sound familiar?
From: Playtech  | Launched: September 2019 | More on Quantum Roulette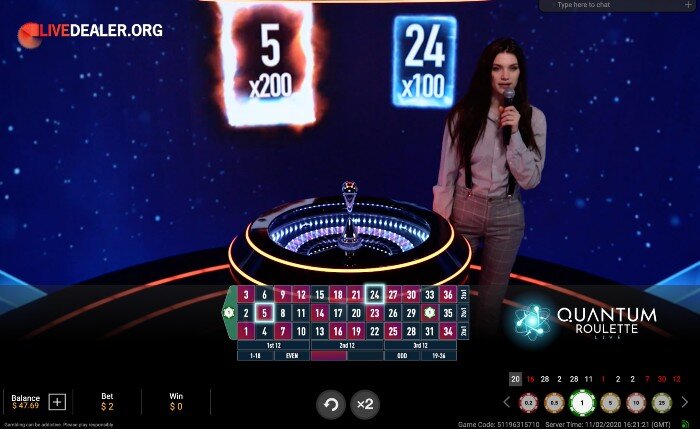 ---
Blackjack Adaptations
Live blackjack tables have for some time been offering a range side bets. But now we are starting to see blackjack games where the main game is significantly altered from the usual house rules we are used to.
Playtech have applied Quantum Multipliers to blackjack also. After bets are placed, one to three cards are randomly selected, with multipliers of 3x, 5x or 10x applied.
If any of these cards are dealt to the players' winning blackjack hand, they multiply the regular payout accordingly. A 1:1 payout could become a 999:1 payout if you're lucky enough.
From: Playtech  | Launched: December 2019 | More on Quantum Blackjack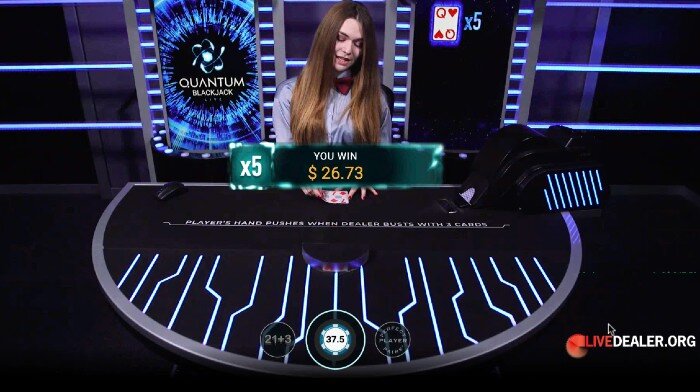 On this table, you get free bets (ie the house kicks in your chips) for Double Down on hard 9, 10 or 11 or Split on any pairs except 10s. What's the catch?
Dealer doesn't busty on 22…bets are pushed instead.
From: Evolution Gaming | Launched: May 2019 | More on Free Bet Blackjack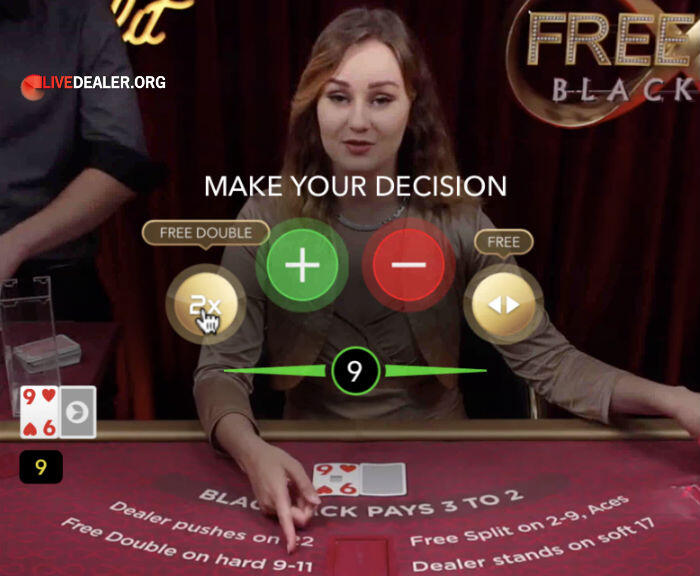 On this table, you don't just get to Double Down. You can Triple Down or Quadruple Down. You have these options on your initial cards, and on Split hands, allowing for some pretty serious escalation on your initial bet.
One other key difference – 9's and 10's have all been removed from the deck.
From: Evolution Gaming | Launched: May 2020 | More on Power Blackjack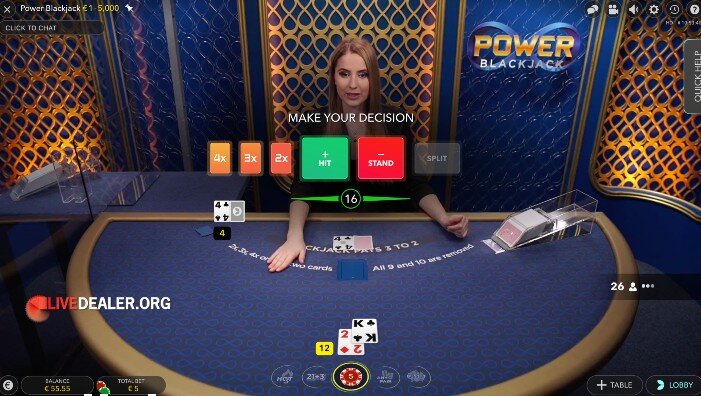 Here outcomes are decided by either Best Strategy, or Majority Vote (of participating players).
Either way, you don't have a lot of control over how your game is played. If you prefer destiny to be in your own hands, this is not the game for you!
From: Playtech  | Launched: June 2020 | More on Majority Rules Speed Blackjack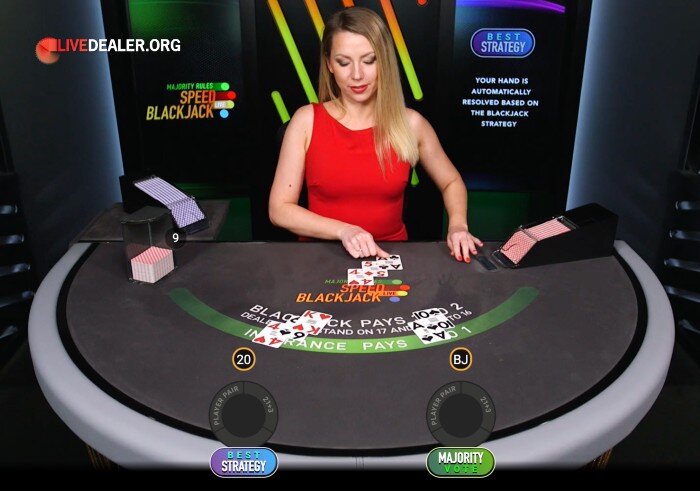 ---
Sicbo Adaptations
You're still betting on the outcome of the roll of 3 die, and the bet options match regular sicbo. Payouts can differ significantly though.
Random multipliers operate to supersize payouts in Super Sicbo. The multipliers are applied after bets close, and can see payouts increased to up to 1000x.
From: Evolution Gaming | Launched: April 2019 | More on Super Sicbo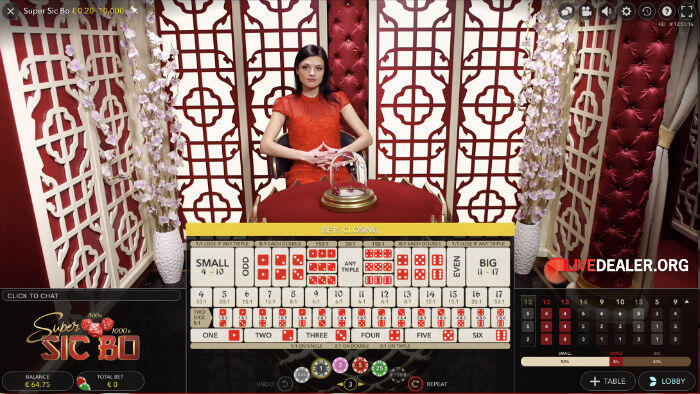 Pretty much the same as Super Sicbo. But with a massive lotus for a table.
From: Playtech  | Launched: January 2020 | More on Sicbo Deluxe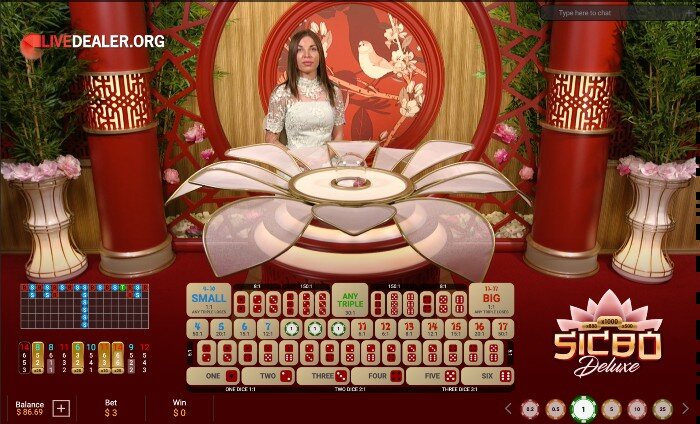 ---
Baccarat Adaptations
Another game in Evolution's Lightning series, which means there are random multipliers involved.
The deal is the same as Evolution's regular live baccarat tables. The payouts are anything but, with random multiplier cards selected pre-deal. Player/Banker payouts can be supersized to 512 to 1.
The Tie payout can potentially pay 1310720 to 1!
From: Evolution Gaming | Launched: January 2020 | More on Lightning Baccarat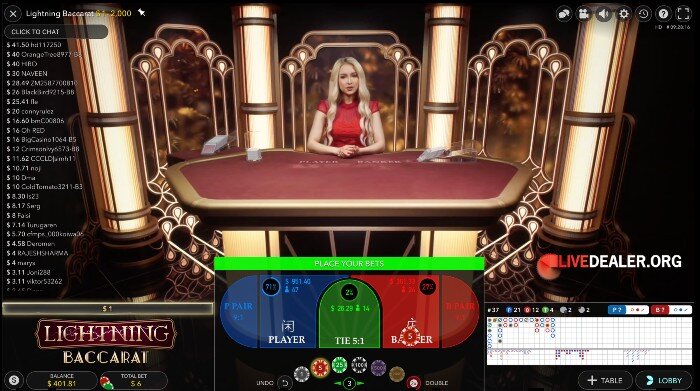 ---
Big Money Wheel Games
There's a big wheel, divided into segments. You bet, the dealer spins…
Bet on 1, 2, 5, 10, 20 and/or 40, with payouts corresponding to the bet chosen (eg bet on '20' pays 20:1).  The dealer spins the big wheel and if it comes to rest on your bet, you win. Multipliers are also in play.
This game has become very popular in a short space of time, spurring more 'soft gambling' games from Evolution (and others).
From: Evolution Gaming | Launched: April 2017 | More about Dream Catcher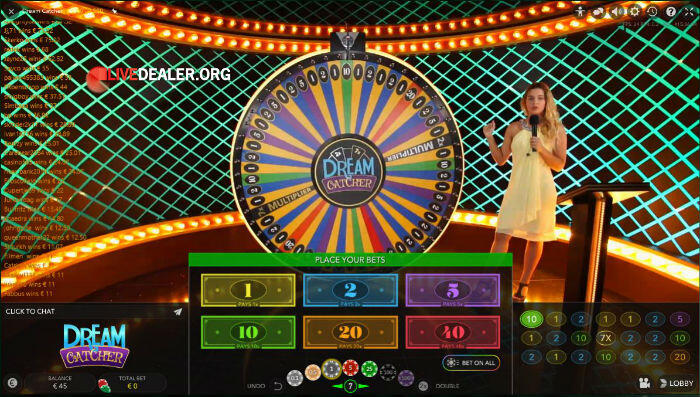 What do you get when you combine DreamCatcher with Hasbro's iconic Monolopy game? MONOPOLY Live.
Essentially DreamCatcher with Monopoly themed bonus rounds replacing fixed multipliers.
From: Evolution Gaming | Launched: March 2019 | More about MONOPOLY Live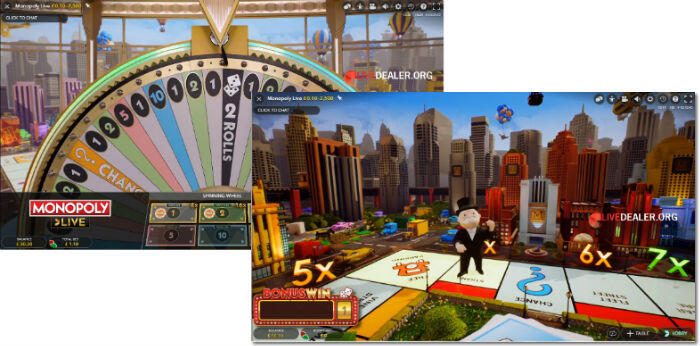 SpinAWin is pretty much the same as DreamCatcher, with a couple of extra bet options thrown into the mix:
Even – result is 2, 10, 20 or 40
Odd – result is 1 or 5
Multiplier – result is a Multiplier
From:  Playtech | Launched: February 2018, relaunched May 2018 | More on SpinAWin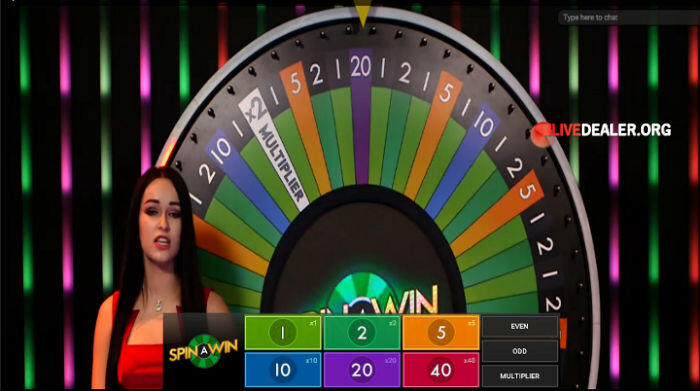 ---
High / Low Card Games
The simplest of card games.
Here you are betting whether the next drawn card is higher,  lower or the same as the currently displayed (base) card.
Payouts for your bet options are auto calculated and clearly displayed. Of course they will differ substantially depending on the value of the base card.
From:  Playtech | Launched: September 2015 | More on Live Dealer Hi-Lo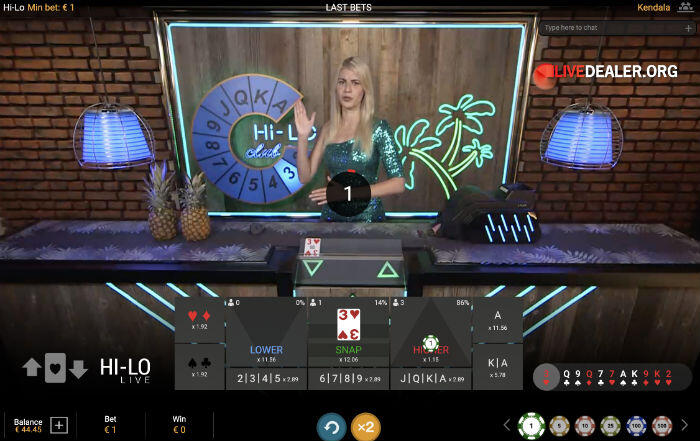 This game first appeared during the 2018 World Cup, hence the football theme. Depending on which casino you are playing at it now goes by the name Top Card, Football Studio or Casino Clash (at 888).
Pick your winner and place your bet. Highest card wins (Ace is high for this one) and pays even money. You can also bet Tie for an 11:1 payout.
From: Evolution Gaming | Launched: June 2018 | More on Top Card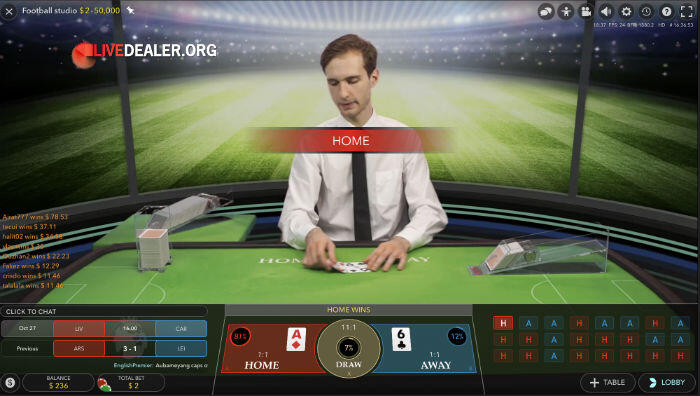 ---
Game Shows
In the first half of 2019, Evolution Gaming created a new category in their live games lobby: Game Shows. They then proceeded to rapidly fill this category with an ambitious schedule of new game launches.
Playtech have since jumped on this bandwagon with Game Shows of their own.
Already we have been introduced to Deal or No Deal, Lightning Dice, Side Bet City, joining Lightning Roulette, Dream Catcher and MONOPOLY Live.
From: Evolution Gaming & Playtech| Launches: ongoing | More on Game Shows